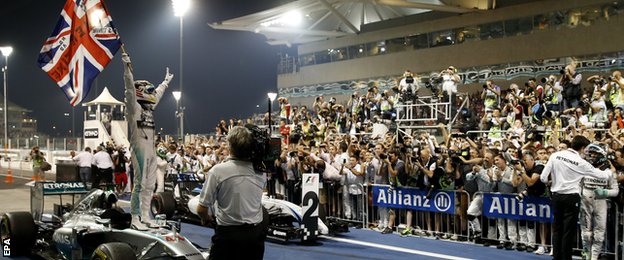 LEWIS HAMILTON WINS ABU DHABI GRAND PRIX AND 2014 WORLD CHAMPIONSHIP
Lewis Hamilton took a rather cautious victory in the final race of the season to claim his second World Championship. Nearest title rival Nico Rosberg hit car troubles whilst running second to Hamilton on lap 23, and finished outside the points having also been lapped by Hamilton in the closing stages.
Pre-race nerves were all Hamilton's as he looked a little tense and a bit on edge whereas Rosberg looked calm and collected, able to share a joke in the Track Parade with Adrian Sutil. Once the lights went out however, the story was very different. Lewis Hamilton got a lightning start – not just from Nico Rosberg but from the rest of the field, and whilst Rosberg was watching the slinking Williams of Felipe Massa in his mirrors, Hamilton had bolted down towards the hairpin section.
The gap grew in the opening laps to around 2.7 seconds, before some drivers stopped earlier than expected to get rid of the fast-fading super soft tyres. Mercedes decided to stretch the stint a little further to get a good gap to Massa's Williams, when they boxed Hamilton first, then Rosberg the following lap. The gap was about the same after the stops had taken place, no great gains or losses had been felt by either driver after the first stops were complete.
As the race between the frontrunners began to settle in the second stint, Nico Rosberg ran wide in the final sector of the lap, opening the gap to Lewis to over 5 seconds. Then came the radio message the team had feared all along. Nico had no engine power. The gap grew and grew and Rosberg to his credit, remained in contact with his engineer before conceding that they needed to work on a plan to get him to finish in the top 5, should Hamilton encounter problems of his own and retire.
It soon became apparent that it was an ERS failure (Electronic Recovery System), meaning that for half the lap, Rosberg was lacking 160bhp from his car. This invited Felipe Massa to pass for second, and then the rest of the chasing pack followed. Brakes became a problem for the German too, as he was putting more pressure through them without having the ERS assisting in slowing the wheels.
Hamilton's side of the garage, in an immediate knee-jerk reaction decided to switch Lewis' car to a more conservative mode, fearful of the same occurring to his car as it did in Montreal. Back then, Rosberg was able to manage his car to second place, whereas Hamilton retired. This immediately put Felipe Massa in the second placed Williams on the offensive, as the Brazilian charged down Lewis' lead on fresher and faster super soft tyres for the last 12 laps. Hamilton's lead was being cut by a second a lap, with 8 seconds the gap with 8 laps to go. Tension started to build again; not for the championship – by this point it was becoming clear that Lewis Hamilton would take the title- even if he retired, because Rosberg was not able to remain in a points scoring position. The tension this time was mounting for the possibility of Felipe Massa's first victory since Brazil 2008.
Not again surely? A Massa win overshadowed by the championship winning Lewis Hamilton?! As the laps depleted, the Mercedes garage put a bit more pace in Lewis' car, having reassured him after he asked not to have his car turned up. It must have been made clear to him that Rosberg was not in contention anymore.  A radio message to Rosberg asked him to stop because of all the problems but valiantly he responded saying he wanted to stay out and finish the race.
Clasped hands and steely stares in the Williams garage were willing Felipe to catch the Englishman, but it wasn't to be. Hamilton crossed the line 2.5 seconds clear of Massa to take his 11th win of the season, and his 33rd in total, elevating him into 5th placed on the all time winners list, one clear of Fernando Alonso. More importantly though, was confirmation that he was 2014 World Champion. The first British double champion since Sir Jackie Stewart won his second title in 1971.
A radio message from Prince Harry followed, as he was in the Mercedes garage during the race, whilst Nicole Scherzinger and members of Hamilton's family hugged and celebrated close by. It wasn't doom and gloom for Williams though, they celebrated finishing third in the constructors, ahead of Ferrari on only half the budget and also with Valtteri Bottas finishing third after a difficult start, their first double podium since 2005.
Daniel Ricciardo staged a brilliant recovery drive, pumping in fast laps all race long to finish 4th in his Red Bull after starting from the pit lane. He was followed home by the impressive Jenson Button, who outclassed and outraced his team mate once again. It proved a crucial result in the end as the Force India pair of Hulkenberg and Perez finished behind him. We saw post race that Ron Dennis and Jenson were involved in deep conversation, over Jenson's future maybe?
Sebastian Vettel brought his Red Bull home in 8th in his last race for the team, beating both Ferrari drivers into 9th and 10th – the team that Seb will be joining come January. A lacklustre finish for the men in red, which is why Fernando is leaving after 5 years. Still no confirmation on where he will be come March.
Magnussen and Vergne finished outside the points and were the last of the cars not to be lapped, as they were followed home by 13th placed Grosjean and Nico Rosberg down in 14th. Only the Saubers, who failed to score a point this season for the first time since they entered the sport in 1993, and the sole finishing Caterham of Will Stevens were behind the stricken Silver Arrow.
Stevens impressed in his debut, after the first round of pit stops he had a drag race down the long straight with Fernando Alonso and held his own, leading Alonso to ask "who is this guy?!" Despite the Ferrari eventually muscling its way past. His team mate, Kamui Kobayashi retired again, this time due to extreme vibration that made the car very difficult to drive.
Pastor Maldonado had a more dramatic retirement when his Lotus blew smoke and then burst into flames. The only other retiree was Daniil Kvyat, who had started from 5th on the grid before simply stopping off track after only 14 laps.
But despite all that happened, all the goodbyes and changes that will happen over the winter, the main headline from today is that Lewis Hamilton has taken his second World Championship. Post race Nico Rosberg was gracious in defeat and congratulated the new champion in the cool down room.  Lewis said that today was 'the greatest day of his life' and that he feels that he can enjoy this one more than he did in 2008, when he was just so exhausted after the race.
There was always going to be a number one on one of the Mercedes cars for next year, now we know who it will be.