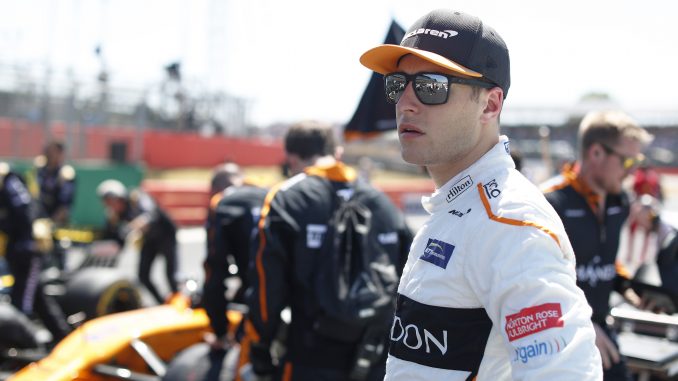 McLaren Racing CEO Zak Brown insists the team is behind Stoffel Vandoorne, despite admitting they've been looking at other options during F1's Silly Season.
The Belgian has struggled to match the results of teammate Fernando Alonso during his two seasons in F1, finishing ahead of the Spaniard in just one race so far this season. Vandoorne sits 16th in the drivers' championship coming out of the summer break, while Alonso is 9th – ahead of the likes of Sergio Perez and Carlos Sainz, who will join McLaren next year.
The former GP2 champion's lack of pace has resulted in plenty of speculation that he could be out of a drive at the end of the 2018 season, particularly with McLaren reserve driver Lando Norris challenging for the F2 title.
Speaking to the media ahead of this weekend's Belgian Grand Prix, Brown admits he'd prefer to see Vandoorne get ahead of his two-time world champion teammate more often, but he stresses the team isn't disappointed with Vandoorne's performances. Brown believes being beaten by Alonso is nothing to be ashamed of. Brown says Vandoorne has the backing of the team, and that supporting is Vandoorne is one of the reasons Gil de Ferran was brought in. However, Brown also confirmed McLaren has been having a look around during silly season to see what opportunities there are elsewhere.
One driver who will be in consideration for McLaren's other seat next year will be Norris, who will make his Grand Prix weekend debut at Spa in FP1 this weekend, taking charge of Alonso's car. Norris's participation will give the team a chance to compare him directly to Vandoorne as they'll be on the same track in the same car and same conditions at the same time. Sergio Perez, Esteban Ocon and Kimi Raikkonen are among a long list of names also to have been linked with the seat.
Sainz's arrival at McLaren also casts doubts on Vandoorne's future at the team. The Renault driver is three years younger than Vandoorne, but comes with two extra years experience compared to the Belgian. If McLaren are happy Sainz has the experience and pace to lead the team, they may prefer to switch to Norris. However, if they believe Sainz needs an extra year or two before he can challenge towards the front of the grid, they'd probably rather opt for someone more experienced like Raikkonen – although the Finn is expected to sign a new contract with Ferrari. Either way, Vandoorne might not be the right teammate for Sainz. Alonso has recently given his backing to Vandoorne though, insisting the Belgian is closer to his pace than any of his previous teammates, which includes the likes of Lewis Hamilton, Jenson Button and Felipe Massa. Norris's contract is reported to include a clause which means McLaren must put him in a 2019 race seat by October or risk losing him to another team, which suggests the team will have to decide quickly who will be in their other car next year.