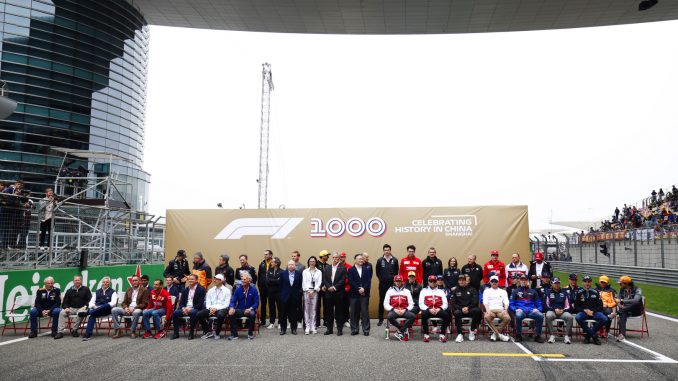 Mercedes's winning streak at the start of the 2019 Formula 1 season continued in Shanghai as Lewis Hamilton won the Chinese Grand Prix.
The current champion beat Valtteri Bottas off the line, winning the 1000th championship race in F1.
The victory is also the 75th of Hamilton's career.
3Legs4Wheels looks at the drivers' reactions following the race:
Lewis Hamilton – 1st (Mercedes):
"It's not been the most straightforward of weekends, but what a fantastic result for the team, everyone's worked so hard for this. Coming here we didn't know exactly where we would stand with Ferrari, as they'd been so quick in Bahrain. Valtteri has been quick all weekend and did a great job today. To have a 1-2 together is really special for the 1,000th Grand Prix. The start was where I made the difference and after that it's history. The strategy has really been on point over these first three races so we need to keep that up.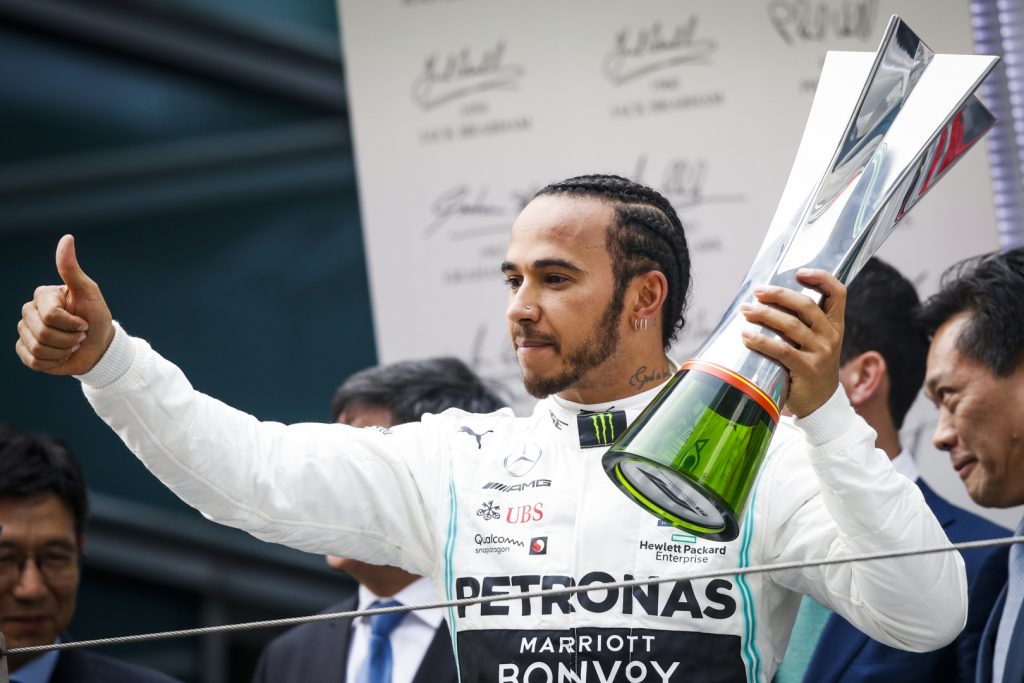 "Team LH China have been incredible all weekend, a big thank you to them. They welcomed me from the moment I arrived at the airport, at the hotel every morning and night every single day, and then at the track too. A big thank you to everyone who's supported me. You can still see it's very close between us all. I really have no idea how the next races will turn out but I'm super excited for them."
Valtteri Bottas – 2nd (Mercedes):
"For us as a team it's really been a perfect start to the season; we could not have imagined to get three 1-2s in a row, so a big thank you to everyone for their hard work. We managed to maximise on every single opportunity which is great to see. For me personally today has been a bit disappointing as I was on pole, but then lost the race at the start. There's a white line just outside the starting box and I had some wheelspin when I went over it and lost the position to Lewis. It's all about details in this sport, so unfortunately that detail decided the rest of the race. On the positive side, we did have a strong race pace here in Shanghai, much better than in Bahrain. I think that we're in a good position, but we need to keep pushing. This track is very unique in its layout and Baku will hold very different challenges so it's going to be
interesting again in two weeks."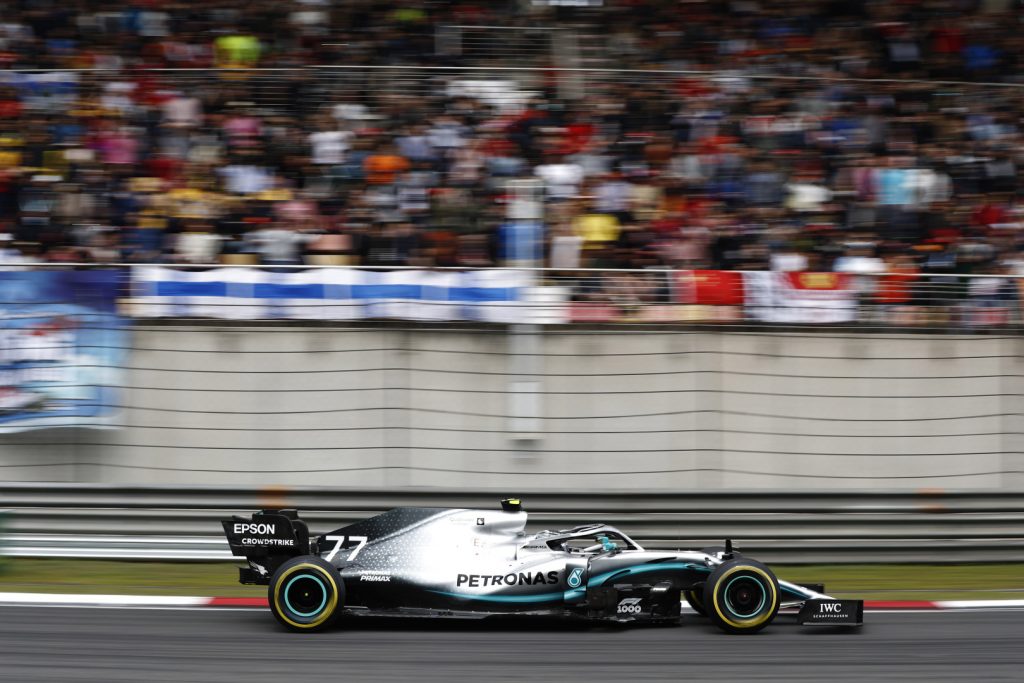 Sebastian Vettel – 3rd (Ferrari):
"We are happy we got the podium, but overall we can't be satisfied because we were too slow today. We were hoping to be in a much better place and be a match for Mercedes, but we were not. Also it was a shame we didn't manage to finish third and fourth, In terms of calls from our pit wall today, the priority always lies within the team and Charles and I are both aware we are driving for the team. We can do our own race but first of all we have to ensure Ferrari is in a position to fight with its rivals. I think we have a good car and we are still not able to unlock its potential completely. We are learning a lot about it and it's important to do many laps to get a better feeling for it. We are getting an ever clearer picture of what we are lacking at the moment, so I think the next few weeks will be important for us, so that we can get on the right road for the coming months."
Toto Wolff – Team Principal (Mercedes):
"To win the 1,000th race in such a controlled way is amazing. It's a very special win and you can tell that everyone in the team is very happy with the outcome. Based on our long run simulations we didn't think it would be so straightforward and our advantage to Ferrari came as a bit of a surprise. They still look very quick on the straights; I'm not sure it's just the power, our car is maybe a bit draggier than theirs, but we have to keep working on our straightline performance.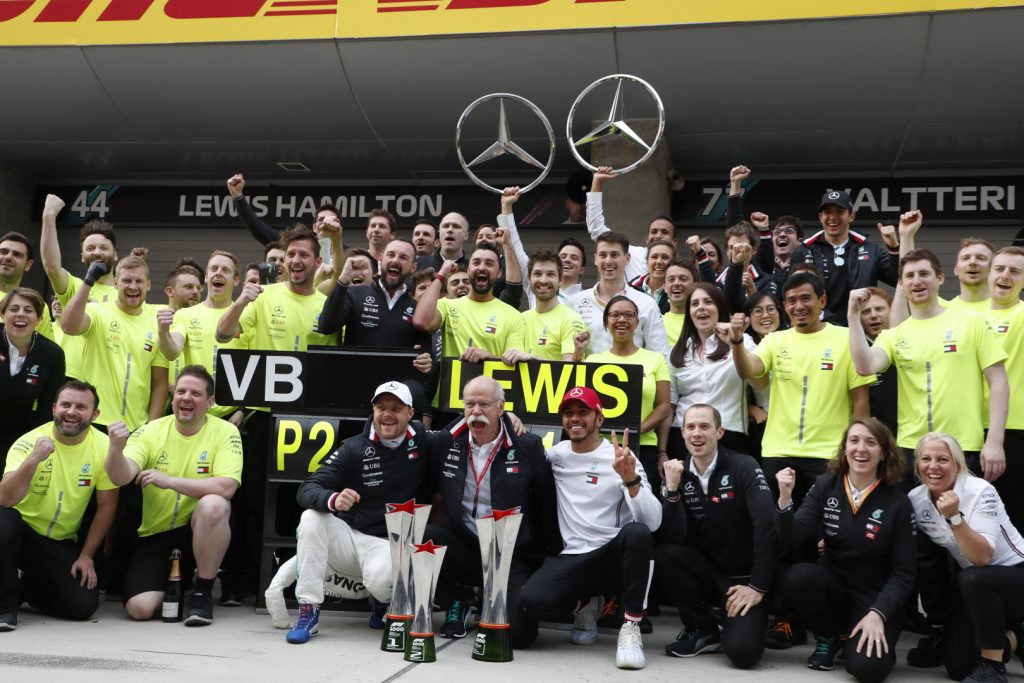 "Stacking the cars for a double pit stop was a risky moment because you have everything to lose when you're leading the race. But we thought we would lose positions if we had stopped one of the earlier. Our plan worked out perfectly; it was a wellchoreographed pit stop and the team did a brilliant job. Lewis had the clutch paddle under control today and had a strong start and controlled the race from then on. Valtteri for sure won't be happy as he had pole and the speed to win today, but the start was the deciding factor. Baku is a different ball-game, there's a very long straight and we need to get the power and drag level there right. I think we'll be up for the fight and I'm looking forward to it."
Max Verstappen – 4th (Red Bull):
"It was not an easy race but as a Team we did a really good job today. We planned a good strategy to undercut a Ferrari and stay ahead, so we definitely maximised the result to finish fourth ahead of Charles. I had a good battle with Seb when he came out of the pits on colder tyres which was good fun. That was my one shot and I tried but after that you could see that we didn't quite have the pace to fight him to the end. I was pushing really hard and we can be happy with the team result. We still need a bit more pace to fight Mercedes and Ferrari but we are in a good position and collecting solid points each race."
As a team we did a good job today 👊🏻 We had the right strategy and maximised the result with P4 #KeepPushing 🇨🇳 #ChineseGP #Race1000 pic.twitter.com/uHIiupeuXj

— Max Verstappen (@Max33Verstappen) April 14, 2019
Charles Leclerc – 5th (Ferrari):
"Today's race wasn't one of my easiest, since it looks like we didn't have a good enough pace to fight at the front with our competitors. My start was good, then I think both Seb and myself were struggling with the tyres. We swapped positions and I thought he would have pulled away but he didn't and this didn't help my tyres because I had a bit of overheating and I lost some time. On my second set of tyres I hoped I'd be able to go all the way to the end, but unfortunately had to stop again and so lost a place. We will sit down all together in order to understand what could have been done better and I'm sure we will come back stronger at the next race."
Mattia Binotto – Team Principal (Ferrari):
"Mercedes has been fast throughout the whole weekend, since Friday. They were fast yesterday in qualifying and fast today. We had a completely opposite situation from the one we faced two weeks ago in Bahrain and this shows that we could again have things going the other way around in two weeks time. Things are changing from one weekend to the next and therefore we need to look at the championship thinking that every race may be different. Our decisions on strategy were taken to try to maximize the teams' result. We will go back to Maranello and look at all the data, try to understand what didn't work this weekend in order to improve. We need to further develop the car and understand where the limits are, then come back stronger for Baku. It's again a completely different circuit and we need to approach that race with a positive attitude to do our best."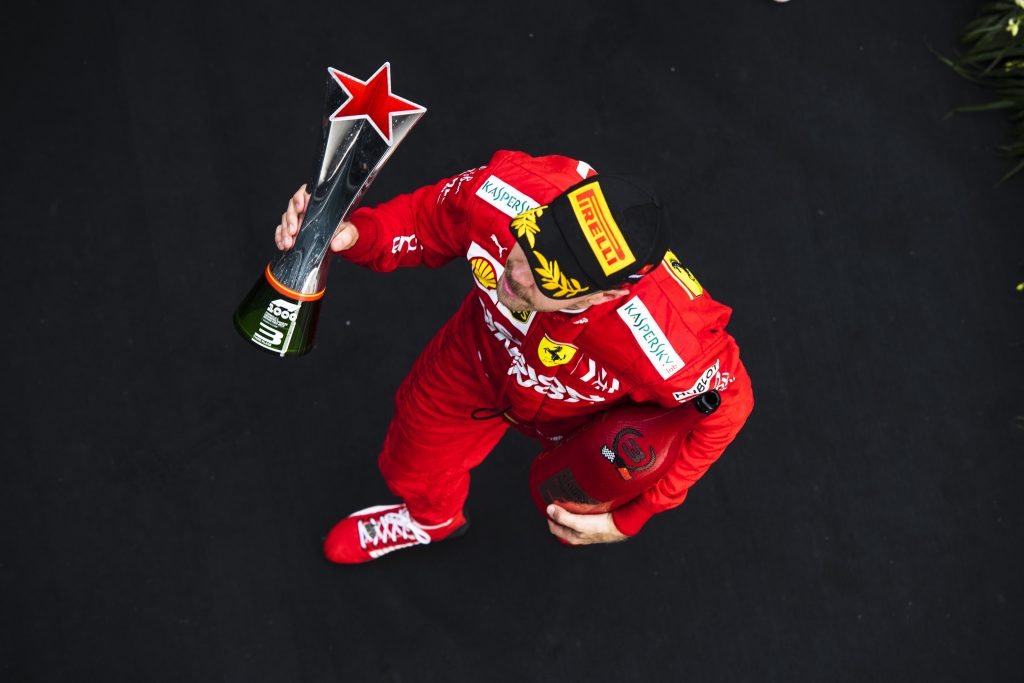 Pierre Gasly – 6th (Red Bull):
"I'm happy to score my first fastest lap in F1 today. We saw that we had quite a big margin behind us in the last few laps, so we decided to go for it and have an extra pit stop which worked. During the race I tried to keep the rhythm, take care of my tyres and improve my feeling with the car. I'm slowly getting more confident, I think we take one step every weekend but of course I would like to take three every time. There is still work for me to do for the next race but the good thing is that I know what I need to improve and what I can do better. We are quite happy to finish in the points and take the extra point for fastest lap with us. Tonight I will make my way to the factory and spend tomorrow and the day after in the sim and we'll work for the next race."
Christian Horner – Team Principal (Red Bull):
"P4 and P6 today represents good teamwork. A strong strategy and being the first to adopt the two stop with Max allowed us to beat Charles Leclerc today. Max drove the wheels off the car all afternoon and although he fought hard to pass Vettel and challenge for a podium, we just didn't quite have the pace to get ahead of him. It is great to see Pierre continuing to settle into our car and he had another solid race, finishing sixth and claiming fastest lap. He took one point away from Ferrari and gaining that additional point for fastest lap was a real positive for him, which I'm sure he will take confidence from."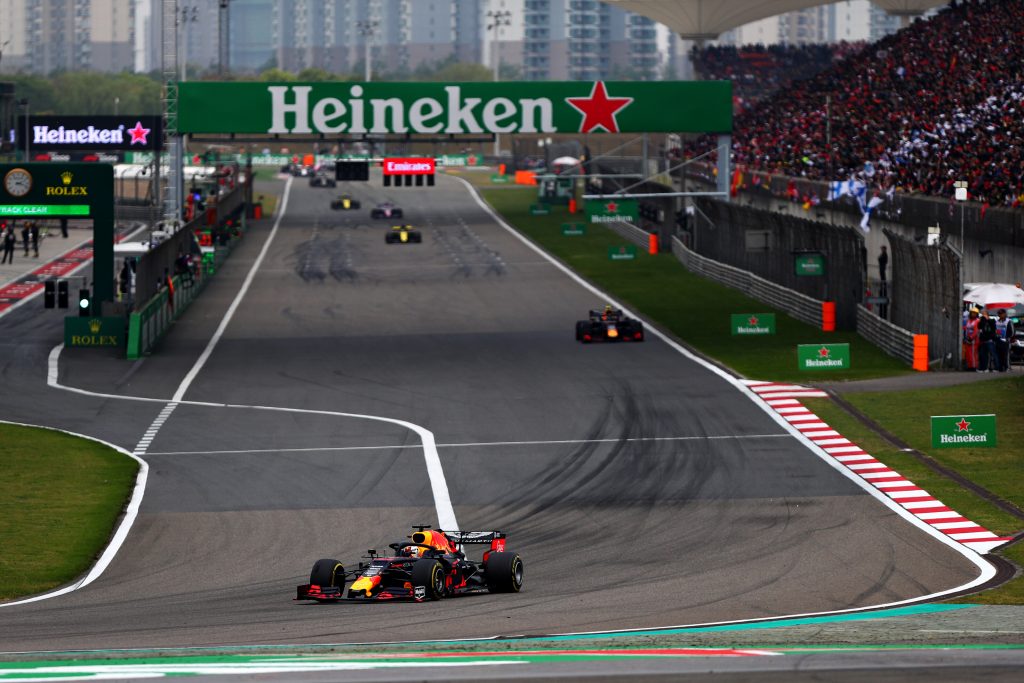 Daniel Ricciardo – 7th (Renault):
"It's good to get on the board, finish the race and have my first points with the team. We'll take the positives from that. It might have looked a simple seventh, but it wasn't easy. It was a bit of a lonely race, I didn't have so many battles but I was being pushed hard from the cars behind all the way to the end. It's a strong result and the best we can ask for; at least for today. We want to push on from this over the next couple of races and keep working from here."
Sergio Perez – 8th (Racing Point):
"I'm very happy to score four points today. The start was fantastic: I saw a gap, went for it and it paid off. Our race pace was good: we were able to maintain the pace and manage the tyres well. It wasn't an easy race, though, because I was under pressure from Kimi for most of the second stint, which made it more difficult to look after the tyres and keep up the pace. It was the same with Daniel ahead of me – I think he was working hard to manage his tyres because every time I got close to him he found the pace to pull away again. This was never going to be our strongest track so it's important to take opportunities such as today and keep scoring points. I think we have the potential to be stronger at the next race in Baku."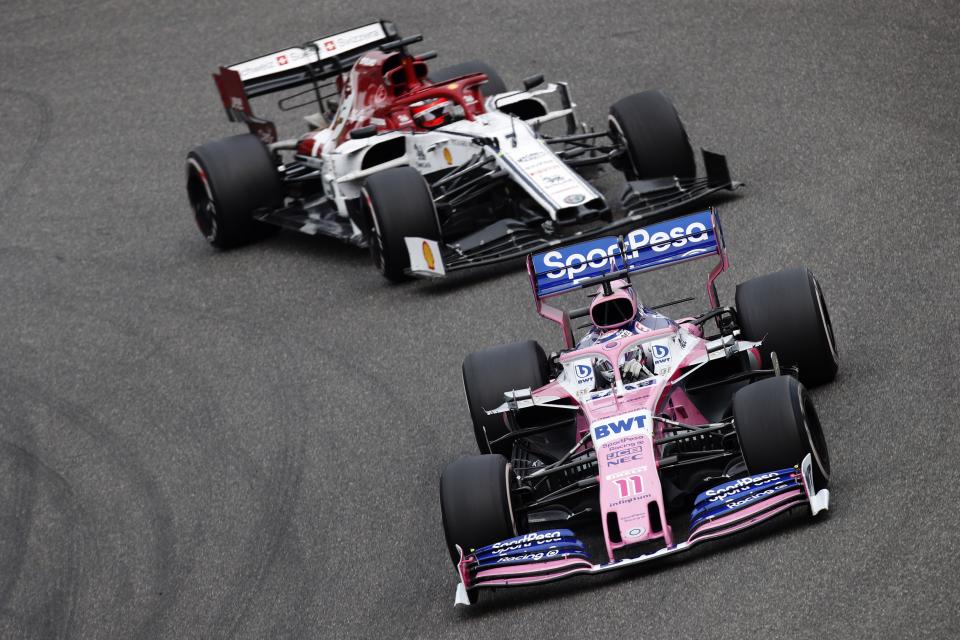 Kimi Raikkonen – 9th (Alfa Romeo):
"The car felt good today, at least scored some points. In the end I lost the grip on the front tyres. It's a shame because I was looking after them during the race."
Alexander Albon – 10th (Toro Rosso):
"Firstly, I would like to say a big thank you to the team for their hard work yesterday. It was looking a bit dark after FP3, but the guys worked very hard last night to change the chassis, so they deserved a good race and I was happy to bring home a point to reward their effort. We had the pace all weekend and I was confident we had a good shot at getting into Q3, although unfortunately we didn't get the chance due to the repairs. It was a difficult race because we initially had planned a two-stop strategy, but the degradation was higher than most people expected. Since we knew from FP2 we were good on our tyres, we decided to go for it and survive on the hard compound. I was a bit nervous at the end when Grosjean was almost catching me, but I'm really happy to have pulled that off!"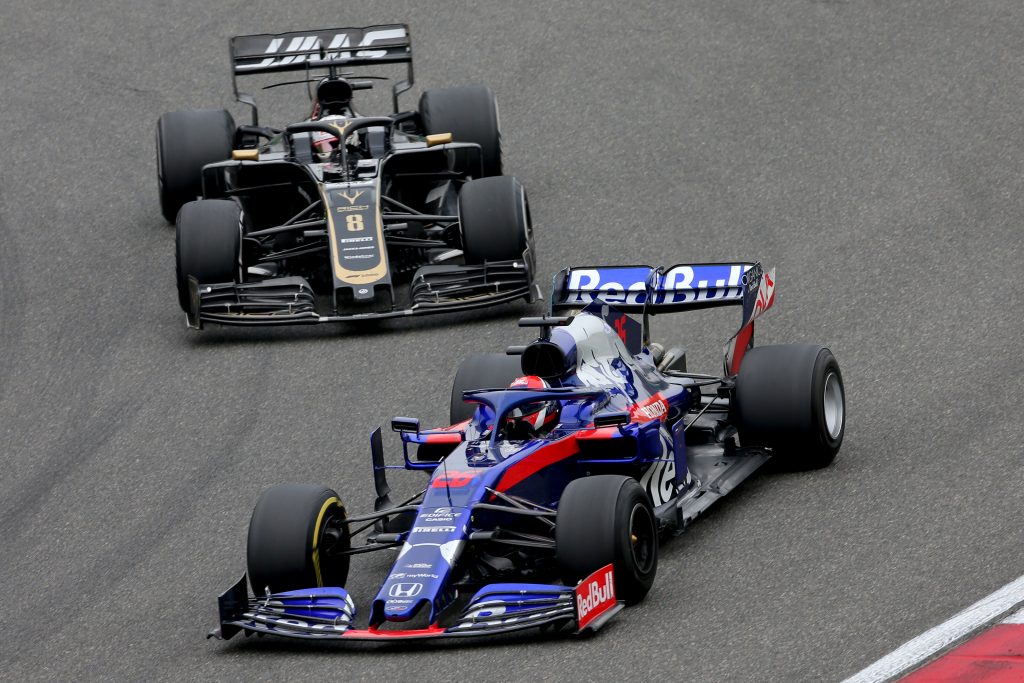 Romain Grosjean – 11th (Haas):
"I was a bit worried, to be fair, before the start as our race pace hasn't been amazing all weekend. The car's amazing over one lap, but as soon as we go two laps on the tires, we're not there anymore. We need to understand exactly what happened. I think without the blue flags at the end we'd have scored a point. Alex (Albon) did a great job defending well and not making any mistakes. Congratulations to him. It's so annoying to give it all, push hard, and just not get the chance to score points."
Gave it all today for the 1000th race of @F1 but just wasn't enough to get into the top 10. We will work hard and come back stronger next race!#r8g #ChineseGP #race1000 pic.twitter.com/IcJCjwKctZ

— Romain Grosjean (@RGrosjean) April 14, 2019
Nico Hulkenberg – DNF (Renault):
"It's clearly a very disappointing race for us today. It was a difficult start to the race, I lost a position and it was tough following cars ahead. We pitted and came out in some traffic, but then I felt a loss of power. We tried our best to fix it out there as it looked like a software issue, but it wasn't possible and we had to park up. We're looking into the issue, but it looks like an MGU-K related problem. We have things to work on ahead of the next race, but we will look at everything in detail and come back stronger."
Lance Stroll – 12th (Racing Point):
"Today could have been better. We were in front of Albon before the first stop and then he undercut us by one lap and finished in the points, so it's a bit of a shame. We could have been more proactive, because we didn't have anyone immediately in front of us. I think it was Sergio or Raikkonen ahead at the time, about five seconds up the road, so we weren't really fighting anyone in front and we had Albon three seconds behind. It was just a classic undercut. It's disappointing, because once that happened we were in his dirty air and it was tough to overtake. We tried an extra stop at the end and got past Magnussen to finish P12, but it could have been more. Our race pace was not bad but we just need to look at the strategy, because I think we may have been able to pick up a point today."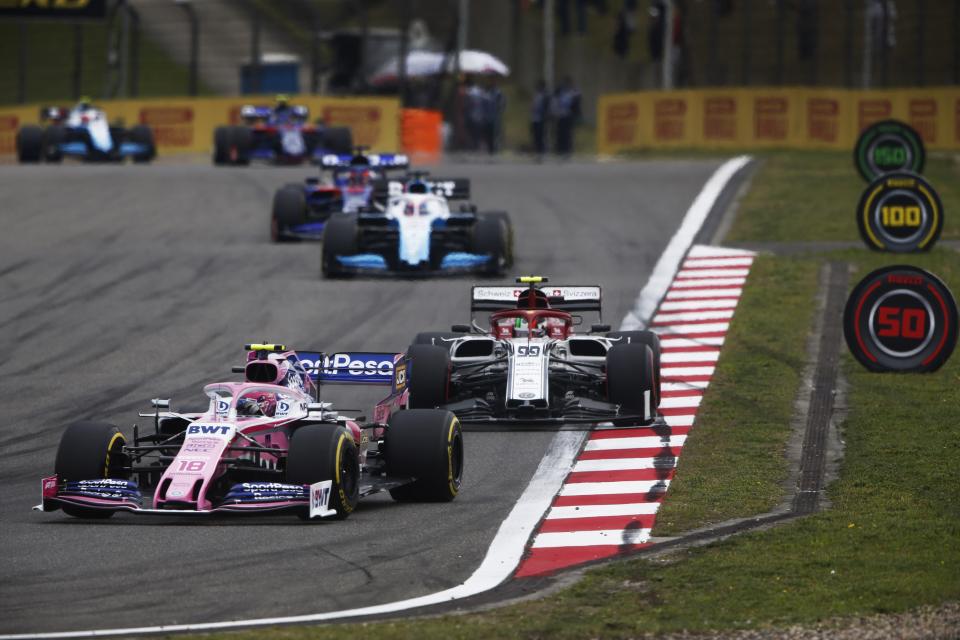 Daniil Kvyat – DNF (Toro Rosso):
"It was an unfortunate race today because after lap one the race was pretty much over. The pace we showed with a damaged car was very strong, so it's disappointing not to be able to transform that into a good result as there was potential to finish inside the points today. I have seen the first lap incident with the two McLarens and I disagree with penalty. I think it was a typical lap one sandwich and these things can happen as we're so close together."
Gil de Ferran – Sporting Director (McLaren):
"Racing can be very cruel sometimes, and today it was. Obviously, the first-lap incident destroyed our race, but we tried to do our best and raced hard to the end. Despite it all, there were several positives to come from this grand prix, particularly our race pace, which was very competitive when compared to the guys that finished in the points. We also learned more about our car on this very different track, and now we look ahead to another fighting weekend in Baku."
Both cars experience contact on the first lap. Lando follows Carlos into the pitlane to box before they head back out on track.#ChineseGP #Race1000 🇨🇳 pic.twitter.com/hb2WS3SyZQ

— McLaren (@McLarenF1) April 14, 2019
Kevin Magnussen – 13th (Haas):
"I didn't have the pace today, so we need to work on the race pace. Qualifying's been good all year, so-far, we just need to sort out the race pace, it's the most important one to be good at. There's some work to do. I don't really understand it at the moment, we all need to understand it. It's not easy. It's frustrating that we see we've got a good car, that can qualify well, then we can't convert that into race pace."
Lando Norris – DNF (McLaren):
"My start was pretty good, getting off the line well and making up places before I had to back out in Turn Three when I was close to Kimi. I was on the outside in Turn Six and was hit which sent me into the air. That damaged the car, I lost a lot of places and had to box. That pretty much ruined our race. I didn't have great pace afterwards due to floor damage but Carlos' pace looked very good. The top-three teams aside, he looked to be the best of everyone else. So there was potential in the car today but the contact ruined it. On to the next one."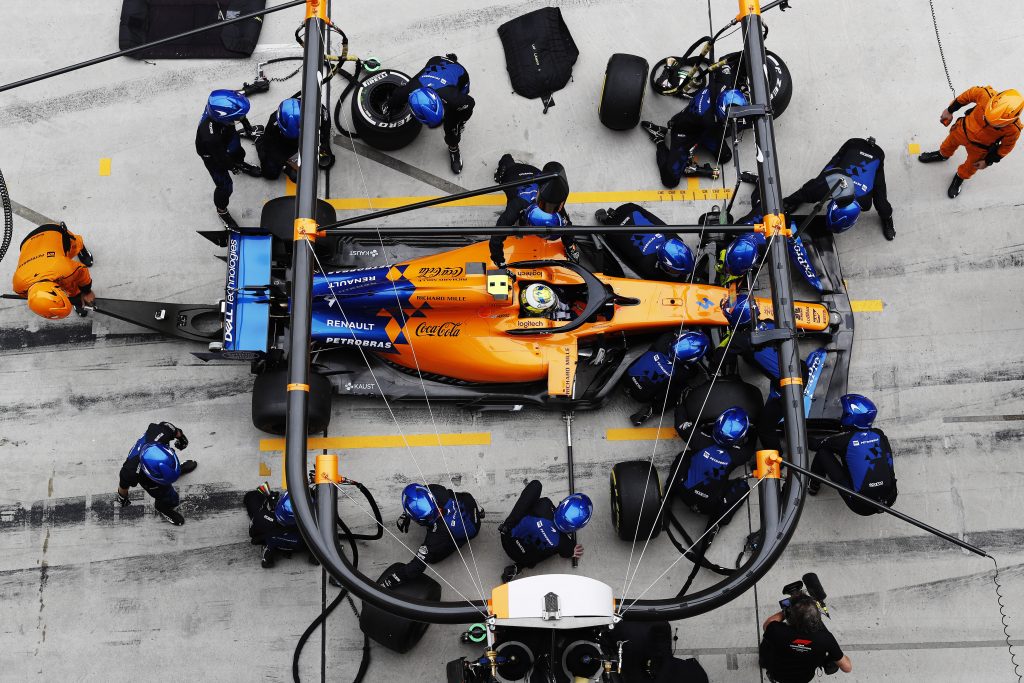 Andrew Green – Technical Director (Racing Point):
"We leave China with four more points in the bag and today's result means we've scored points in every race so far this season. Sergio drove a skillful race and managed the tyres well. He got himself in a good position on lap one and stayed out of trouble to bring the car home in P8. Lance was close to scoring points today, but just didn't have the track position to make the one-stop strategy pay off. Losing out to Albon at the first pit stop proved costly and he spent most of the afternoon chasing the Toro Rosso, fighting for the final point. We switched Lance to a two-stop strategy late in the race – taking a gamble – and giving him the final few laps on the soft tyre. He managed to pass Magnussen on the final lap, but there were a lot of blue flags to deal with which made things tricky. He made a great start and drove well, but the strategy didn't quite play out in his favour today."
Carlos Sainz – 14th (McLaren):
"Another frustrating day. Impossible to avoid the Toro Rosso so another thing out of our control that ruined the race, and this time, unfortunately, involving our both cars. A real shame because our race pace was good and I managed degradation well, so I think we had a chance to fight for the points. We definitely had a better race car than a quali car. I prefer to keep thinking about the positives and be patient, because things in the end will turn around. I'm quite happy with the car, very happy with the team, my engineers, my mechanics, and things will turn around eventually."
Another frustrating race. The Toro Rosso lost control and it was imposible to avoid him. Pity because the race was long and we had good pace to fight for points. Car feels good on Sundays so it's a matter of time…results will come! Team was great and we never gave up.Baku next! pic.twitter.com/FhkHPYcMGR

— Carlos Sainz (@Carlossainz55) April 14, 2019
Jody Eddington – Technical Director (Toro Rosso):
"This event has certainly been a very busy one for the mechanics. However, to start from the pit lane with one car and to score a point with it is a fantastic reward for the hard work of these guys and the rest of the team. In terms of the race itself, Alex has put in a strong performance today, pushing when required to obtain track position and then managing his tyres well in order to defend 10thposition. Dany's race was less smooth with contact on the opening lap resulting in damage and a drive through penalty. A nose change was required as a consequence of the incident, so taking points away was going to be a challenge, even if his pace was quite reasonable. Today we have seen again that the midfield is very competitive and we are looking forwards to Baku."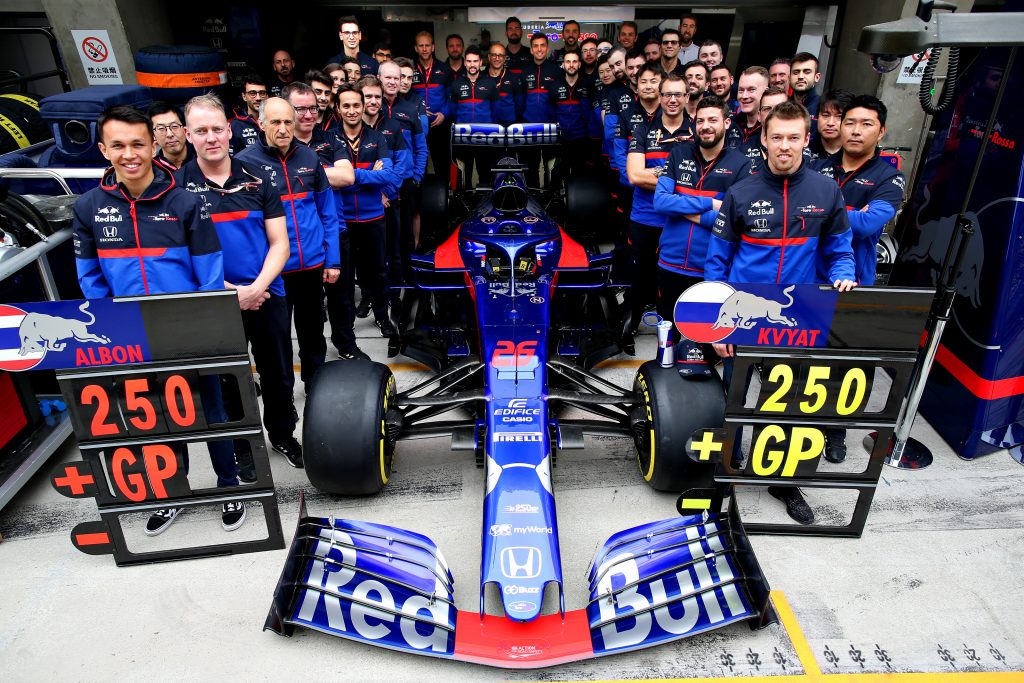 Antonio Giovinazzi – 15th (Alfa Romeo):
"It was a difficult weekend overall. We started the race from the back of the grid and went with a bit of a different strategy to try and gain some positions. It didn't work so well in the end."
George Russell – 16th (Williams):
"The pace was slightly better than expected, we were battling in the opening couple of laps and we managed to stay with the pack. Once things settled down, the gaps started to open, and it was a fairly lonely race for me. We were struggling with the tyres in the middle stint of the race, and the laptimes were dropping off, so it was the right choice to pit for a second time. At the end of the day this is where we are at the moment, we must keep pushing and keep working."
Fun opening couple of laps before things settled down. Eyes on Baku now ➡️#F1 #ChineseGP 🇨🇳 @WilliamsRacing pic.twitter.com/vJB3WwCyoo

— George Russell (@GeorgeRussell63) April 14, 2019
Robert Kubica – 17th (Williams):
"There was not a lot to say today to be honest. The most exciting moment of the race for me was when I spun on the formation lap. I tried to put heat into the tyres and I lost the car going slow in turn six. I then had a good start and I went to the inside line but honestly, I didn't want to risk anything. I was close to one of the Racing Point's and I was on the inside and I didn't know if he would tighten the line, so I left enough space and lost two places there. It is difficult to risk something when you know the pace will be what it will be."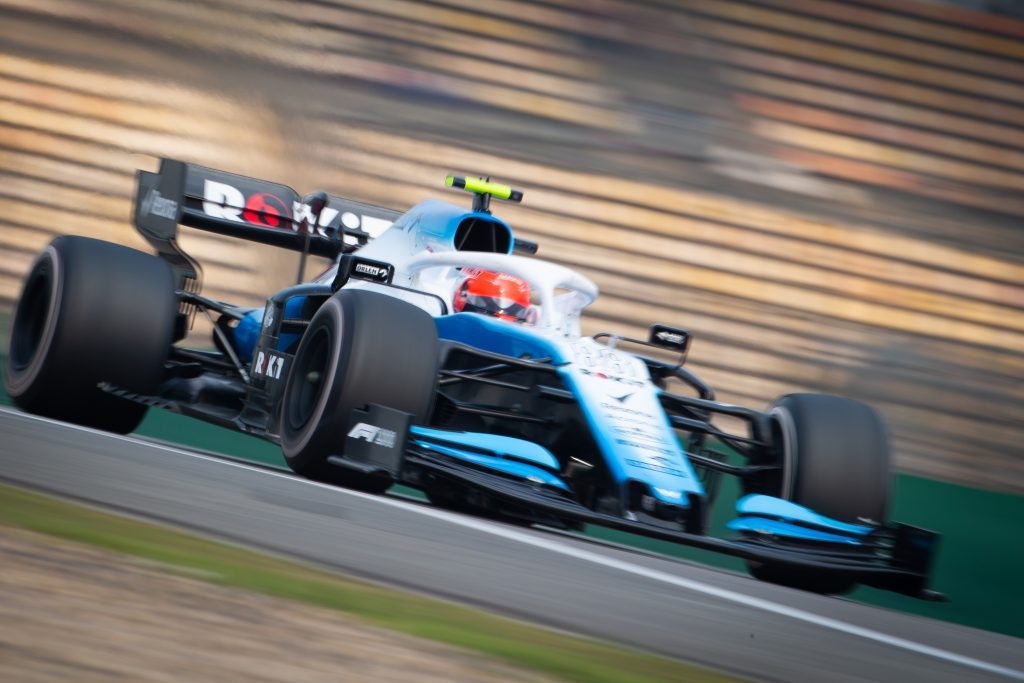 Dave Robson – Senior Race Engineer (Williams):
"We had an enjoyable race today and were able to race a couple of cars who had found themselves a little out of position following their first lap incidents. We had clean, well-driven races from both drivers and were able to execute a sensible one-stop strategy with Robert. We tried a similar strategy with George, but the length of the stint and the loss of some tyre temperature meant that ultimately, we opted to pit George for a second time and allow him to finish the race on a new qualifying tyre. We have made some improvements to the car this weekend and have started to close the gap. We also tested some new components which may help us close the gap further in the coming races. The next race on the streets of Baku will pose a new set of challenges, but we are ready to meet those as we continue to learn about the FW42."
Pirelli: