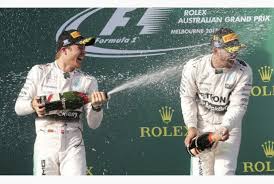 HAMILTON LEADS MERCEDES PROCESSION IN AUSTRALIA
Lewis Hamilton strolled to victory in Melbourne, with the only real challenge from his team mate Nico Rosberg. Mercedes looked like the team who didn't take a winter break, not willing to rest on their laurels and built a better car than they had last year. Ever since day one of test one it looked as though they had a huge advantage and they have taken that and run with it. If anything, they are better, stronger and faster than they were last year. The gap fluctuated between 1.4 and 3.5 seconds, but it remained as it was from the start with the exception of pit stops.  Both cars started well and were well clear of the melee that happened behind them into turn one. But then, we always knew that Mercedes would be on top, didn't we?
Post-race, Lewis didn't even look like he had broken a sweat and was more excited to see Arnold Schwarzenegger on the podium interviews than he was to have won the race! The Aussie crowd were just as pleased, breaking out into chants of "Arnie! Arnie!"
So how could a race be so predictable, yet unpredictable at the same time? Well, that's F1 for you I guess. It's a numbers game after all. Talking of numbers…
The race weekend started with 20 cars, which soon became 18 when Manor pulled out. This looked as though it could become 16 when Sauber's legal battle with van der Garde nearly put the team into jeopardy. The 18 became 17 when Valtteri Bottas pulled out with a back injury sustained in Qualifying on Saturday. Kevin Magnussen in Fernando Alonso's seat blew his engine up on the way to the grid, which left 16 runners, when Daniil Kvyat had a gearbox failure in the Red Bull which saw him also retire before the start. 15 runners it was then, with Mclaren's Jenson Button taking up the last spot on the grid.
There's almost always a first corner incident in Melbourne, and this year was no exception. The Safety Car's first appearance of the year took less than a full lap as Kimi Raikkonen and Sebastian Vettel tangled in the first corner, Kimi backing out of an inevitable accident which bunched up cars around him, a few taps and tags here and there and Pastor Maldonado found himself going backwards into the barrier, through no fault of his own. 15 became 14. Which very quickly became 13 as Lotus decided to retire Pastor's team mate Romain Grosjean at the end of lap 1.
13 it was for most of the race then, until in-race retirements for Ferrari's Raikkonen; following a pit stop error and a heartbreaking breakdown for impressive debutant Max Verstappen.  11 finishers?  Surely there wasn't much racing to be seen.
Quite the contrary. Lewis Hamilton may have led for all but his out laps, but at times Rosberg would reel him in, 2.7 seconds becoming 1.4; before Hamilton would pump in a few fastest laps and stretch the lead back out again. This cycle continued at the front as the two silver arrows were miles ahead, and in a race where you have to watch the fuel levels too, they were probably not even pushing.
The battle for third was between Massa's sole remaining Williams and 4 time World Champion Seb Vettel. Massa had the upper hand until the first stops, when Vettel jumped him and Massa didn't quite have the pace to mount a real attack until the last few laps.  Behind those two for the majority of the race, right up until the end was the Sauber of Felipe Nasr in his first full F1 race. A great result for a new driver in a team that had a terrible weekend in the lead up to the race and the worst season in their history in 2014.
Daniel Ricciardo was a little bit MIA in his home GP, he finished 6th but didn't get much of a chance to catch or attack the new boy in the Sauber, and had battled with Toro Rosso drivers earlier in the race. Not the Danny Ric (apparently he's not a fan of that nickname) we got used to in 2014. It also appears that Red Bull may have gone backwards slightly, slipping behind Ferrari and Williams considerably in terms of race pace. Ricciardo was followed home by Nico Hulkenberg, who made the best of a bad situation as limited testing mileage in the Force India meant it was still a rather unknown quantity.
Swede Marcus Ericsson proved a wise addition to the Sauber team as he came home 8th, ahead of the other impressive Toro Rosso of Carlos Sainz and the other Force India of Sergio Perez had a race to forget but still made the points. Nobody's race was quite as frustrating and as slow as Jenson Button's though. Lapped twice in his Honda powered car, at least he got the car to finish; which means he has the mileage in the engine; now all it needs is performance. A nightmare start for the dream partnership.
So on to Sepang – Manor are going straight there to get their car ready. They believe that they have something in their package; they just need to put it all together. Time is tight and they'll be renting a unit somewhere in Malaysia to get the cars ready for Stevens and Merhi.
Will Bottas' back be OK? Williams have all but confirmed that if he isn't, then Susie Wolff won't drive for them in Malaysia. Fernando Alonso? Maybe if he returns then Jenson will have someone to race with. Can the new boys keep up the pace or was it purely beginners' luck? Finally, we have answers that bring more questions! F1 is back.