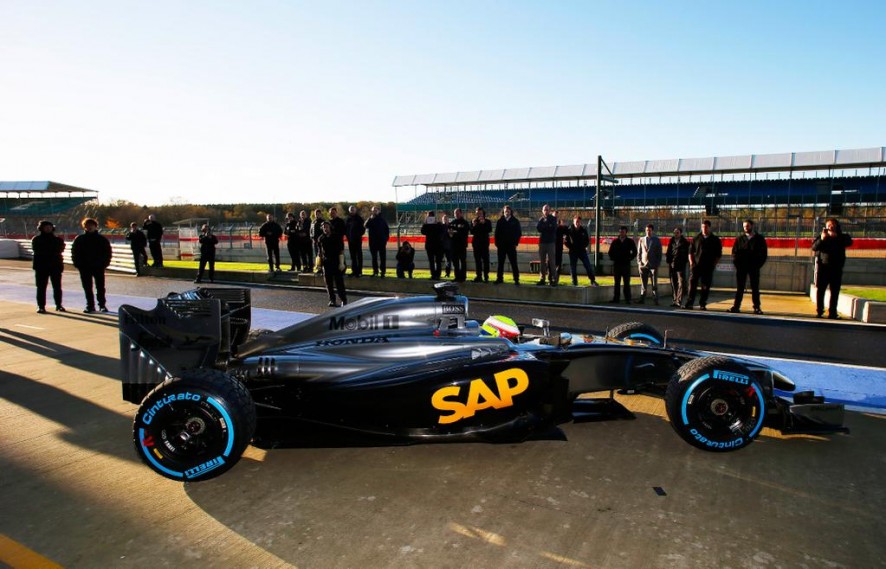 Take a look at this, it's the MP4-29H, A development car that is an intermediary between 2014's car and what to expect from Mclaren in 2015. It's significant because it is the first Mclaren to run a Honda engine since 1992. When the love-in finished between the Woking based outfit and the Japanese engine supplier, they looked back on huge honours. Four consecutive drivers and constructors titles between '88 and '91. Mclaren ran with a Ford engine in 1993, which paled in comparison, before going with Peugeot in 1994, which proved even less fruitful. Since 1995, they have been partnered with Mercedes, and were in effect the works Mercedes outfit until the Silver Arrows were resurrected in 2010.
Honda had flitted between teams as engine suppliers; before taking over the BAR team at the end of the 2005 season as their works outfit, which won races and fought for championships. The worldwide global financial crisis in 2008 meant that Honda pulled out of the sport, and had not returned since.
Now though, they have reunited. Friday's practice has yielded little in the way of information as officially it was a filming day using only Mclaren test drivers, with running restricted to 100km. Whilst the engine was not run at full racing speeds, enough telemetry was accumulated for Mclaren to say that the signs are positive and that the engine is producing performance to match Mercedes' current engine. Impressive.
But less so when you realise that Mercedes have already gained a technological insight into their 2015, second generation engine. Nothing has been officially confirmed yet, but the general consensus is that Mercedes have added 60bhp to their engine unit alone, and have fettled with other parts of the power unit to gain approximately one second a lap on 2014's engine, depending on the circuit of course.
That is a huge gap that must leave Honda with a bitter taste. Although they aren't showing it, they still believe that they will return to F1 as winners in 2015. I wouldn't suggest for a second that the Japanese are sandbagging but until the Mclaren gets to pre-season testing in February, we won't truly know anything. Mclaren's faith in Honda is huge. But what of the other way around?
Mclaren have had a competitive engine in 2014. As they did in 2013. Both seasons have proved very poor in comparison to what Mclaren knows it can acheive, and has acheived in the past. What if Honda provide the power unit that miraculously manages to surpass Mercedes' second gen unit and that of Renault's as well? What if the problem is with Mclaren? It inevitably is, everything points to it being so.
What tends to capture the public's imagination more with 2015's Mclaren-Honda is what they will go for livery wise. Some suggest that Mclaren will ditch the chrome look, as it is associated with the Mercedes era, but what do they go to next? All hinges really on a title sponsor. Without one, they could go back to the classic Mclaren Orange, used before the team struck up a partnership with Marlboro in the mid-1970's. They use it on their road cars, so why not? If they could convince Segafredo to step up to main sponsor, perhaps they could re-use the red and white livery? The colours are also synonymous with Honda, so there is a real possibility that we could see Mclaren on the grid with the famous red and white. But until the cover comes off that MP4-30 in February, we won't know anything for sure.