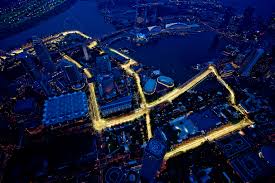 LEWIS HAMILTON WINS SINGAPORE GP AS ROSBERG HITS TROUBLE
Known as a global business hub, where corporations and investors from the east and west come together to do their deals, the only business that mattered in Singapore today was between 22 drivers on the Marina Bay Street Circuit. More important perhaps, was the business between the two Mercedes and the 22-point gap between their title leading drivers. Night had fallen long before the cars got off the grid, and the spotlights had the track well lit up. Rumours of a potential problem with Nico Rosberg's car bounded around, before Toto Wolff confirmed an electrical problem that showed up on the steering wheel, which meant Nico had to start from the pit lane. With passing so difficult on this course even with DRS, then Nico faced a massive uphill battle – if he could get his car going. He did eventually, and did a little better than Kamui Kobayashi, who pulled over to retire on the formation lap, with what seemed to be a fire in his car.
The start meant we were denied another battle between the two Mercs, with the second grid spot being left empty.  The Red Bulls took that first corner fight on instead, as Fernando Alonso went straight on at turn one, seemed to gain a sizeable advantage, and then handed a place back to Vettel. The stewards however chose to investigate it for exceeding track limits, as they did with Magnussen's close brush with Jenson Button at turn 7. No action was taken on either. On lap 3, with DRS enabled, Rosberg was still behind the Marussia of Max Chilton. It soon became clear that Rosberg had no clutch and was lacking in power.
As the race settled in the first stint, some drivers and teams were conversing about hot brakes, with Red Bull asking Ricciardo to 'pull right' to cool his brakes on one side, surely a driving instruction (banned by radio)? Sutil was the very first car to pit, as did a few cars toward the back end of the pack. Williams were highly impressive with the smoothness of Felipe Massa's first stop but it was Rosberg's pit stop that will claim the headlines, the German having to retire his car after he stalled it and couldn't find any gears on the start up. The gap between Hamilton and second placed Vettel was eight seconds, but the Red Bulls win the prize for most impressive stop – double stacking the cars to perfection, a rare treat. Hamilton cruised for a while in the laps following the stops, only to pick up the pace again, once he realised Vettel was closing the gap. Fernando Alonso fancied a go at Vettel himself, who was told to build the gap over the radio, and to "ignore the beeps" – another driver instruction? It didn't seem to matter, there were many other radio calls that I thought were questionable, we'll leave it for the FIA to deal with.
The race settled down in the stint between stops, as the teams began to start scheming on how best to manage the next round of stops to get ahead of any rivals. Williams again were fantastic with their second pit stop and Felipe Massa looked amazingly fast through the early section of the lap afterwards, trying to force the undercut. Ferrari did this to perfection with their second stop – undercutting Vettel, with Alonso taking second place and starting to catch Lewis Hamilton at the front – for all of two laps it looked as though Ferrari may be able to carry their practice pace into a race. Daniel Ricciardo stayed out a little longer this time, trying a slightly different strategy perhaps? It didn't last though, as Sergio Perez tangled in a battle at the back of the field with a Sauber to bring out the Safety Car, for an 8th successive race at Singapore.  Many took advantage to stop again, including the lead Ferrari; which left Alonso in fourth behind both Red Bulls. Vettel instantly switched strategy to not stop again knowing that Lewis, now within touching distance, would have to stop once more to adhere to the rule to use both compounds in the race.
Upon the restart, Hamilton had extra fuel to burn, and used it to good effect; building a 3.2 second lead over Vettel in the first lap. The plan on Mercedes' side then was to build a pit-stops worth of a gap so that they could pit comfortably. It was always going to be a huge ask, even if the safety car had shortened the race to the 2-hour limit rather than the full 61 laps; and they left it very late. Hamilton built a 23- second gap, but was getting nervous with worn tyres; and with less than ten laps remaining, and a gap not big enough to hold the lead – he boxed. A smooth stop from the team but Vettel took the lead. Upon Hamilton's pit exit, he was nearly passed by Ricciardo in his poorly sounding Red Bull also, but held him off and then on fresher rubber went after the four-time World Champion. The crowd at track side were roaring Hamilton on for the one lap he was in second place, and he passed Vettel under DRS into turn 5. As this happened Jenson Button rode his Mclaren over the kerbs a little too hard which seemed to trigger an electrical shutdown on his car, pulling over to retire. Team mate Magnussen had been complaining of the heat and was seen trying to cool down by sticking his hand out the cockpit. On being reminded to drink more he responded that couldn't, as it was too hot and was burning his mouth. Not what you want to hear in a race where 3 litres of water need to be consumed by drivers to avoid dehydration.
Since the safety car had gone in, it was obvious the time limit would run out instead of getting to the end of 61 laps. Time had already run out for Sauber, who after retiring Gutierrez from a good position earlier in the race, had to retire Sutil too. The two Lotus drivers also had an entertaining dice and managed to avoid each other – it did look briefly as though Maldonado may score points but it was not to be, probably because they stuffed up their tyre choice, putting the wrong tyres on.
Back at the front, Lewis Hamilton opened up at a 10-second gap. Red Bull's pace on their worn tyres was fading and Alonso looked as though he could pounce. Ricciardo did the job covering Alonso off in the last couple of laps in order to protect a double podium for Red Bull. It stayed that way until the chequered flag, the Ferrari unable to capitalise. Slightly further back, Valtteri Bottas lost a lot postions on the last lap due to what looked at first like tyre wear, then perhaps a puncture.
Late on Toro Rosso's Jean-Eric Vergne was given a 5-second penalty for exceeding the track limits during a battle with Maldonado, but chose to take it at the end of the race when his pace was superb, and he managed to charge through to sixth place, more than 5 seconds clear of seventh placed Sergio Perez, meaning he held on to sixth. Kvyat was less lucky though, his drinks bottle broke early on and ended up in fourteenth.  Despite Perez's escapade with his front wing he did well to break into the top ten, which put his team now ahead of Mclaren in the constructors' fight. Mclaren's Magnussen only managed a single point back in tenth, passing the very slow Valtteri Bottas on the last lap of the race. The two Marussias brought up the rear of the 17-car finishing pack, with Marcus Ericsson finishing ahead of them in fifteenth.
So with Hamilton winning and Rosberg failing to finish, the 22-point deficit that Lewis started the race with has been wiped out, with Lewis taking a 3-point lead in to legendary Suzuka. Titles have been won and lost there in the past, and whilst no title will be won there this year, a lot could certainly be lost.
Race Result:
1.   Lewis Hamilton
2.   Sebastian Vettel
3.   Daniel Ricciardo
4.   Fernando Alonso
5.   Felipe Massa
6.   Jean-Eric Vergne
7.   Sergio Perez
8.   Kimi Raikkonen
9.   Nico Hulkenberg
10. Kevin Magnussen
11. Valtteri Bottas
12. Pastor Maldonado
13. Romain Grosjean
14. Daniil Kvyat
15. Marcus Ericsson
16. Jules Bianchi
17. Max Chilton
Not classified: Jenson Button, Adrian Sutil, Esteban Gutierrez, Nico Rosberg, Kamui Kobayashi.