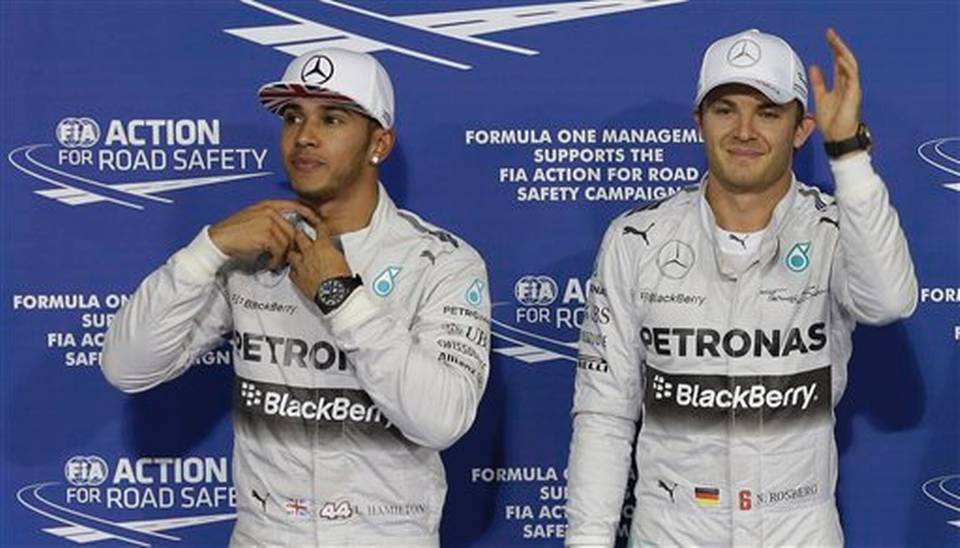 NICO ROSBERG BEATS LEWIS HAMILTON TO POLE IN TITLE SHOWDOWN RACE

Lewis Hamilton admitted that he had a messy lap in the final part of qualifying, which handed Nico Rosberg pole position – and the initiative for the race.
Hamilton had topped FP1 and FP2 on Friday, and looked to be going faster than Rosberg in FP3 when the clock ran out. But when it came down to the nitty gritty of putting in a fast and smooth lap, it was again the German that held his nerve over the 2008 champion. The gap in the end was almost 4 tenths (0.386) to Hamilton, who wasn't comfortable even in second place after Williams pushed the Mercedes hard.
Bottas was 0.535 seconds down on Rosberg in third, with his Brazilian team mate Felipe Massa in fourth, for a top 4 Mercedes and another second row lock out by Williams. It was a significant result for Mercedes as an engine supplier, because it means that for the first time since 1968 a manufacturer has been responsible for every pole position in one season.
It was a third row lock out for the wavering Red Bulls, whose improvement has come and gone with every GP since Singapore. Ricciardo managed to out qualify Sebastian Vettel for the outgoing champion's final race for the team. However, later in the day it transpired that the front wing on the Red Bull cars was deemed 'illegal' and that both cars would be disqualified from the qualifying session and start at the back of the grid.
Seb's replacement at Red Bull was hugely impressive in the Toro Rosso, Daniil Kvyat claiming a brilliant 7th place, on the tails of the parent team's cars. He will be joined on the fourth row (third row following Red Bull's DQ) by Jenson Button, who importantly out qualified Kevin Magnussen for the 10th time this season, meaning he will end the season 10-9 ahead, playing a game of one-upmanship in a team where Ron Dennis, Mclaren CEO earlier claimed that they are trying to narrow down four drivers into two seats.
The fifth row of the grid was occupied solely by the scarlet Ferrari pairing, Kimi Raikkonen finishing ahead of the exiting Fernando Alonso who had problems in FP2 and hardly had any running at all in FP3 before the team swapped out his power unit for Qualy/Race conditions.
Outside of Q3, five cars were eliminated in each of the first two sessions, thanks to the returning Caterham team. Their return was less than triumphant however, as both cars were slowest in Q1. Debutant Will Stevens can hold his head high however, as he closed the gap to his team mate from over 3 seconds in FP1 to 2.6 in FP2, 1.6 in FP3 and 0.5 in Qualifying, which he put down to a mistake in the final sector of the lap. Otherwise he'd have been on equal terms with Kobayashi.
Both Lotuses and Saubers occupy the 4 grid slots in front of them, although Romain Grosjean has many penalties to accumulate after using more than his allocation of power unit components, and will start last, even behind the Red Bulls and may even have to take a drive through penalty to make them all count before the end of the season. If I were Lotus, I'd have replaced the entire power unit and started from the pit lane.
Q2 saw Kevin Magnussen and Jean-Eric Vergne squeezed out into 11th and 12th; with both beaten by their respective team mates. The seventh row of the grid and bridging the gap to the rear gunners on the grid is occupied by both Force Indias, Sergio Perez being slightly faster than Nico Hulkenberg.
So unless Red Bull's Christian Horner can convince the stewards otherwise, the grid is set for the final race of 2014. Unsurprisingly it's the two Mercedes on the front row, but unbelievably, second place is often best going into the first corner here. Remember Vettel's jump on Webber at this race last year? Pole position has been responsible for only one winner in Abu Dhabi since it's first race in 2009.