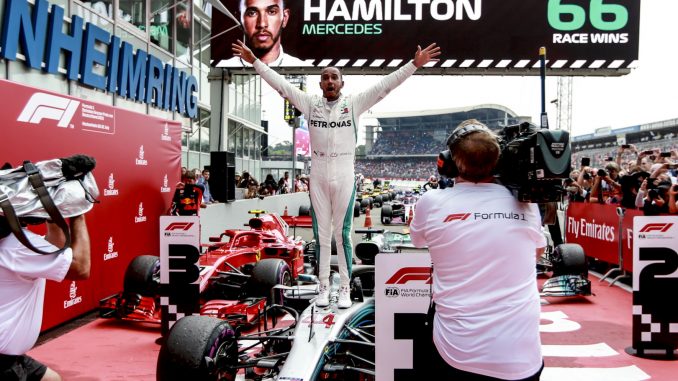 Lewis Hamilton claimed an unlikely victory at the German Grand Prix, winning at Hockenheimring despite starting from 14th on the grid.
The Mercedes driver overcame a hydraulics failure in qualifying and avoided a post-race penalty for cutting the pit entry as he returned to the top of the drivers' championship.
Valtteri Bottas and Kimi Raikkonen were on the podium, but Sebastian Vettel crashed out from the lead as rain started to fall at the circuit.
Here's what the drivers and teams had to say after the race:
Lewis Hamilton (Mercedes – 1st):
"I've never experienced a race quite like this. I knew sitting on the grid that I had to catch the guys at the front – that was my goal. I did a very long first stint, but I had to stop just before it started to rain as the tyre just couldn't hold out any longer. It rained more and more and it was so tricky out there, but I'd come so far, there was no way I was giving it up. To get the 1-2 for Mercedes, especially on a weekend when the Team showed their confidence in us by re-signing us, is tremendous.
"I would never have thought you could do something like that today but I just kept pushing, I kept believing and it happened. I prayed as I always do before the race, and it feels like those prayers were answered. There was a lot of negativity this weekend, but I feel like the rain has come down and washed away all of that negativity. It's been a real dream and a day I'll always remember."
I wish I could describe this feeling right now… What a day, true proof that you should never give up!! The team did such a great job as they always do, I can't thank them enough! I kept the belief and it came true. A big, big thanks to God 🙌🏾 #Godisthegreatest @MercedesAMGF1 pic.twitter.com/5j3VBNFpJA

— Lewis Hamilton (@LewisHamilton) July 22, 2018
Sebastian Vettel (Ferrari – DNF):
"There's not much to say: I made a small mistake which had a huge impact on the result. I braked just a tiny bit too late for the corner, locked the front tires and then the rear ones, so that I couldn't turn the car anymore. I think I had managed everything right before that. We had the pace and we had been in control of the race up to that point. It was my mistake, so I am disappointed, but I don't think we still have to show what we can do. We've shown everywhere that we are competitive, so I am looking forward to Hungary next weekend."
Valtteri Bottas (Mercedes – 2nd):
"I would have loved to win this race, but at the moment I'm very happy for us at the team – it's a perfect result here at the home race for Mercedes in Germany. I was fighting for the win today and things started to unfold quite nicely for me towards the end of the race. But unfortunately I was a bit unlucky as the Safety Car did not come at an ideal time for me in terms of tyre age. That's where I lost the race. Lewis had a great comeback and drove a mega race – probably one of his best. In the end he was a bit more lucky with the Safety Car timing than I was. I had a good opportunity at the re-start, Lewis and I had a great, fair battle – but he managed to stay ahead. It must have been quite exciting to watch – two of the same cars fighting it out on the track. We decided not to pit for the Intermediate tyres; it was risky, but the team was comfortable that the rain would not last long. It turned out to be exactly the right decision, so I'm glad I trusted the team. I will keep pushing hard and I'm sure my time will come."
Kimi Raikkonen (Ferrari – 3rd):
"It was pretty difficult out there today. Surprisingly, in some corners there was decent grip and in some others there was none at all; we could feel the rain especially in Turns 2 and 6. It was hard to tell when to slow down and where the grip was. Obviously, you had to make your decision before the braking zone, knowing that if it happens to be wetter than you expected, there's not much you can do. It was not easy but we tried to make the best calls and I think we got it right. The most tricky moments were before the safety car came in; it felt like it was raining a lot, somehow we had some decent grip and suddenly quite bad grip. At one point I had a moment with some back-markers and unfortunately I lost second place. In many ways it could have been better today, but this is what we got. I think that we made the most of it, considering the situation."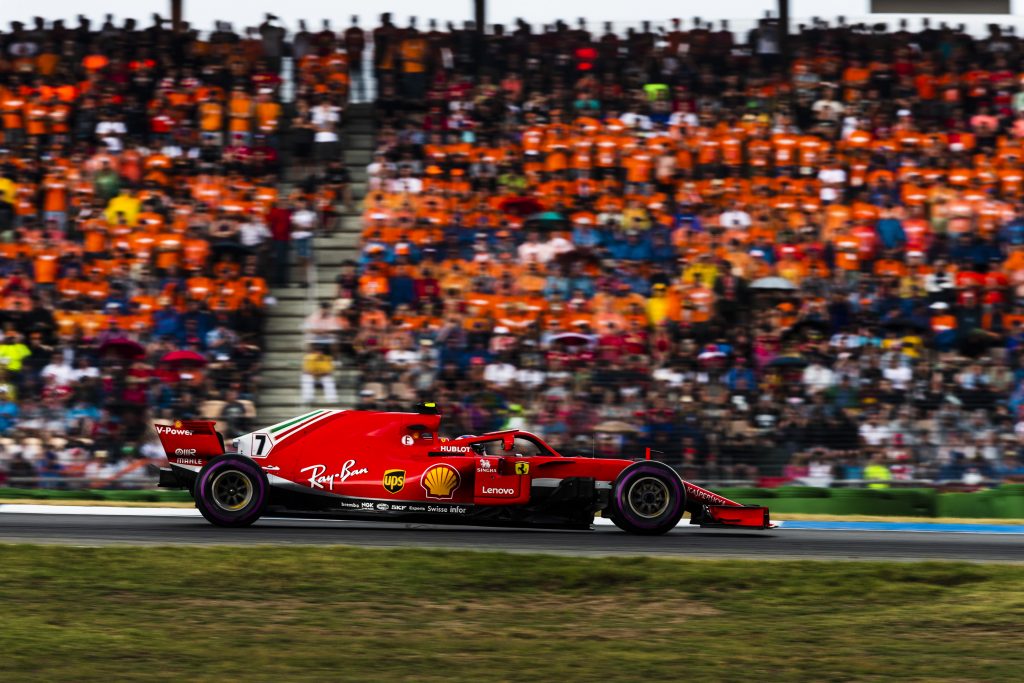 Maurizio Arrivabene (Ferrari – Team Principal):
"In what was a particularly fraught weekend for the team, it would have been important for us to bring home the win and our car had shown it was up to the job. Unfortunately, things did not go as planned. Kimi drove a great race to make it to the podium. We now head off immediately for Hungary, determined to give it our best shot, just prior to the summer break."
Max Verstappen (Red Bull – 4th):
"After such a chaotic race I think finishing fourth is a good result and the car felt strong throughout the race. It was a hard day for decision making due to the late changes in the weather. I had a small slide at Turn 6 when it first started to rain so I decided to pit for Intermediates. As soon as I came out of the pits and got to Turn 6 it was dry again. I knew it was not going to work, it could have done but unfortunately it didn't continue raining enough. Sometimes these decisions work for you, sometimes not as we experienced today. The safety car meant it didn't impact the result but it was worth trying at the time. The heavy rain came a fraction too late in the day, perhaps we could have done more but instead we had to settle for dryer conditions. We should be in better shape to get a good result in Hungary so I'm already looking forward to next weekend."
In these circumstances today, fourth was the best we could do. We took a gamble on the inters, hoping for more rain. Sometimes it works, this time it didn't. But in the end, the result would have been the same #KeepPushing #GermanGP pic.twitter.com/gZrtc1GLhw

— Max Verstappen (@Max33Verstappen) July 22, 2018
Toto Wolff (Mercedes – Team Principal):
"What an incredible race – here at Hockenheim, on home turf for Mercedes, and a one-two finish after all the bad luck we have had in recent races. Today it felt like that turned into good fortune for us and it was the perfect scene on the podium with our two drivers and Dr Zetsche up there. Like always, the race happens on Sunday not Saturday, and sometimes it's not the quickest car that wins; that was what happened today. After the drama of Silverstone and then qualifying yesterday, this is a dream result and that unpredictability is the beauty of sport. But our focus will turn quickly to Hungary, where we will have to do it all over again next weekend."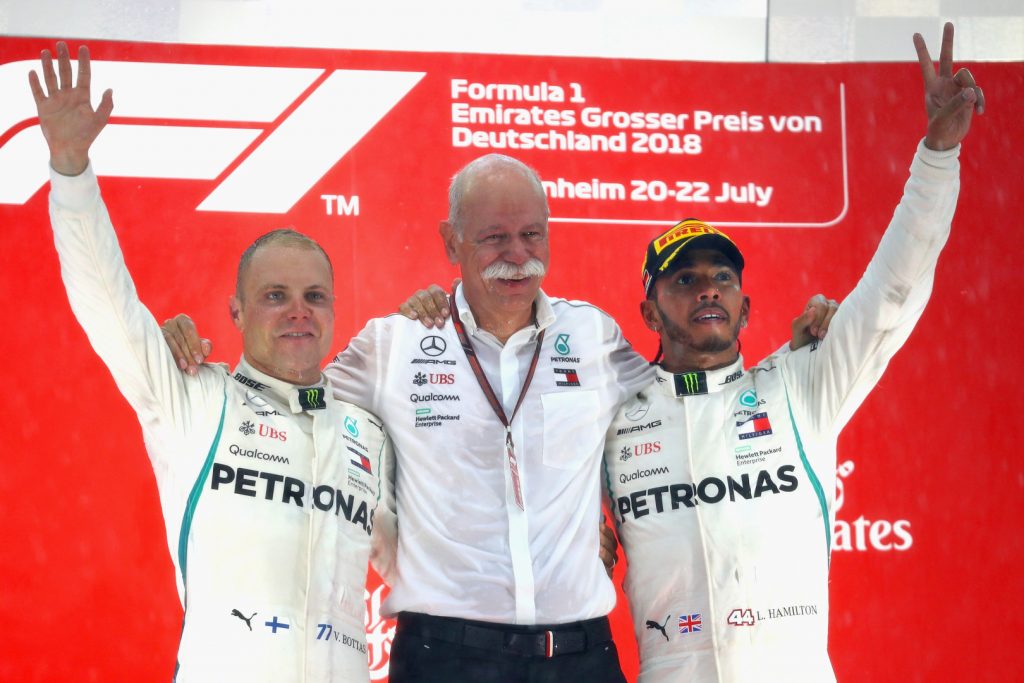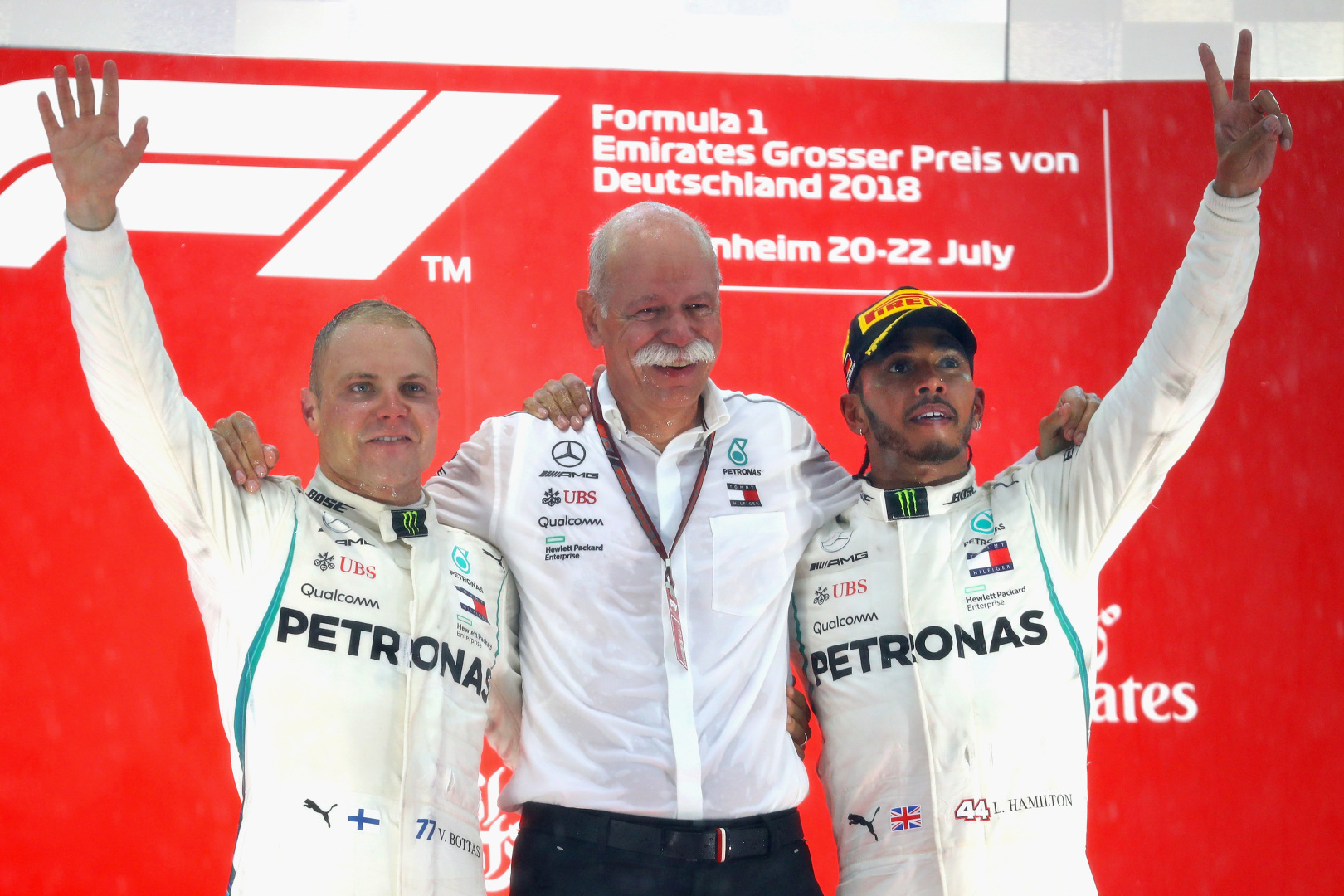 Nico Hulkenberg (Renault – 5th):
"I'm very happy with that. The first part of the race wasn't so exciting, but it was unfolding nicely towards the end, then the rain hit us. It was tricky out there trying to keep it on the road, but I enjoy those conditions and started to make some gains. It's good points for the team, our joint best finish of the season and my best finish with Renault. More crazy conditions would have been nice, but we'll take that. We made the right decisions and that's why we deserve fifth today. We've been working hard for it, so it's a nice reward for the team. We did a good job today."
Romain Grosjean (Haas – 6th):
"That was good fun. It was a good end to the race. Obviously, we didn't quite get the right choice putting inters on, as the track dried really quickly for some reason. It was a bit of luck, a gamble, but we came back on slicks, and I had amazing fun through those last laps. I was just pushing it to the limit and going for it. I think we would've been quite happy to be where we were before the rain came, and then, obviously, it rained. The boys deserved a really good drive from me, and I had fun doing it."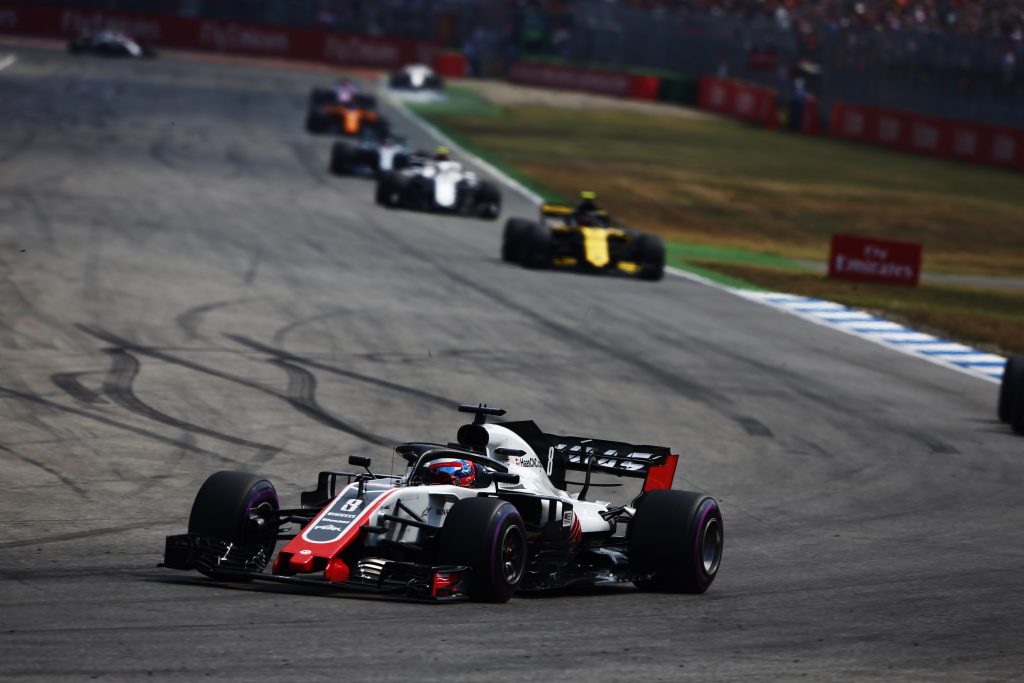 Sergio Perez (Force India – 7th):
"When you come away from such a crazy afternoon with some good points you have to be happy. The whole race was very busy and I was always in the middle of the pack fighting the cars around me. I had a mega first stint, but we were unlucky with the slow pit stop, which cost us a few seconds. Then, when the rain arrived, it was very tricky and each lap was a new adventure. I spun while I was lapping Leclerc – I don't think he saw me and I just lost the rear end. To survive all these things and finish seventh is a good achievement. It's just a shame I lost a position to Grosjean on the final lap, but we did all we could today."
Daniel Ricciardo (Red Bull – DNF):
"The first 10 to 15 laps were really hard on the Medium tyre and they were a handful. I think the race would have come to us but on the first few laps I needed to be really patient and pick cars off one by one. Once I got into clean air I was able to do some low eighteens which seemed competitive at the time but we didn't really get a chance to see what we could do today. We could have gone long on the Medium tyre and I think the strategy would have worked for us towards the end. On lap 29 I heard something strange when I was downshifting for Turn 6 and then once I accelerated out of the corner I lost power and the engine started to sound pretty sick. I got on the radio straight away and expected the team to ask me to pull over, which they did. I don't know the specifics but it was some sort of engine failure which is obviously pretty frustrating after taking the penalties today."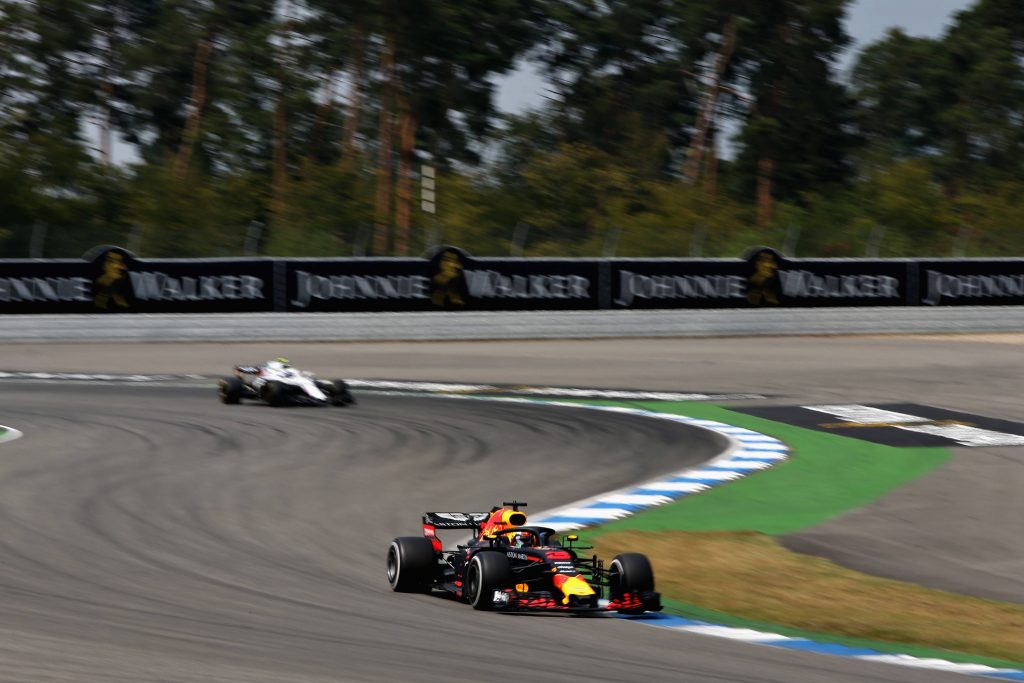 Esteban Ocon (Force India – 8th):
"It's a great result for us after yesterday's disappointment. I made a good start and gained a few places in the opening laps, but besides that the first stint was pretty boring. It's only after the pit stop, when it started raining, that Sergio and I truly made the difference. We gained a few positions on slicks under the rain and it was really good fun. I had to evaluate the situation lap by lap, based on how much rain I could see on my visor and picking my braking points accordingly, but we never really had any doubt about staying out. To get in the points after a tough Saturday is a great result: we stayed solid, we believed in our strategy and in the end it paid off."
Marcus Ericsson (Sauber – 9th):
"It is very satisfying to be back in the points. It was a difficult race, especially in terms of managing the tyres. We had a long first stint on soft tyres. After the rain started, together with the team, we decided to keep calm and stay out. It was a big challenge not to make any mistakes because the track was very slippery and demanding but I was able to manage the hectic situation. At the end of the race, there was a lot of pitting among the teams, and there were some good fights for the points. All in all, it was a fun race to drive, and it is very satisfying to finish it in P9. It is great for the team, a great boost for all of us, and we go to Budapest feeling positive."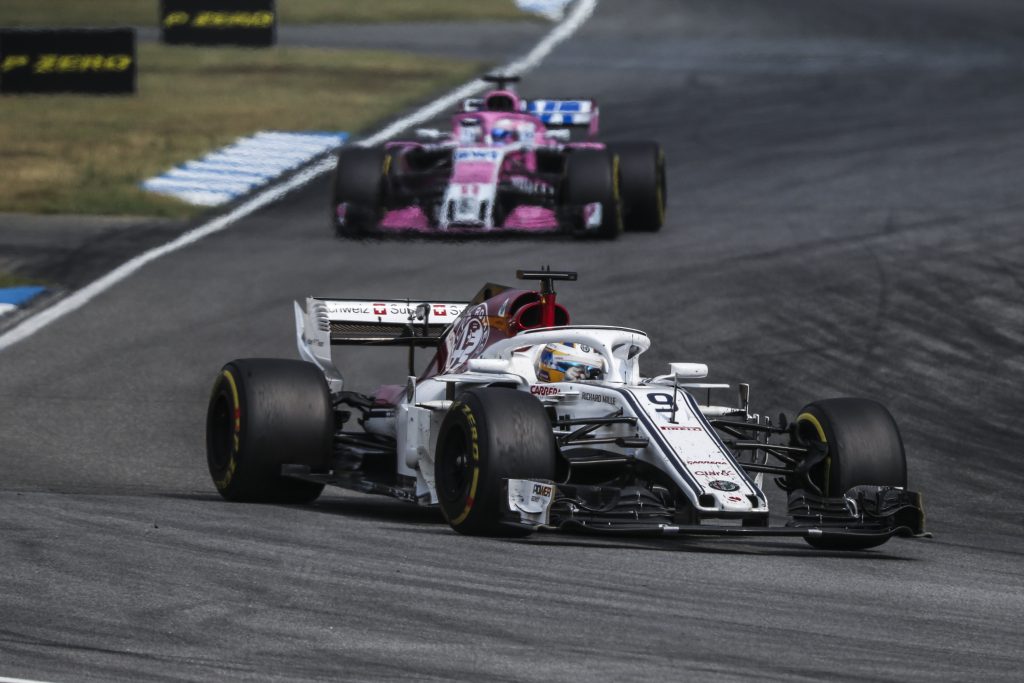 Brendon Hartley (Toro Rosso – 10th):
"I'm happy with how today went. I lost some time behind the Williams at the beginning but I had some fun battles out there. We definitely had good pace on the harder compound tyre, but I struggled at the end when I moved on to the Ultrasoft. I was disappointed to lose a place to Grosjean but he had a lot more pace than me. I kept it clean and we made the right call to brave it and stay out when the rain came. The team and myself had great communication during the changing conditions and in the end it paid off. I also used some of my experience from endurance racing to help make the call, so I'm really happy with the race I did and to bring home one point."
Otmar Szafnauer (Force India – Chief Operating Officer):
"To come away from Germany with ten points represents a very good afternoon's work. We rode our luck at times, but the drivers gave excellent feedback on the conditions and we made some brave decisions from the pit wall. A bit of rain always adds some drama and keeping the car on track on slicks was a real challenge this afternoon. To complete the race with only one pit stop for each car was definitely the right strategy and the result is vindication of that. It was very close with Grosjean catching us in the closing laps with a big tyre advantage and a strong Ferrari engine, and in the end we couldn't hold him off. We worked hard for this result today and credit to the entire team for a well-executed race."
*looks at our strategist* #GermanGP pic.twitter.com/fk1DvppUIY

— Sahara Force India (@ForceIndiaF1) July 22, 2018
Kevin Magnussen (Haas – 11th):
"Obviously, it wasn't ideal to end up outside of the points after being P6 for the whole race. We didn't quite get the best out of the weather situation. We'll just have to learn from that and do better next time."
Fernando Alonso (McLaren – DNF):
"It was a tricky race today. We bet on the rain and at the first drops we pitted for Intermediate tyres, expecting that it would rain hard in the following few minutes. But, it didn't, and we were out there on a dry track with wet tyres, so we killed them and then we had to stop again to get back onto dry tyres. At that point, our race was compromised. It was difficult conditions out there, but we weren't in the points so we had to try something. Disappointingly, the bet today was the wrong one. At the end of the race, the team told me to retire the car, as they probably saw something on the data."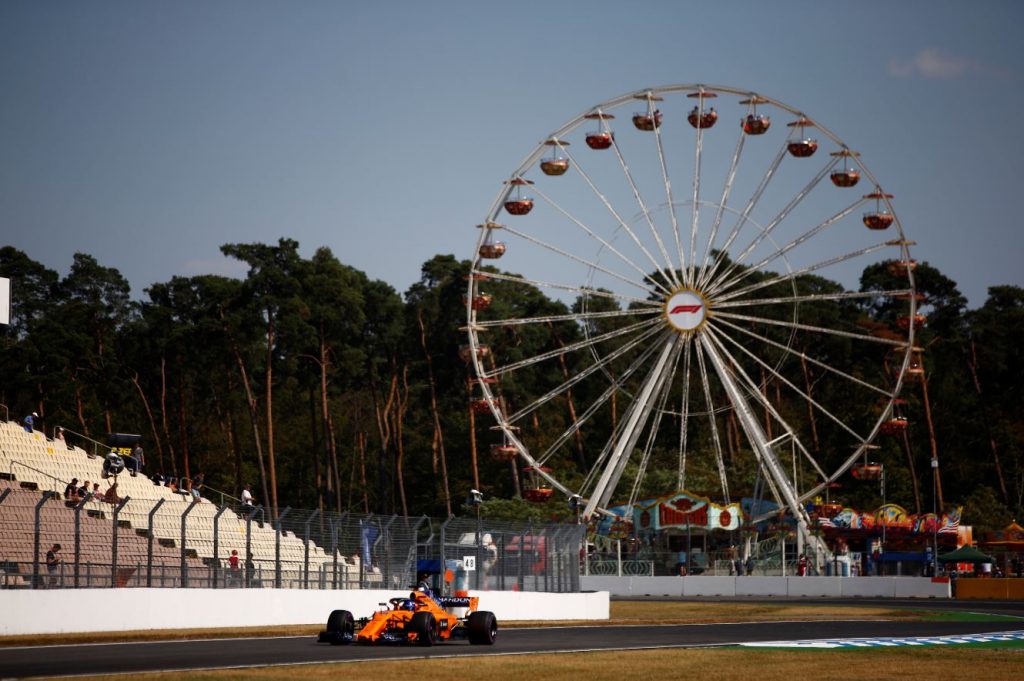 Guenther Steiner (Haas – Team Principal):
"I think it was a case of damage limitation today. It was a very eventful race. We still need to analyze exactly what happened, what we could've done different. I don't say even better, because we don't know yet. But, we got away with eight points, so I think it was damage limitation. I think the race was an interesting one for everybody."
Carlos Sainz (Renault – 12th):
"It was a difficult race for me in the end. We made a good start off the line, but then I got squeezed and lost a little bit of momentum. The race settled after that and we were looking in a good position to score points before rain made the track quite slippery and difficult. Unfortunately, I stopped for Intermediate tyres the lap before Vettel crashed, so we were slightly unlucky with the timing. We finished in the top ten, but the penalty ended our chances of securing points, which is disappointing and we'll look at what happened there."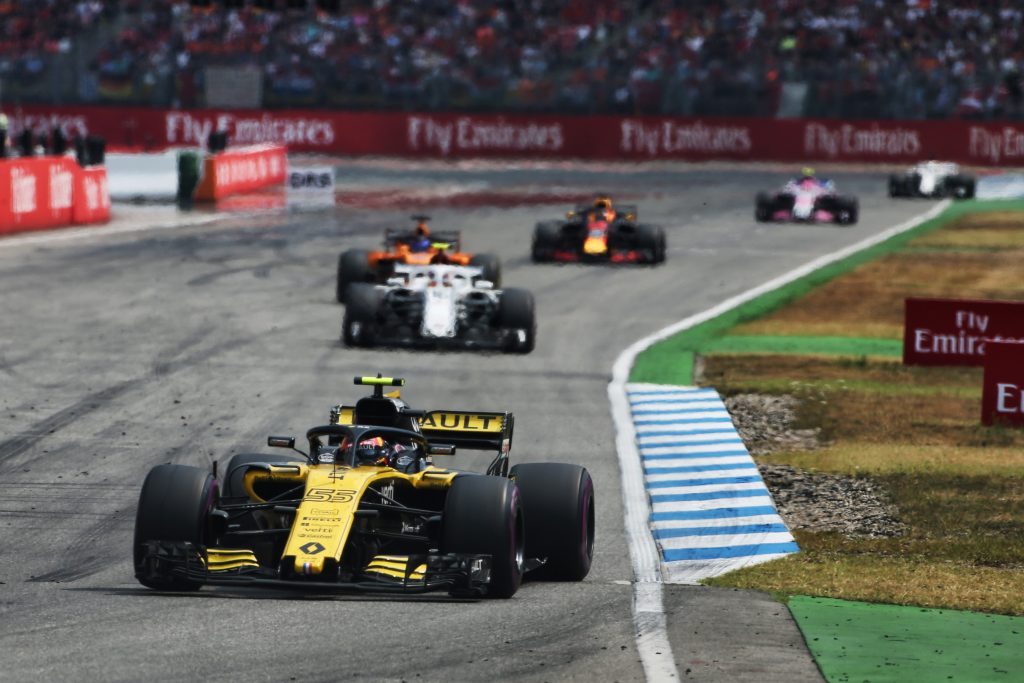 Franz Tost (Toro Rosso – Team Principal):
"Starting from the back of the grid was of course not an easy task. However, both drivers managed to have a reasonably good start and during the race they could show a decent performance.  At the end, it was good for Brendon to be able to score a point. As for Pierre, we decided to gamble and called him in for the pit stop to the Full Wets because heavy rain was a high possibility, but unfortunately it didn't arrive. I'm sorry for Pierre, but sometimes you need to dare and this is what we opted for today. Our performance has improved during the race as we managed to do some good lap times, and this gives us confidence we'll be able to show a strong performance in Budapest."
Stoffel Vandoorne (McLaren – 13th):
"It was a very strange race. We had a terrible first part, when we were almost last – as we've been most of this weekend, to be honest. Then we had an engine issue; we thought we had to retire the car but then we found some settings to make it work again, even though with a little lower power than normal, but at least it got ourselves back in the race. When the rain came down we took the right decision by not pitting for Intermediate tyres, which got ourselves up a few positions. Thirteenth was probably the best position we could've gained today. The most important thing now is changing things around on my car and arriving in Hungary with a normal car."
Pierre Gasly (Toro Rosso – 14th):
"We knew it was going to be difficult today starting from the back because of the tactical engine penalty, so, as we didn't have much to lose we could be bold with our strategy. The weather made things very tricky and we were unlucky gambling on our strategy when we pitted for the wet tyres as we expected more rain, but the track wasn't wet enough and the heavier rain didn't come. As the wet tyre began to overheat on the dry track, we were forced to make an additional stop to go back to the Ultrasofts. This didn't help but we had to take the risk. It just didn't work today, so we will reset and focus on next week in Budapest."
Congrats to @ToroRosso & @BrendonHartley for another important point for the team. 👍 Gamble today, didn't work for us with the wet tyres. 🃏😬 Onto Budapest now. pic.twitter.com/1GvH7WF0Ig

— Pierre Gasly 🇫🇷 (@PierreGASLY) July 22, 2018
Charles Leclerc (Sauber – 15th):
"It was a disappointing outcome to the race for me today. After having a good start, I was able to keep my position in the upper midfield during the first stint. The performance was good and I felt confident in the car. As the rain started to appear, I was called in for a change to intermediate tyres. As the track was only wet in a few of the corners, the tyres were destroyed after just a few laps. From that moment, the race was a struggle. I lost a lot of positions in that time, and it was a challenge to try and get the tyres to work. It is unfortunate to finish the race in this way. However, we did make good progress again this weekend. I am now focused on the next race in Hungary, and look forward to being back in the car there."
Lance Stroll (Williams – DNF):
"I had to retire as I lost brakes. Qualifying looked strong yesterday, but today the pace wasn't great. But I was happy with my race. At one stage we looked like we were in a pretty promising position, but then the rain started to come in. Looking at the results, Hartley scored a point and we were in front of him before we stopped for the inters and then obviously we had to retire with the brake failure. However, at a certain stage we were looking pretty good. It is a shame we could not be there at the end to capitalise on some of the mixed conditions."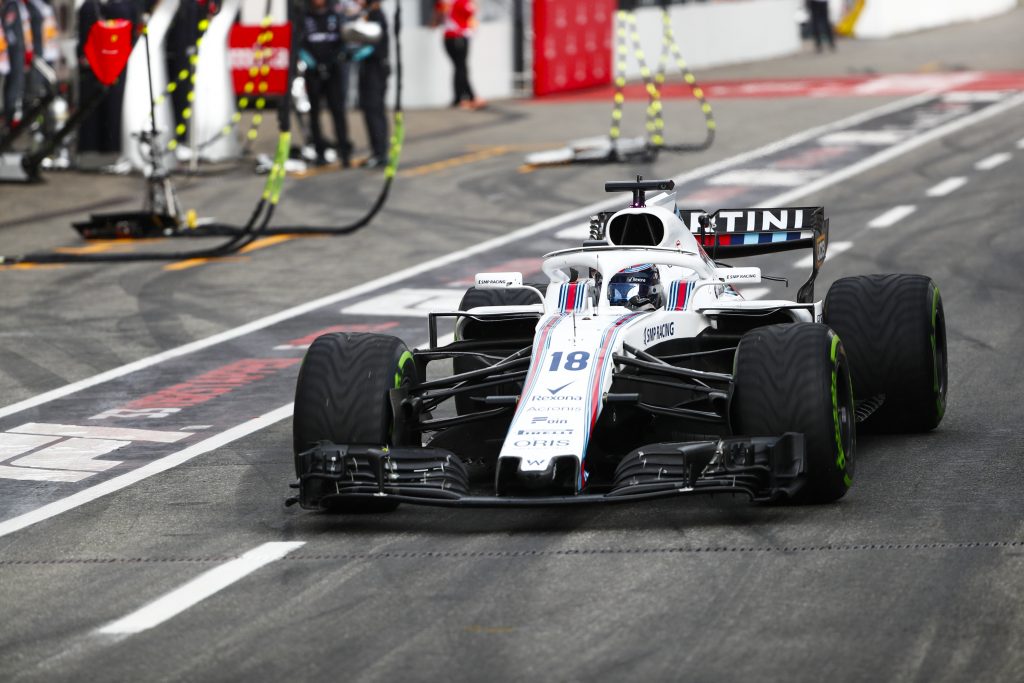 Sergey Sirotkin (Williams – DNF):
"It was a good race and I had to fight quite a lot at the start. I had some good fights which I won and others which I unfortunately lost as I was not in position to do so. But once the race settled down it was a good race and we managed the tyre well. The pace was reasonable and when the rain started, I was very confident and closed the gap between cars ahead of me quite quickly. When the safety car was deployed I felt it was our chance but unfortunately, I had a call to stop the car immediately."
Gil de Farran (McLaren – Sporting Director):
"A disappointing German Grand Prix for us. On Fernando's side we took a gamble, banking on there being some heavy rain, but unfortunately we were a little too early and the gamble didn't pay off. It's a real shame for Fernando who was actually driving a really good race at that time, fighting as he usually does. At the end of the race, there were some concerns over his gearbox and we had to retire his car. On Stoffel's side, we had a much calmer afternoon and he drove a solid race. He had an issue half way though that we are still investigating and which lost him a lot of time, but it was a solid finish in the end. It's unfortunate to miss an opportunity to score some good points, as the car and the drivers had enough pace to do so today. So, onwards and upwards."