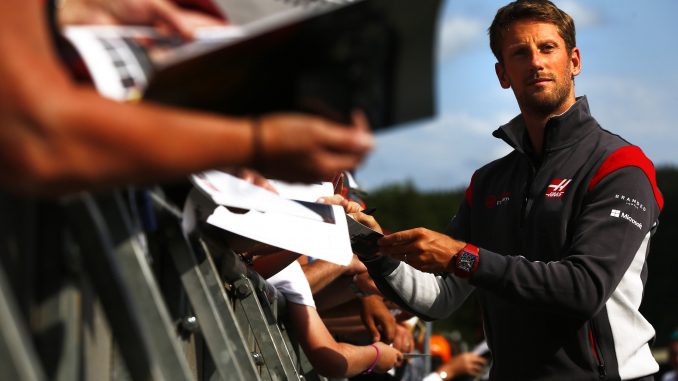 All drivers signed up for the 2018 Formula 1 season have agreed to join the Grand Prix Drivers' Association.
Chairman of the organisation and former F1 driver Alex Wurz believes it's the first time the union has had 100% membership.
The GPDA has three directors – Wurz, Sebastian Vettel and Romain Grosjean, who replaced Jenson Button earlier this year. However, in recent years a number of drivers have chosen not to sign up.
Having the full support of the grid is something that will please Grosjean, who hit out at those who weren't part of the association following his appointment. He listed Lewis Hamilton, Valtteri Bottas and Kimi Raikkonen as among those who weren't members in 2017, as well as a number of reserve drivers including Paul di Resta, Sergey Sirotkin and Alfonso Celis. Six of the drivers Grosjean claimed weren't members last season are on the grid next year, while three have been linked with the final remaining vacancy at Williams. For the GPDA to now have the full support of the F1 grid shows a big shift in support for the association.
The association acts as a trade union for F1 drivers, and was re-established in 1994 in the wake of the deaths or Ayrton Senna and Roland Ratzenberger at Imola to improve safety for drivers, but the range of its work has expanded in recent years.
There are a number of reasons why drivers could suddenly be more concerned about how the sport is being run. For starters, there are still relatively new owners in Liberty Media, who have just completed their first full season as the commercial rights holder. The group has tried different events and ideas throughout this season, but is still figuring out how it wants to take the sport forward. Drivers welcomed rule changes for this season which made the cars faster, but Ferrari, Mercedes and Renault have all raised concerns about the new engine design proposals for 2021 onwards, with the Italian team even threatening to quit the sport.
Wurz believes F1 is entering a period of evolution which could lead to turmoil, and that the drivers recognise they need to be united against the challenges ahead. He hopes the increased support from the drivers will help the GPDA prevent politics from compromising on-track performance in the future. The rise of subscription TV and subsequent falling viewer numbers, the penalty system and the lack of engine noise are all areas of concern for F1 drivers. The association insists it wants the sport itself to remain the centre of attention, and is calling for those running it to only make decisions in the best interest of the sport.