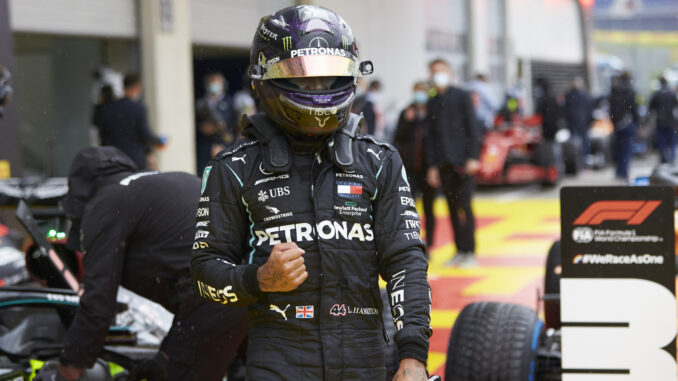 Lewis Hamilton has taken his first win of the 2020 Formula 1 season with a comfortable victory at the Styrian Grand Prix, facing little threat from behind throughout the race at the Red Bull Ring.
It was a Mercedes 1-2 as Valtteri Bottas crossed the line second, while Max Verstappen completed the top three.
The safety car was out on the opening lap as the two Ferraris collided, with Charles Leclerc's car clattering into the rear of Sebastian Vettel, leaving the four-time champion with no rear wing, and damaging the front of the Monegasque's car.
Vettel immediately retired, while Leclerc tried to continue after coming into the pits for a new front wing, but the damage to his car was too great to continue.
Bottas and Alexander Albon quickly cleared Carlos Sainz as they pressed towards the leaders, while Verstappen was the first of the front runners to come in for new tyres, with Hamilton following a couple of laps later, while Bottas continued on his first set of tyres 10 laps further than the Red Bull driver, leaving him with fresher rubber for the second half of the race.
Esteban Ocon became the third driver to retire from the race, with Renault reporting a cooling issue on the Frenchman's car.
His Renault teammate, Daniel Ricciardo, tried the alternative tyre strategy, starting the race on the mediums before coming in for softs, but he made the harder compound last just a couple of laps longer than those ahead of him.
After a disappointing qualifying, the Racing Point cars started to find their pace in the second half of the race, with Sergio Perez cruising past Ricciardo to move up to fifth, before closing the gap to the rear of Albon. Lance Stroll tried to follow his teammate past Ricciardo, but the Renault driver was able to defend against the Canadian's efforts.
Bottas caught Verstappen with five laps to go, and with fresher tyres, briefly managed to get ahead of the Red Bull, but Verstappen fought back. The Finn was able to go again on the next lap though, and this time he was able to pull clear.
Perez tried a late lunge to get past Albon, with the two banging wheels and leaving the Racing Point with a damaged front wing, but both cars were able to continue, while Ricciardo lost a couple of places late on as Stroll tried to force his way past the Renault driver, sending the Australian into the runoff area and opening the door for Lando Norris.
The Briton finished strongly, passing Stroll a couple of corners later before the damaged Perez was caught just before the line, while Norris's McLaren teammate Carlos Sainz took the point for fastest lap of the day.
Provisional classification:
1 Lewis Hamilton (Mercedes)
2. Valtteri Bottas (Mercedes)
3. Max Verstappen (Red Bull)
4. Alexander Albon (Red Bull)
5. Lando Norris (McLaren)
6. Sergio Perez (Racing Point)
7. Lance Stroll (Racing Point)
8. Daniel Ricciardo (Renault)
9. Carlos Sainz (McLaren)
10. Daniil Kvyat (Alpha Tauri)
11. Kimi Raikkonen (Alfa Romeo)
12. Kevin Magnussen (Haas)
13. Romain Grosjean (Haas)
14. Antonio Giovinazzi (Alfa Romeo)
15. Pierre Gasly (Alpha Tauri)
16. George Russell (Williams)
17. Nicholas Latifi (Williams)
DNF:
Esteban Ocon (Renault)
Charles Leclerc (Ferrari)
Sebastian Vettel (Ferrari)