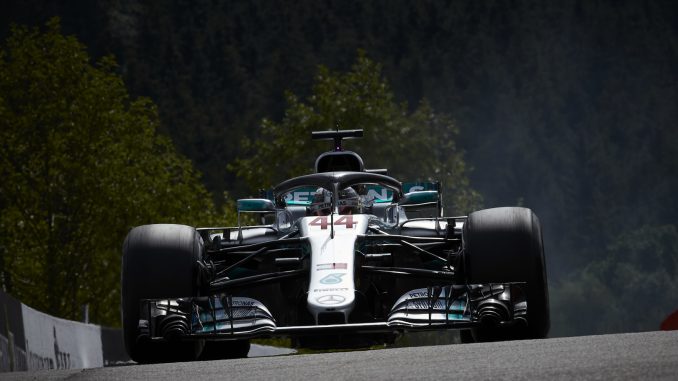 Lewis Hamilton made the most of a drying track at Spa-Francorchamps to beat Sebastian Vettel to pole position for the Belgian Grand Prix, while Force India locked out the second row.
The Ferraris appeared to have the pace early in Q3 on a wet track, but as the worst of the rain passed it was Hamilton who found the quickest time, beating Vettel to pole by 0.7s.
Esteban Ocon completed the top three with his best ever qualifying, finishing just ahead of teammate Sergio Perez in Racing Point Force India's first race since entering administration and being purchased by Lawrence Stroll.
Rain started to fall towards the end of Q2, resulting in all the drivers making it through to the final part coming straight out in a bid to make the most of the dry track, but the conditions worsened before the end of the outlaps, forcing most drivers to come back in for intermediates, particularly after Valtteri Bottas spun.
Ocon and Perez were the only drivers to stay out to try to set a time on slicks, but the track was too wet, so the Force India cars also switched to the intermediates, leaving them on fresher tyres than their rivals towards the end of the session to secure third and fourth.
Kimi Raikkonen broke the track record in Q2 and was challenging for pole, but the mixed conditions meant Ferrari had been unable to fuel him for enough laps, preventing him from being on the track at the end of the session as the track was drying.
Red Bull had a similar issue as Daniel Ricciardo and Max Verstappen were the first to set times on inters, banking on the track getting wetter as the session progressed, but they didn't have enough time to refuel and put a new set of tyres on the enjoy the best of the conditions in Q3, allowing Romain Grosjean to get ahead of them and Raikkonen.
Both Williams cars and the two McLarens were eliminated in Q1, with Stoffel Vandoorne finishing 20th, having also been slowest in all three practice sessions at his home Grand Prix. Carlos Sainz also dropped out in the first part of qualifying, having complained of no grip on his Renault.
Provisional qualifying result:
1 Lewis Hamilton (Mercedes)
2. Sebastian Vettel (Ferrari)
3. Esteban Ocon (Force India)
4. Sergio Perez (Force India)
5. Romain Grosjean (Haas)
6. Kimi Raikkonen (Ferrari)
7. Max Verstappen (Red Bull)
8. Daniel Ricciardo (Red Bull)
9. Kevin Magnussen (Haas)
10. Valtteri Bottas (Mercedes)*
11. Pierre Gasly (Toro Rosso)
12. Brendon Hartley (Toro Rosso)
13. Charles Leclerc (Sauber)
14. Marcus Ericsson (Sauber)
15. Nico Hulkenberg (Renault)*
16. Carlos Sainz (Renault)
17. Fernando Alonso (McLaren)
18. Sergey Sirotkin (Williams)
19. Lance Stroll (Williams)
20. Stoffel Vandoorne (McLaren)
*Valtteri Bottas and Nico Hulkenberg will both start at the back of the grid after taking new engine elements.