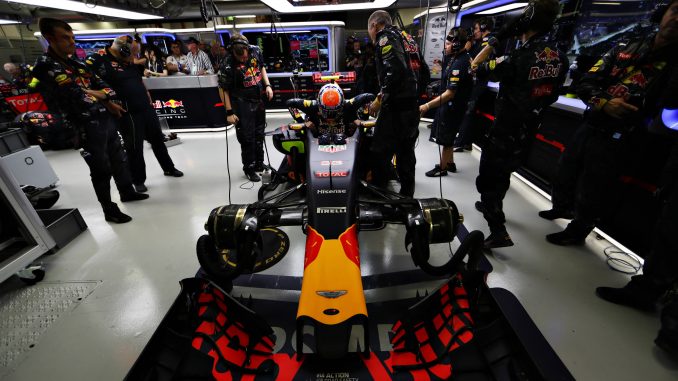 Red Bull have announced they will be using Honda power units for the 2019 and 2020 Formula 1 season.
The team, which will continue to race under the name Aston Martin Red Bull Racing, is in the final year of its supply deal with Renault, having used the French brand's engines since 2007.
The agreement means Honda will be supplying two teams for the first time since returning as an engine supplier in 2015, as the Japanese manufacturer will continue to supply Red Bull's sister team Toro Rosso.
In a statement confirming the deal, team principal Christian Horner said: "We have always taken decisions such as this dispassionately and with only one criteria in mind – do we believe the outcome will allow us to compete at a higher level. After careful consideration and evaluation we are certain this partnership with Honda is the right direction for the Team. We have been impressed by Honda's commitment to F1, by the rapid steps they have made in recent times with our sister team Scuderia Toro Rosso, and by the scope of their ambition, which matches our own. We look forward to working with Honda in the coming years and to racing together in pursuit of F1's biggest prizes.
"Honda's alignment with both Red Bull Formula 1 teams provides enormous potential. Honda will have access to a wealth of data from both outfits, with Aston Martin Red Bull Racing leading the way, and the opportunities for faster, more effective and more competitive development are doubled. We would like to thank Renault for the past 12 years, a period during which we experienced some incredible moments together. We have sometimes had our differences but Renault has always worked tirelessly and to the best of its ability to provide us with a competitive power unit. That is still the case today and we would like to thank the Renault team, and particularly the guys in our garage at every race, for their unstinting commitment and we look forward to ending our partnership on a high come the end of this season. Our focus for the rest of this year is still very much on delivering the best results possible in the 2018 Championship and we wish Renault Sport all the best for the future."
Honda will be the fourth manufacturer to supply engines to Red Bull, with the team having used Cosworth and Ferrari power units in their first two seasons in the sport. The deal also means Red Bull will be able to look to another engine supplier in for the 2021 season when the new engine regulations come in, with Aston Martin, Porsche and Cosworth all reportedly interested in coming into the sport then.