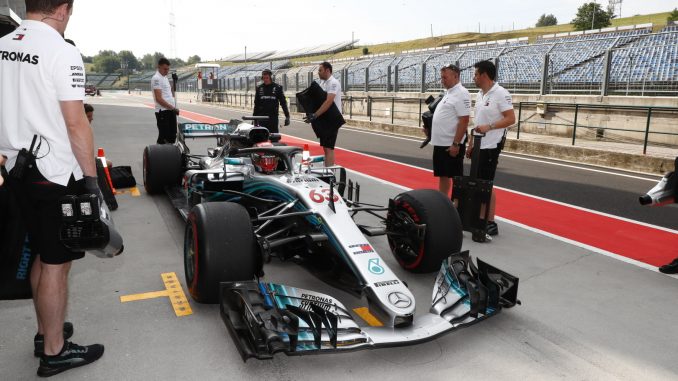 Formula 1 is officially on its summer break following the conclusion of the two-day in-season test at the Hungaroring.
Antonio Giovinazzi set the pace in Tuesday's running with an unofficial track record in the Ferrari before Mercedes reserve driver George Russell beat it with the quickest time of the test today.
Haas skipped the test after recently taking part in a Pirelli test at Silverstone, while Toro Rosso ran two cars – one with their own program and one on behalf of F1's tyre supplier.
3Legs4Wheels sums up each team's activities at the test:
Mercedes:
Having secured pole position and a race victory at the Hungarian Grand Prix on Sunday, it was no surprise to see Mercedes at the top of the timesheets again during the test. George Russell's 1:15.575 set on the hypersoft tyre this afternoon was the fastest time of the test.
According to the team, Russell's workload focused on testing aerodynamics and brake developments, as well as general car set-up. The F2 championship leader had also been in the car on Tuesday, but his running was interrupted by gearbox problems and rain, although the team were able to log data on the vibration of the engine and chassis components.
The 2017 GP3 champion said: "Day two ran very smoothly and was a much more productive day for the team and me. We did some runs on the hypersoft tyre, which was an incredible experience for me. I had never driven that tyre before, nor a Formula One car in anything other than race setup. That was a great experience and it puts a smile on my face that we achieved the fastest lap ever around the Hungaroring."
Wow… Fastest ever lap of the Hungaroring 😱 1.15.57, what an AWESOME day!!! #F1Testing 🇭🇺 @MercedesAMGF1 pic.twitter.com/JY2l0bRInq

— George Russell (@GeorgeRussell63) August 1, 2018
Engineer Rich Lane added: "We've had quite a good day today. After a tricky day yesterday, we managed to recover the test and got through most of the programme that we had planned for the week. We also worked on George's performance and he did a very good job today as always."
Ferrari:
Having set the quickest time of Tuesday, Ferrari finished Wednesday's running less than 0.1s behind Mercedes with Kimi Raikkonen at the wheel after test driver Antonio Giovinazzi was in the car on Tuesday.
The Finn's efforts focused on set-up solutions and tyre testing, with Raikkonen using five different compounds during his 131 laps, including an unmarked experimental compound from Pirelli. Giovinazzi's runs were interrupted by rain on Tuesday, but Ferrari insist he still managed to complete his programme.
The ever-enthusiastic Raikkonen said: "In the end, it's not that different to a Friday at a Grand Prix when you try out various solutions. And that's why, being a test, the lap times don't mean much."
Red Bull:
Simulator development driver Jake Dennis set the third fastest time today after Daniel Ricciardo put in 125 laps on Tuesday. Ricciardo was one of the busiest driver's on Tuesday, with only Toro Rosso's Brendon Hartley completing more mileage, but the Australian was only sixth  in the standings, with Red Bull quiet about what they were testing during his laps.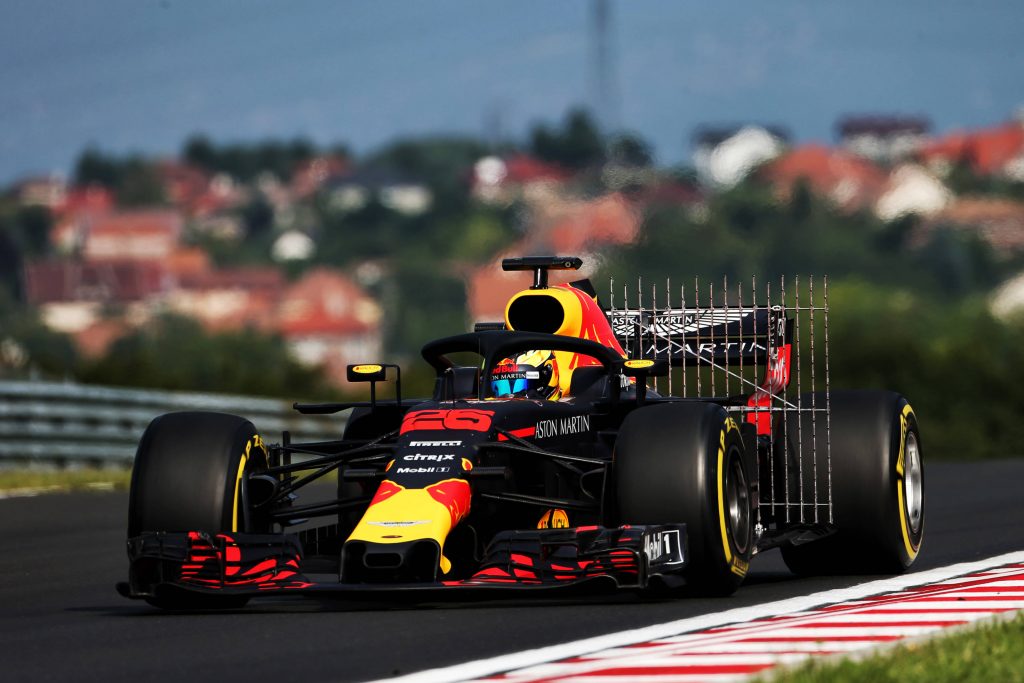 However, Red Bull confirmed Dennis ran a range of parts that are aimed at next year's RB15 this morning, as well as doing some aero mapping and tyre work. The team says Dennis's contribution will be an enormous value for the final nine races of the season.
Speaking after today's session, Dennis said: "That was a good day! We did 131 laps today, I think Daniel did 125 yesterday, so a lot of mileage for the team and a lot learned. I was focused on some long runs in the morning and then some softer tyre stuff, which I enjoyed. To push the car to its limits was a great experience. Then it was back to more long runs in the afternoon and we think we made some big progress with the car. Overall, a very good day and I can't thank the team enough for inviting me back. Also, 131 laps for a rookie – I'm certainly feeling it now!"
Force India:
Force India gave both of their race drivers the week off, with Nicholas Latifi and Nikita Mazepin taking part in the test. Latifi was first in the car, with the team focussed on aero parts for the 2019 season. The Canadian had hoped to put in some work on the hypersoft tyre, but the rain prevented him from completing his planned programme.
Mazepin had better luck with the weather and was fifth fastest today, despite managing just 51 laps for Force India due to a couple of technical issues. Chief engineer Tom McCullough praised the team for getting the car back out in the afternoon, and described the test as two productive days for the team.
Renault:
Nico Hulkenberg was on the track on Tuesday for Renault, but a couple of technical problems meant the German was the slowest full-time driver in action, with only Williams' Oliver Rowland and Sean Gelael in the Toro Rosso for Pirelli going slower. The diagnosis and rectification of an electrical issue limited Hulkenberg to 63 laps.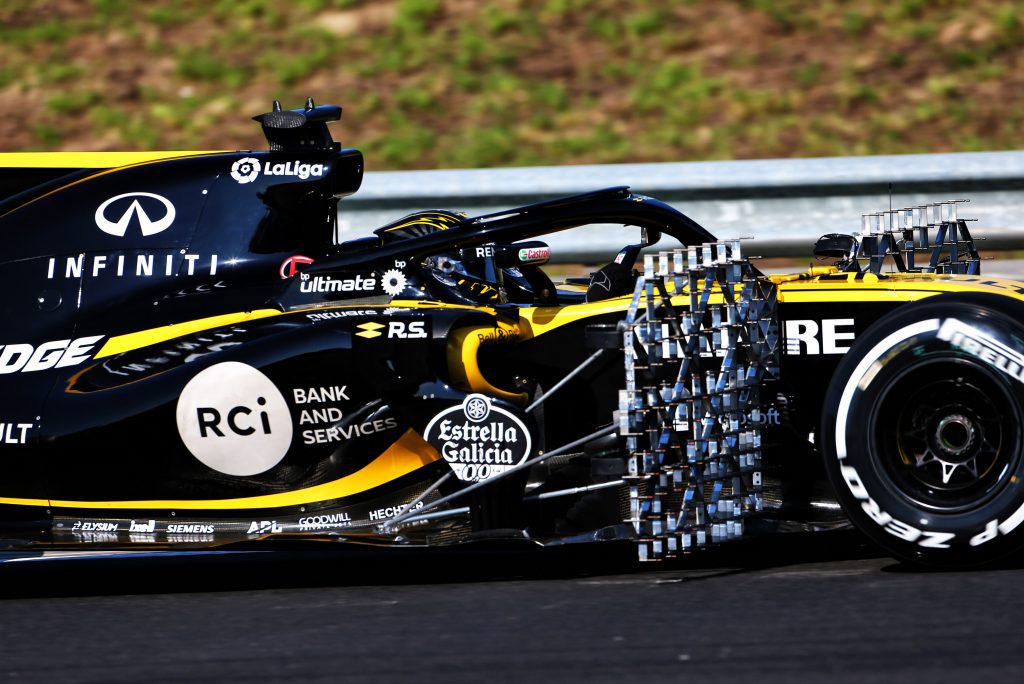 Meanwhile, F2 driver Artem Markelov drove the R.S.18 for the first time today and was 1.4s quicker than Hulkenberg on Tuesday, and less than 0.05s off the pace set by Williams reserve driver Robert Kubica and Lando Norris in the McLaren.
The Russian said: "It was a really good experience to drive the Renault R.S.18 for the first time and I want to say a big thanks to the team for the opportunity. We started on balance settings to get up to speed, and then various tyre assessments including the fast Hypersofts in the afternoon session. The downforce and the braking was different to what I'm used to, but I enjoyed it and it was very interesting to experience that for the first time. I started to build the confidence up as the day progressed, so I expect to get quicker and quicker each time I get an opportunity in the car."
Sporting director Alan Permane added: "Artem delivered exactly what was required of him today and gave a good account of himself behind the wheel of the R.S.18. It was a solid day working through an extensive technical programme which leaves us with a large amount of data to help refine our set-up and development programme. Artem's level of feedback was strong for his first time in the car."
McLaren: 
Reserve driver Lando Norris was busy for McLaren, completing 180 laps over two days for the team in the MCL33.
Norris's first day focussed on aero correlation and development over shorter runs, before turning his attention to longer runs in wet conditions in the afternoon. The team put new components on the car this afternoon as well as carrying out tyre-compound evaluation.
The teenager said: "Yesterday was quite tricky because it was the first time I'd driven in the wet in Formula 1, and it's quite a different experience to Formula 2. Driving these cars does take a bit of time to get used to, but a lot of it's just because of the run-plan, testing a lot of different parts and getting aero data.
"The team has been trying to get as much information as they can so they can properly analyse the runs. There's not been that much performance testing where I've been able to do as quick a lap-time as I would like, but that's the nature of our particular run-plan this week. This year's car feels much better than last year's, for sure, mainly because it's got a bit more power, but it's hard to say. Compared to last year, I've been doing a lot more testing rather trying to make myself look good by doing a fast lap-time."
Sauber:
After setting an unofficial lap record with Ferrari on the first day of the test, Giovinazzi was back in action today, this time in his role as reserve driver for Sauber. Marcus Ericsson was in the car on Tuesday, and set the second fastest time of the day, albeit 2.5s slower than the Italian.
Good test today. 95 laps completed and P2 on the list. Perfect way to finish the 1st half of the #F12018 season. Now summer break and recharge the batteries to comeback even stronger for the 2nd half #ME9 pic.twitter.com/RYnN71zrds

— Marcus Ericsson (@Ericsson_Marcus) July 31, 2018
Ericsson's work included mechanical set-up work, testing new aero parts and running various tyre compounds, with Giovinazzi running a similar programme today. Giovinazzi's time of 1:17.558 was over 0.5s quicker than the mark set by Ericsson on Tuesday, with both drivers posting their quickest times on the hypersofts.
Giovinazzi said: "I am very happy with how the day went. It was good to be back in the car after completing FP1 for the Alfa Romeo Sauber F1 Team last week, and spending a day of testing with Ferrari yesterday. With a full day in the C37, I feel very comfortable and have learned a lot about its behaviour on track. We completed the planned programme which was our target, so I am very pleased. The team has done a fantastic job in developing the car. With the data that we collected today, they can hopefully continue to work in that direction. I look forward to being in the car again."
Williams:
Williams had reserve driver Robert Kubica and young driver Oliver Rowland in the car for the Hungary test. The team's focus for Tuesday was preparing for the 2019 regulations, with Rowland's car running a 2019 aero specification front end. Kubica's runs also predominantly looked towards next year, with the team running an eye-catching amount of flow viz paint.
🎨 A colourful Williams FW41 with aero paint over the whole car during today's #F1Testing pic.twitter.com/tsFNLDd4ly

— SUTTON IMAGES (@suttonimages) August 1, 2018
Rowland only managed to put in 65 timed laps due to the weather conditions on Tuesday, but Kubica had a busy day with 103 kaps, ending the day sixth fastest of the 11 drivers running on Wednesday.
Head of Performance Engineering Rob Smedley said: "We have ended what has been a successful test. We came here to predominately concentrate on 2019 aero specification and we have carried out every single item on the test programme regarding 2019 that we set out to, and some more. The engineering team and mechanics couldn't have worked any harder and have done a great job. We need to go away now and use all the data to help us with correlation for 2019 regulations. Additionally, we had a look at the remainder of the season, some set up, some tyre preparation work and we have some interesting directions from there. Robert set some good lap times considering the tyres we gave him and the time in the car. Overall, it's a good way to go into the summer break for the team."
Toro Rosso:
Toro Rosso were the only team to have two cars on track during this test as they ran a second car for Pirelli. As a result, the team kept both race drivers on for the test, as well as using test driver Sean Gelael.
Brendon Hartley tested a number of new items on Tuesday, but was unable to run everything the team had hoped yesterday due to the wet conditions. His programme included mechanical setup, aero work and power unit tests for Honda.
Hartley and Pierre Gasly moved into the Pirelli car today with Gelael coming into the Toro Rosso seat. He added 122 laps to the 109 he completed on Tuesday, completing aero mapping and aero rake work, before focussing on suspension components after lunch.
Gelael said: "It was a really long day today, 122 laps after the 109 laps I've done for Pirelli yesterday! We ran some interesting tests throughout the sessions, a lot of it was focussed on the aero and a couple of performance runs in the hot conditions which we were able to get a lot of data from. Hopefully, all of the information we gathered over the past two days will help the team for the second half of the season."