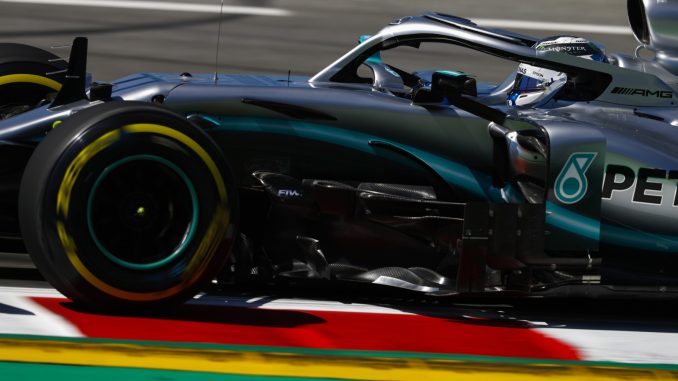 Valtteri Bottas has taken his third pole position in a row, setting a new lap record in qualifying for the Spanish Grand Prix.
The Finn set a time of 1:15.406, a new outright lap record at Circuit de Catalunya, to start ahead of teammate Lewis Hamilton.
Sebastian Vettel will line up third, while Max Verstappen completes the second row having split the Ferrari drivers.
Nico Hulkenberg was the surprise casualty in Q1, missing the majority of the session after running wide early on, damaging the front of his car. Renault were able to get him out for a couple of laps toward the end of the period, but he was unable to make it out of the bottom five.
Charles Leclerc looked to be in trouble in Q2 as he also went off the track, causing damage to his Ferrari. He dropped down the order as the chequered flag dropped, but saved his quickest lap to last to secure his spot in the top 10 shootout.
Haas announced that they had brought bid upgrades to this race, and they appear to be working as Romain Grosjean and Kevin Magnussen claimed the fourth row as the team looks to be the best of the race so far this weekend, while Daniil Kvyat put in a strong performance for Toro Rosso.
Daniel Ricciardo made it into Q3, but will drop back after picking up a grid penalty for colliding with Kvyat last time out.
Provisional qualifying result:
1 Valtteri Bottas (Mercedes)
2. Lewis Hamilton (Mercedes)
3. Sebastian Vettel (Ferrari)
4. Max Verstappen (Red Bull)
5. Charles Leclerc (Ferrari)
6. Pierre Gasly (Red Bull)
7. Romain Grosjean (Haas)
8. Kevin Magmnussen (Haas)
9. Daniil Kvyat (Toro Rosso)
10. Daniel Ricciardo (Renault)*
11. Lando Norris (McLaren)
12. Alexander Albon (Toro Rosso)
13. Carlos Sainz (McLaren)
14. Kimi Raikkonen (Alfa Romeo)
15. Sergio Perez (Racing Point)
16 Nico Hulkenberg (Renault)
17 Lance Stroll (Racing Point)
18 Antonio Giovinazzi (Alfa Romeo)
19 George Russell (Williams)**
20 Robert Kubica (Williams)
*Daniel Ricciardo has a 3-place grid penalty for causing a collision at the Azerbaijan Grand Prix
**George Russell has a 5-place grid penalty for changing his gearbox