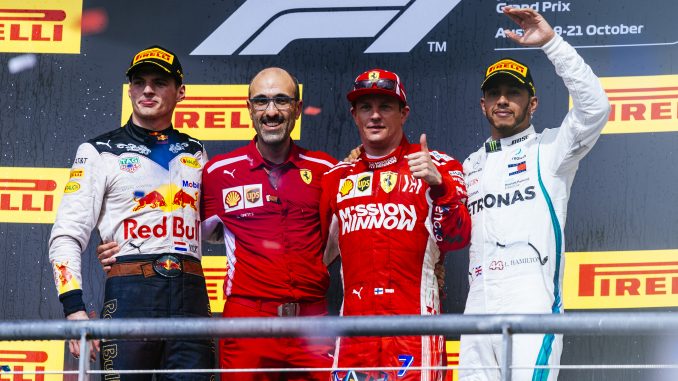 Kimi Raikkonen ended a 113-race stretch without a race win as he claimed victory at the United States Grand Prix.
The Ferrari driver finished ahead of Max Verstappen and Lewis Hamilton, who missed the chance to secure his fifth drivers' title.
Sebastian Vettel's fourth-placed finish keeps the German in the championship for at least another race.
Kevin Magnussen and Esteban Ocon were both disqualified for fuel irregularities, while Romain Grosjean was handed a grid penalty for the next race for causing a collision with Charles Leclerc.
3Legs4Wheels looks at what the drivers and team had to say after the race.
Kimi Raikkonen (Ferrari – 1st):
"Obviously it's a great feeling to win this race. It's nice to prove to all the people that we can still win; that's the reason we are here for, try to win races and Championships. It was an exciting race, not only for us but also for all those who were watching. We had a very solid weekend, I felt confident and I'm glad about that especially because lately we've had rough weekends for the team. I'm glad we had a fight and it's nice to see that we still have the speed to go for it and fight has hard as we can. This weekend we found the car that we expected to have.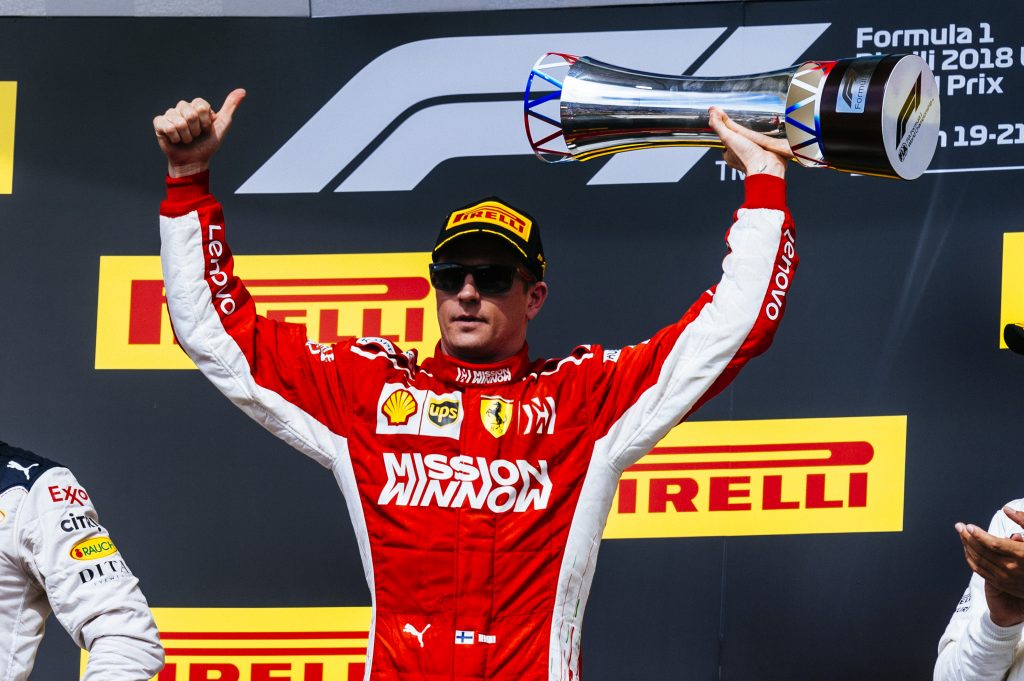 "The start was a key moment; In the first part of the race we had the speed, I tried to take care of tires and save fuel. Then the Mercedes stopped and came back on fresher tires: at that time, my target was to keep them behind before we, too, stopped for tyres. If Hamilton had passed us before our stop, it would have been a different story. We are still in the fight for both Championships and this is a good thing. We're off to Mexico now, where we'll try do the best we can and hopefully we can get a great result for both teams. We'll keep fighting until the end."
Max Verstappen (Red Bull – 2nd):
"It is safe to say today went a lot better than expected. I managed to stay out of trouble on the first lap while progressing up the field as the pace of my car was really strong. This was crucial as it allowed me to settle into my own rhythm and catch the cars ahead. I didn't think the Soft compound was the best out there, once I pitted I felt more comfortable and able to control the Supersofts. The undercut on Valtteri was ideal and probably the key to achieving the podium, a great call from the team. In fact, our entire strategy was spot on and once we stopped we were able to manage the Supersofts all the way to the end.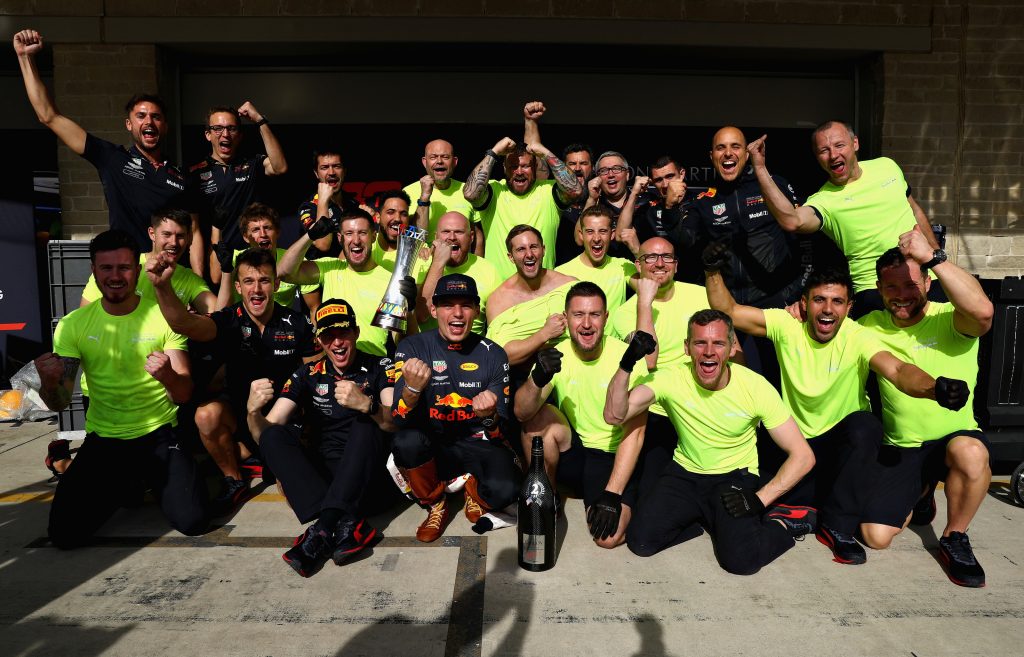 "The last 10 laps were pretty exciting, especially being the only car on the softer compound fighting at the front. I was trying to get close to Kimi but at the same time keeping an eye on Lewis in my mirror, it was close but we managed to hang on to second. Lewis had a go but we both gave each other plenty of room and thankfully he ran a bit wide and onto a dirty part of the track. I think I started to run out of traction towards the end so attacking Kimi was not on the table. The team have certainly earnt a little celebration tonight before we head to Mexico, where we will try to do even better."
Maurizio Arrivabene (Ferrari – Team Principal):
"Today's win came courtesy of Kimi who drove a great race and the team, which at such a tricky time, showed great courage in taking a step back, fighting our closest rivals on equal terms. Seb was unfortunate and had to fight his way back up the order after the collision on the opening lap. In the championship, the numbers are against us, but we will knuckle down and fight all the way to the end, just as we did today."
Lewis Hamilton (Mercedes – 3rd):
"It was actually a really fun race, to be close with Kimi and have a bit of a battle with him and Max. It was quite cool that it was Ferrari, Red Bull and us battling for positions and it must have been exciting to watch. Naturally, I'm a bit disappointed in our performance, to have started first but finished third, but I'm still grateful that I managed to finish up ahead of Seb. When you don't have Friday practice you don't get to work on the set-up and get the optimum out of the car. Everyone was in the same boat, but I think ultimately Ferrari came closer to us with the changes they made. In the race, we were lacking pace on the straights, but I gave it everything. I was still pushing like crazy and that's what racing is all about. I had one little chance at the end, but I had to give Max a lot of space because it's better to finish third than get taken out by someone who's not fighting for the championship, so I didn't want to take that risk. We were going for the win today, but it wasn't meant to be. We're going to Mexico next; it's such a beautiful place, but I haven't always had the best results there, so I definitely want to win that race."
Congrats to Kimi, he did a great job today out there. A huge thanks to the fans for always making this such a special place to race. We keep working and will push forward to the next one in Mexico #USGP #F1 @MercedesAMGF1 pic.twitter.com/otpMJS0DhS

— Lewis Hamilton (@LewisHamilton) October 21, 2018
Sebastian Vettel (Ferrari – 4th):
"I am really, really happy for Kimi and his result today, but I am not happy with my race and I am disappointed for letting the team down today. I had a contact with Ricciardo on lap one, I am not sure he saw me when I was getting closer to him. I wanted to put him under pressure for the next corner, I wasn't thinking about passing in that point at any rate, but I had nowhere to go, we touched wheels and I span around. I think this has been an important race for us as a team and it's nice to see that we had a good pace during the race, even though there are still many things we need to learn and to understand. It has not been an easy time for me lately and bad results are part of the game, but I believe it's always possible to overcome issues."
Valtteri Bottas (Mercedes – 5th):
"We knew going into the race that it was going to be a difficult afternoon. The Ferrari looked very quick yesterday and there were a lot of question marks because of the limited running in the dry, so making predictions on the set-up and the tyres was very tricky. We didn't quite have the pace that we were hoping for, especially on the Soft tyres. We had planned for a one-stop race and that's what we did, but in hindsight the second stint was just a little bit too long. My tyres started to go three or four laps before the Sebastian overtook me and they were just completely gone in the end, that's why he managed to build such a big gap in only a few laps. But we couldn't work the two-stop work with Lewis either, so overall we were just lacking pace today. We will now do our usual work of analysing and understanding why we weren't quicker today, so we can come back stronger and hopefully win in Mexico. There's only three more races left in the season and the fight is far from over, so we will give it everything to get the best results possible."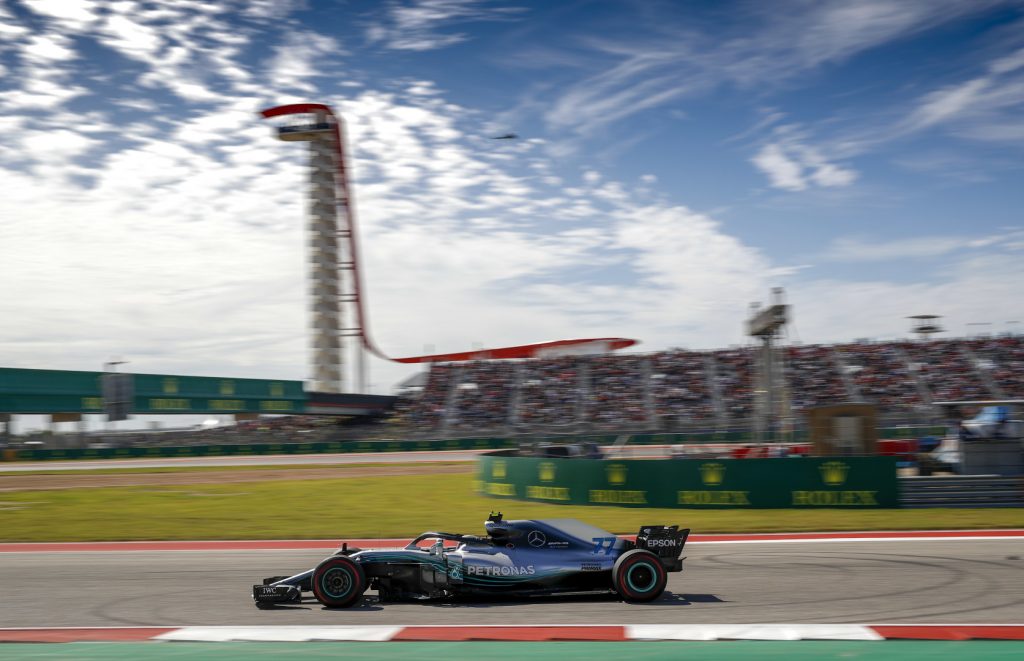 Toto Wolff (Mercedes – Team Principal):
"All week, we have heard people talking us up, talking Ferrari down and talking as if this season is a foregone conclusion; but that narrative doesn't fit the reality of Formula One. We have been wary and respectful of Ferrari at every race this year and we knew they would come here to fight back hard – and so they did. It wasn't a surprise against competitors of such strength. On our side, the story of the race wasn't really one of strategy; we didn't have the balance of speed and tyre management that we would have needed to win this afternoon. When we were running second with Lewis and the VSC came out, we took the opportunity to off-set ourselves in order to go for the win – because it was going to be very tough to win by mirroring Kimi ahead. This looked pretty good for a while but we knew it would mean coming back through other cars in the final laps – and it didn't work out. He managed to close the gap but we gave him too big a mountain to climb, and the tyres no longer had the pace advantage he needed to pass in the final laps, in spite of giving it a pretty spectacular go against Max. For Valtteri, though, we tried a one-stop strategy like the top two – and couldn't make the tyres last either. So we need to learn the lessons from today, take strength from the pain of having been out-performed here and move on to Mexico determined to get closer to our potential in terms of the race performance. Nothing can, and nothing will, be taken for granted by any single member of the team."
We'll just have to settle it in Mexico City then, boys… 🇲🇽👏 pic.twitter.com/CLQGv2OqX1

— Mercedes-AMG F1 (@MercedesAMGF1) October 22, 2018
Christian Horner (Red Bull – Team Principal):
"A stunning drive from Max again today starting 18th and finishing the first lap in ninth. He started on the Soft tyre and quickly made his way through the field. We then picked the right moment to undercut Bottas and go onto the Supersoft. At that point we thought it would be a two-stop race but we then converted to a one-stop as Max was doing such a great job of managing his tyres. It then became all about the last ten laps as he closed in on Kimi and Lewis who was on a two-stop strategy had much faster pace was able to close in on the two lead cars. A good and fair fight between Max and Lewis over the last couple of laps gave Kimi the breathing space to take a well-deserved win and Max a fantastic second place. For Daniel, having started the race strongly and looking so competitive it was hugely frustrating to lose him so early on with what looks like a repeat issue of Bahrain, where the engine energy store is suspected to have failed terminally. Thankfully we have one in more our allocation that we introduced in Sochi, meaning we should avoid a penalty in Mexico next weekend. The whole team feels for Daniel as we just want to see him finish on a high in the remaining races with us and for reasons beyond our control, in recent races, that hasn't been possible."
Daniel Ricciardo (Red Bull – DNF):
"It's incredibly frustrating to retire so early in the race and I just don't seem to have any luck at the moment. Everything just switched off and it seemed pretty much identical to the issue I had in Bahrain at the beginning of the year. I couldn't even communicate with anyone on the radio so it looks like a battery failure. Now, seeing how the race played out makes it even harder to take as it could have been pretty interesting and it was a great afternoon for Max. There's not much more to say about it to be honest. A lot of times this year there have been things out of my control but I can only keep trying. The biggest shame is that I only have a handful of races left with Red Bull and I want to have more highs than we've had. I want to be able to celebrate with the Team at least one more time and be on the podium to enjoy that feeling, but we're running out of races which is pretty tough to take at the moment."
Nico Hulkenberg (Renault – 6th):
"Today saw the best team result since I've been with Renault so I'm happy for that, it was a very good job from everyone involved with the team. We demonstrated that the race pace of our car is very decent and we're still very competitive. It also illustrated how important it is to have a strong qualifying position and a clean first lap. Everything is still possible for us and we took a great bunch of points. It was a very satisfying feeling today, but we have three races left so we need to keep the good work coming."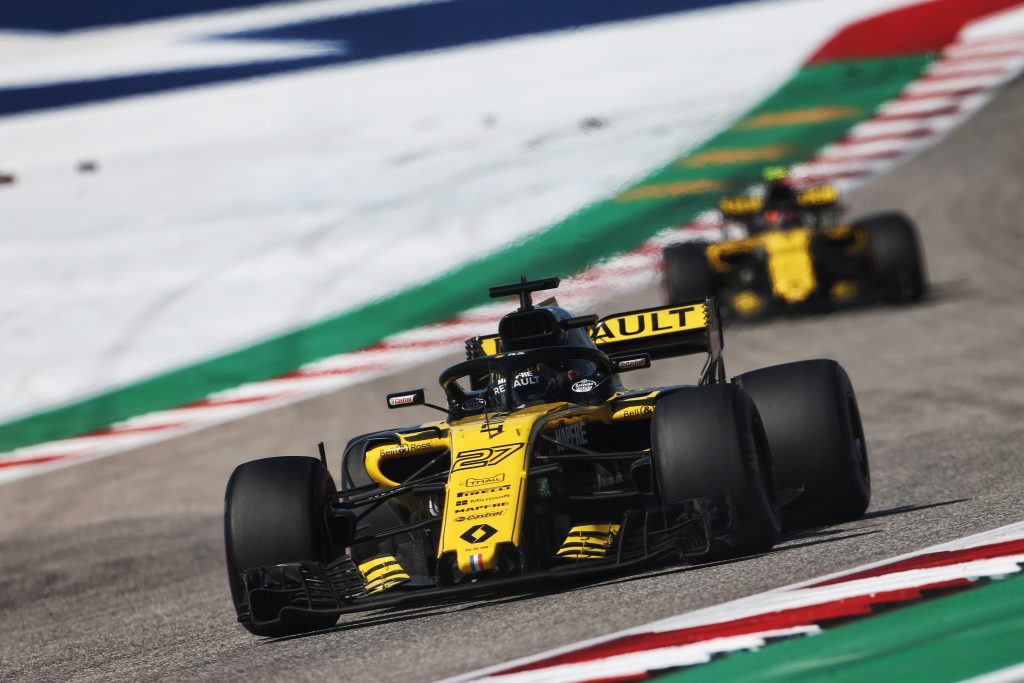 Carlos Sainz (Renault – 7th):
"In general I'm happy with how we finished the weekend. It was a very good result for the team, which is exactly what was needed. To finish sixth and seventh here gives us strong points so congratulations for a fantastic team effort. On my side, I did a great start and arrived in the first corner ahead of the three cars previously in front. I did run wide behind the Ferrari but re-joined the track safely, letting Esteban by. I then overtook him cleanly round the outside in turn six, so I still can't understand the penalty. After that, it was all about tyre management and fuel saving. I'm happy for the seventh position and happy to see the great efforts from the whole team paid off today."
Esteban Ocon (Force India – DSQ):
"It was a tough race this afternoon after a difficult first lap. I lost a few positions at the start because the cars behind me took some big risks. I decided to let them go because the risks were too big in my opinion. After that it was difficult to fight back because the cars we were racing [the Renaults] had already gotten ahead. After the pit stop, I had Kevin [Magnussen] behind me for the rest of the race. He was quick and it wasn't easy keeping him behind. I'm pleased we still picked up some decent points, but we definitely need to review our weekend and see where we can improve for the races to come."
*Ocon was speaking prior to his post-race disqualification
Pushing the whole race, getting good points, and getting disqualified in the end for a stupid reason is probably the worst feeling ever. Our mistake…
Anyway not giving up for sure!! #USGP #EO31 pic.twitter.com/u8vVd2D9sb

— Esteban Ocon (@OconEsteban) October 21, 2018
Sergio Perez (Force India – 8th):
"I made a good start, managed to stay out of trouble and benefited from the chaos around me. We tried to extend the first stint but perhaps we stopped a bit too late. Our pit-stop wasn't the best and I ended up in a lot of traffic, which caused me to lose out to Magnussen. I was able to overtake him in turn one as he was leaving the pits, but he passed me on the back straight. I followed him for the rest of the race and although I got close, I ran out of laps to make a move. I don't think we would have been able to challenge the Renaults today, but I'm disappointed we lost out to Magnussen."
*Perez was speaking prior to being promoted from 10th to 8th as a result of Ocon and Magnussen's disqualification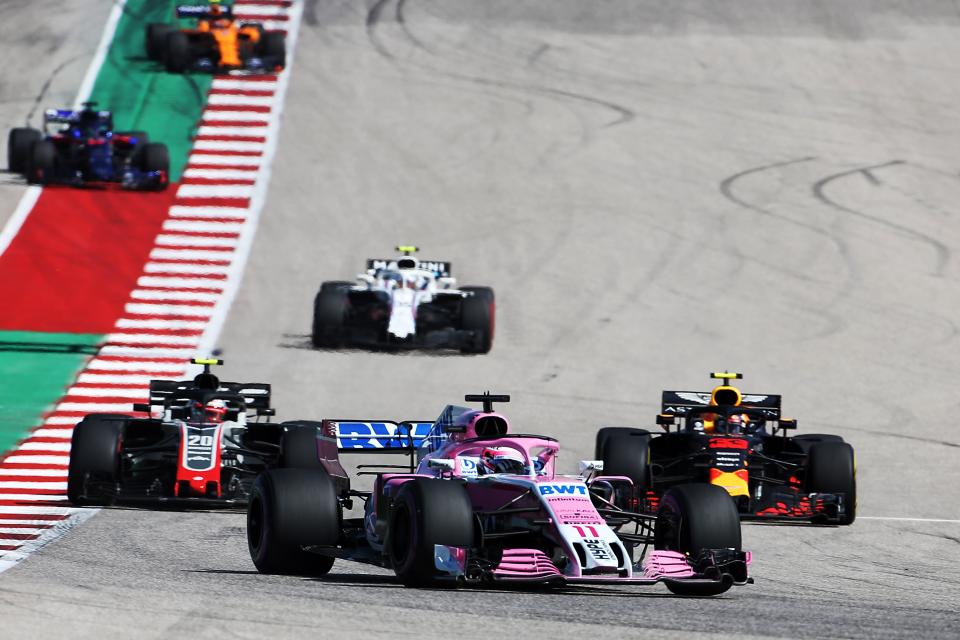 Kevin Magnussen (Haas – DSQ):
"I would say it was a steady race. The car was very good. We had good pace and I was able to put pressure on the Force Indias. I passed Perez just after the pit stop and I was faster than Ocon, but I had to save so much fuel that I couldn't afford to attack him. It's a shame that we have fuel saving in Formula One and not being able to attack. At the end of the day, what the fans want to see is great racing. We can't do it because we have to save fuel. It's disappointing."
Unfortunately today we were racing in Formula Fuelsaving rather than Formula 1. And we used 0.1kg (!) too much for the whole race so we got disqualified. Those are the rules so we just have to manage better. Car was great though and the pit stop was amazing. On to the next one!

— Kevin Magnussen (@KevinMagnussen) October 21, 2018
Brendon Hartley (Toro Rosso – 9th):
"Really happy with my performance and race today which was rewarded with two points. I was aggressive when I needed to be and did a good job with tyres, the team gave me good info from the pits and the mechanics did a good pit stop – a team effort! From last on the grid to P9 was the max we could do today, and I'm happy with the aggression I showed and how the race went. Even if the points haven't come, I have been very strong in all the last races and am very motivated and optimistic for the rest of the season and beyond."
Fernando Alonso (McLaren – DNF):
"My race today lasted only a few hundred meters. There was a lot of action in Turn Four, which was a surprise, because it's not normal to overtake into that high-speed section. Three cars were trying to overtake each other and a couple of guys around me were very optimistic, misjudging their position and manoeuvres a bit, and the result was that some cars ended up in the wall and one of those was mine. It's always the same story, it just keeps happening. At the start, people are trying to bump everyone else, the same as when you have a rental car! No one does it on purpose, but today they played bowling with my car again, like they did in Spa. It's a shame. We came out here early to prepare for this race and it only lasted a couple of corners."
Disappointed race. Only 600 meters before getting hit from behind. Watching now the replays not much anyone could do, too many cars together into T4 🤷‍♂️. Just that👍. Just unlucky today. Now focus, preparation, and let's hope this brings a nice result in Mexico next week.

— Fernando Alonso (@alo_oficial) October 21, 2018
Marcus Ericsson (Sauber – 10th):
"It was a decent race for me. It was tough to start on the hardest compound, which made it more difficult to challenge my competitors. However, I was able to move up the field step by step, which was a good effort. Still, the target is to score points, so I am not fully satisfied with the original result, which was P12. Our performance this weekend was solid and I look forward to our next opportunity in Mexico City."
Stoffel Vandoorne (McLaren – 11th):
"In the end today's result wasn't too bad, especially under the circumstances. We made a reasonable start with all the carnage that happened around us – we got touched left, right and centre on the first lap which wasn't ideal. We finished 13th, after deciding to go for a two-stop strategy, and pitted under the Virtual Safety Car. A few of the cars around us did a one-stop – it's hard to say which was best, but we were quick when it mattered, and we beat a couple of cars again. In the end, I think it was the maximum possible for us today."
*Vandoorne was speaking before being promoted two places following the disqualifications of Magnussen and Ocon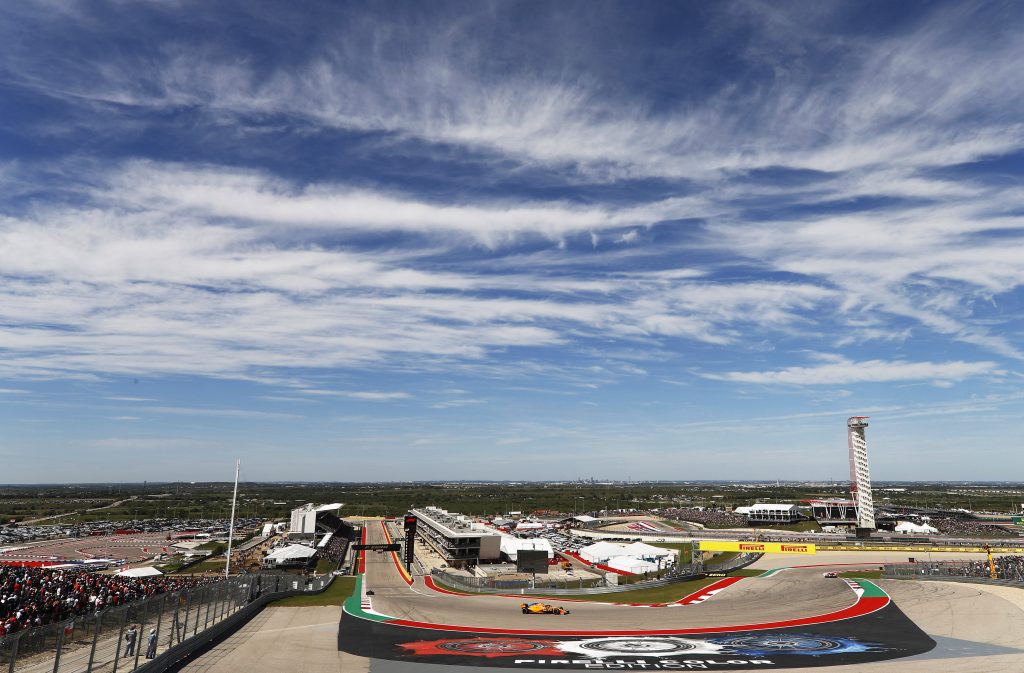 Pierre Gasly (Toro Rosso – 12th):
"It was a long and difficult Sunday. Starting from P19 we knew it would be a difficult race. We took some debris after the chaotic first lap and that damaged the floor a bit, after that I was just trying to do everything I could from inside the car, but there was a massive loss of grip for the rest of the race. We decided for a two stop strategy but there wasn't much we could do today. The pace over one lap in Qualifying was really good so there's positives to take away from the weekend. It's just a shame we couldn't fight properly this time, but I'm really hoping we can carry the pace into Mexico and have a clean Qualifying there to get a good result for the team."
Gil de Farran (McLaren – Sporting Director):
"It's never a good feeling when one car retires at the end of the first lap and we come away from a grand prix empty-handed. It's really sad and unfortunate that Fernando was hit just after the start and incurred too much damage for us to continue, particularly given the decent pace that Stoffel showed. We put Stoffel on an aggressive two-stop strategy and tried to profit from the preferable tyre allocation we had going into the race. However, not only did we lose too much time early on with traffic, despite the significant pace advantage we had in the closing stages, overtaking proved to be very difficult. We say goodbye to Austin with a sense of disappointment, but also encouraged by the positives we can take away from this weekend."
Romain Grosjean (Haas – DNF):
"I had a decent start. There was a lot of action going on. I was fighting with Charles (Leclerc) and Esteban (Ocon). I got to turn 12 and I braked early because I was behind them. I didn't want to take much risk, but I ended up in the dirty air and I couldn't stop the car. I tried to avoid the contact as much as I could, but Charles was trying to get a good exit and I hit him. I feel sorry for Charles and I'm frustrated for the team. This being our home race, we wanted to do well. It's not been a great afternoon."
Not the way I wanted for our home race. Sorry for @Charles_Leclerc . Was in dirty air, couldn't slow down the car enough… Onto the next one 💪
Thanks to all the 🇺🇸 fans here at Cota

— Romain Grosjean (@RGrosjean) October 21, 2018
Charles Leclerc (Sauber – DNF):
"It is frustrating to finish the race like this. It was clear that the potential was there to achieve a good result, especially after starting from P9 today. After the incident on the first lap, the car was just too damaged for us to extract enough performance to allow us to be competitive enough to race properly – even after changing the nose and tyres just after it happened. In the end, I had to retire from the race early, which is a shame. Our performance was strong this weekend, and we will take that with us to Mexico and build on it."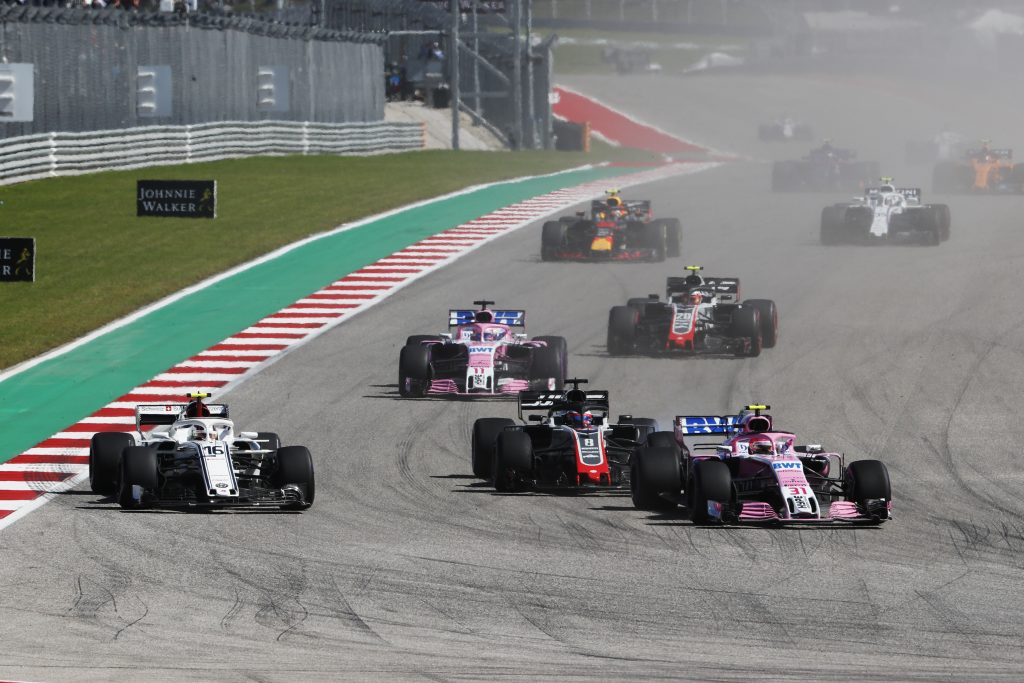 Franz Tost (Toro Rosso – Team Principal):
"Taking into consideration we had to start from the back of the grid, we ended up with a good result by finishing ninth. Brendon had a good race as he saved the tyres and defended his position well against Ericsson. Pierre went straight at Turn 5 on the first lap to prevent a collision with the cars that crashed in front of him, and unfortunately damaged the floor. As a consequence, his car lost downforce and was quite unstable under braking, so he could not be able to catch up to the rest of the field. Nevertheless, he finished the race in P12. With these two points added to our tally, we now head to Mexico for next week's race."
Sergey Sirotkin (Williams – 13th):
"It was a tough race. I had a very good start and gained quite a lot of places. I got some damage on the rear-side of the floor in one of the incidents with a McLaren through the first-lap, but everything was ok whilst we were in dirty air and there was a lot of inconsistency in the things happening around the track. I had good pace considering the damage and I could keep up with the cars ahead and everything looked good. After the pitstop it just didn't work. When everyone got into their rhythm and got into their pace we just didn't have the performance to compete and keep the people behind. The damage on the floor that I had was probably painful for us in clean air when everyone could use their performance a bit more. I was just basically trying to get to the end without losing too many places which was not the best feeling either. I don't think we could have done much better."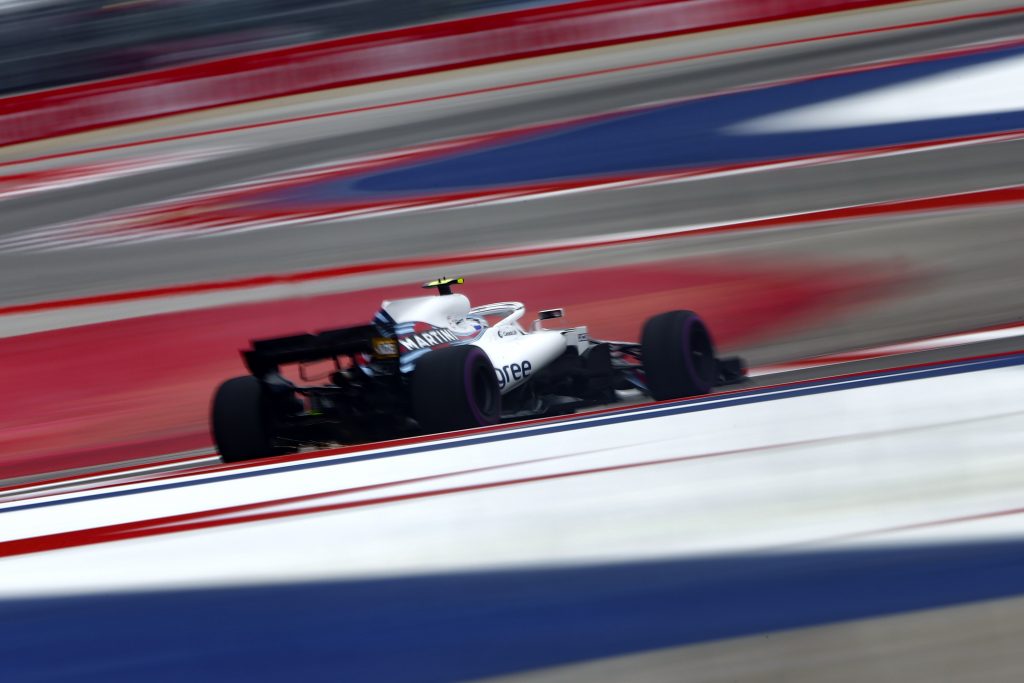 Lance Stroll (Williams – 14th):
"It was a terrible day. I had contact with Alonso on the first lap in turn five. I saw a gap and went for it, but I don't think he really saw me and turned in. After that my race was finished as I got the drive through and that was that. I haven't seen the footage, but I think it was a racing incident. I am just disappointed about the result."