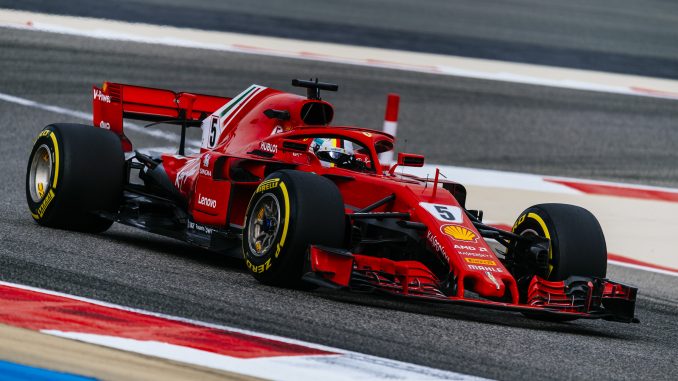 Sebastian Vettel survived late pressure from Valtteri Bottas to secure his second win of the season at the Bahrain Grand Prix.
Bottas closed in on the back of the Ferrari to secure DRS on the penultimate lap, but Vettel defended to keep himself ahead of the Finn.
It looked like Vettel was planning a two-stop race, but Bottas's pace on the mediums forced Ferrari to switch their strategy, leaving the German defending on well-used softs in the final laps of the race.
Lewis Hamilton quickly moved up through the field in the early laps after starting from ninth due to a grid penalty, and had hoped to challenge Vettel late on, but the change of strategy from Ferrari meant the reigning champion had to settle for third.
A pit stop error ended Kimi Raikkonen's race as he set off without the mechanics changing the rear left. One of the pit crew was hit by the car as pulled away and had to be taken to hospital.
Toro Rosso's Pierre Gasly backed up his impressive qualifying performance to secure fourth – the highest finish for a Honda-powered car since the 2008 British Grand Prix. There was also a first points finish in 50 races for Marcus Ericsson, as the Swede held on for ninth.
Red Bull's race was over within the opening couple of laps as Max Verstappen suffered a puncture following an early clash with Hamilton. The Dutch driver managed to get the car back to the pits, but had sustained too much damage to continue. While Verstappen was limping around the circuit, Daniel Ricciardo pulled off the track with a suspected electrical problem.
Haas put their troubles in Australia behind them as Kevin Magnussen survived an early clash with Nico Hulkenberg to come in fifth, ahead of the Renault driver, while Esteban Ocon completed the top 10, giving Force India their first points of 2018.
Despite a disappointing qualifying, McLaren picked up their second double points finish of the season, with Fernando Alonso finishing seventh, just ahead of teammate Stoffel Vandoorne.
Bahrain Grand Prix provisional result:
1 Sebastian Vettel (Ferrari)
2. Valtteri Bottas (Mercedes)
3. Lewis Hamilton (Mercedes)
4. Pierre Gasly (Toro Rosso)
5. Kevin Magnussen (Haas)
6. Nico Hulkenberg (Renault)
7. Fernando Alonso (McLaren)
8. Stoffel Vandoorne (McLaren)
9. Marcus Ericsson (Alfa Romeo Sauber)
10. Esteban Ocon (Force India)
11. Carlos Sainz (Renault)
12. Sergio Perez (Force India)
13. Brendon Hartley (Toro Rosso)
14. Charles Leclerc (Alfa Romeo Sauber)
15. Romain Grosjean (Haas)
16. Lance Stroll (Williams)
17, Sergey Sirotkin (Williams)
DNF:
Kimi Raikkonen (Ferrari)
Max Verstappen (Red Bull)
Daniel Ricciardo (Red Bull)