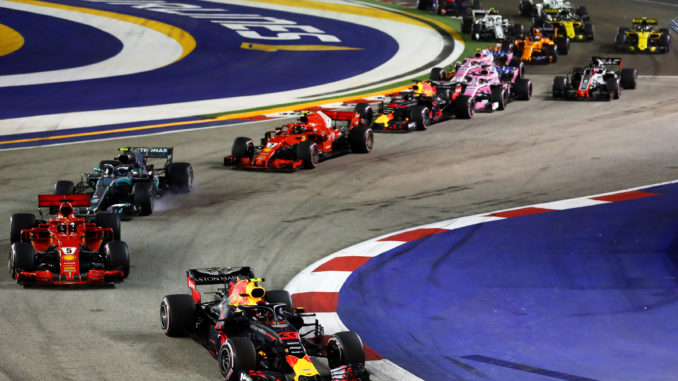 It looks like there could be plenty of variety in the tyre strategies for this year's Singapore Grand Prix as Pirelli has published the selected sets for the upcoming night race.
Formula 1's tyre manufacturer will be bringing its three softest dry compounds to the 15th race of the 2019 season.
At the front of the grid, Mercedes are going with fewer softs than there rivals, as they have tended to do in recent races. The reigning constructors champions have eight sets of the red-striped tyre for the trip to the Marina Bay Street Circuit, while Ferrari have nine and Red Bull prefer 10.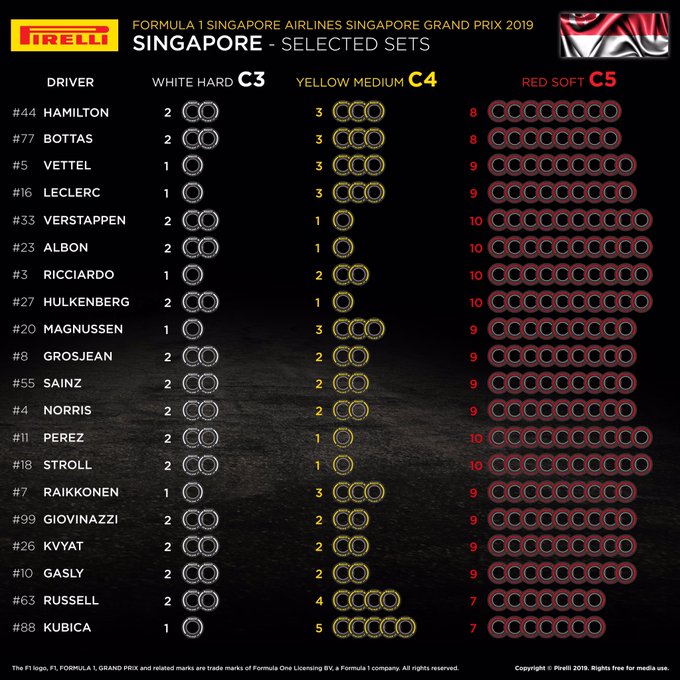 However, the Silver Arrows aren't alone in looking to the medium and hard compounds. At the back of the grid, Williams have gone with just seven sets of softs. The move means George Russell will have five sets of the medium compound at his disposal – the most of any driver on the grid, while teammate Robert Kubica has four and an additional set of hards compared to his teammate. No other driver has more than three sets of the C4 tyres.
While Mercedes and Ferrari will both have three sets of mediums for the trip to Singapore, Red Bull appear not to favour the middle option. Max Verstappen and Alexander Albon have more softs than their rivals at the front, but with two sets of tyres, they'll have just one set of mediums. Renault and Racing Point are the only other teams going with 10 sets of softs, with Daniel Ricciardo the only driver from the three teams to have two sets of mediums.
Four teams have given their drivers different selected sets – Renault, Haas, Alfa Romeo and Williams, with the remaining six giving both drivers the same choices.