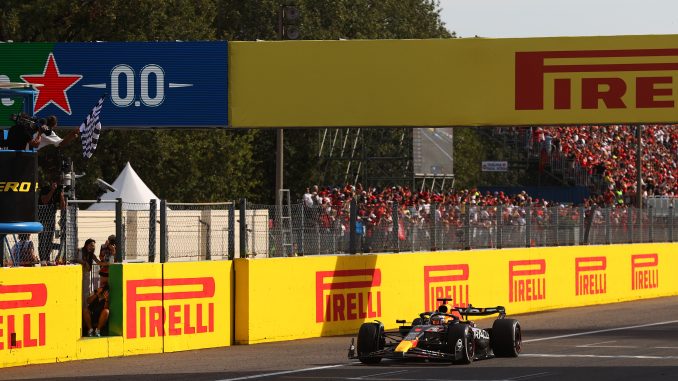 Max Verstappen secured a record-breaking 10th win in a row as he took victory at the Italian Grand Prix at Monza.
The Red Bull driver finished ahead of teammate Sergio Perez, while Carlos Sainz completed the top three at Ferrari's home race.
There was a delay to the start as Yuki Tsunoda's AlphaTauri suffered a mechanical issue on the formation lap, leaving him stuck at the side of the track.
The mechanics had to return to the grid while a truck went onto the track to collect the stricken car, resulting in a 20-minute delay before proceedings got underway.
Sainz stayed ahead of Verstappen off the line, and defended hard to keep the reigning champion behind once DRS was enabled.
However, on the 15th lap of the race, Sainz locked up, allowing Verstappen to move ahead a couple of corners later, taking over at the front of the field.
Perez and George Russell almost came together while battling over fourth, resulting in a five-second penalty for the Mercedes driver as he was judged to have gained an advantage off track.
There was a near disaster for McLaren when Oscar Piastri came out of the pits alongside teammate Lando Norris, with the two banging wheels, but both avoided damage, with the Briton coming out ahead.
Alex Albon held on to sixth place, but was struggling with his tyres, resulting in a queue of cars forming behind him.
Norris was the first to have a go at getting past the Williams, but he locked up and had to go through the runoff area, forcing him to hand back to place.
In the battle for eighth, Lewis Hamilton tried to go up the inside of Piastri, but the to came together, resulting in a broken front wing for the McLaren and a five-second penalty for the seven-time champion.
Having moved ahead of Charles Leclerc for third, Perez was frustrated behind Sainz, but eventually managed to get ahead, before the Ferraris almost collided while scrapping for the final place on the podium.
Leclerc tried to go around the outside on the final lap but locked up, allowing Sainz to hold on for third.
Esteban Ocon retired shortly before the end of the race in the pits with a mechanical issue, while there was a late penalty for Logan Sargeant for causing a collision with Valtteri Bottas.
Provisional classification:
1 Max Verstappen (Red Bull)
2. Sergio Perez (Red Bull)
3. Carlos Sainz (Ferrari)
4. Charles Leclerc (Ferrari)
5. George Russell (Mercedes)
6. Lewis Hamilton (Mercedes)
7. Alex Albon (Williams)
8. Lando Norris (McLaren)
9. Fernando Alonso (Aston Martin)
10. Valtteri Bottas (Alfa Romeo)
11. Oscar Piastri (McLaren)
12. Liam Lawson (AlphaTauri)
13. Logan Sargeant (Williams)
14. Guanyu Zhou (Alfa Romeo)
15. Lance Stroll (Aston Martin)
16. Pierre Gasly (Alpine)
17. Nico Hulkenberg (Haas)
18 Kevin Magnussen (Haas)
DNF:
Esteban Ocon (Alpine)
DNS:
Yuki Tsunoda (AlphaTauri)