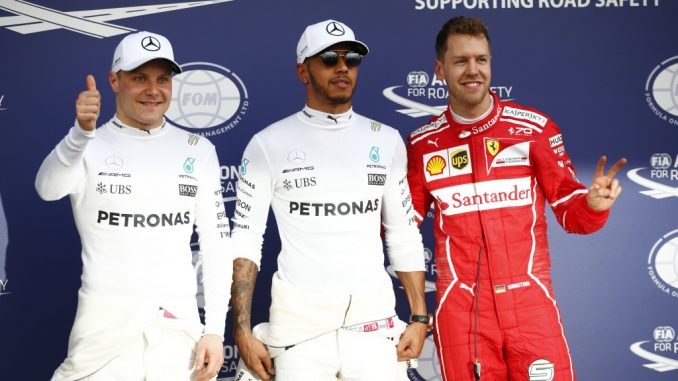 This 2017 F1 season is shaping up to be one of the most exciting in recent history.  No domination from one particular team, and a title fight involving (at the time of writing anyway) two of the top drivers in the sport in separate cars.
But there's another reason that I believe 2017 is going to be a special year for F1 – and that is the driver market. It's already summer in the northern hemisphere, which would normally trigger what has come to be known as 'silly season' – where every available or unavailable driver is linked with every available or unavailable seat. Needless to say some changes are inevitable, but after a few years of minor changes; with the exception of Vettel's move to Ferrari and Rosberg's retirement, I think this summer and close of season could see some of the biggest shake ups.
So let's start moving some drivers around, shall we? True to classic 3 Legs 4 Wheels form, let's start at the back and make our way forwards; interlinking here and there as we go.
MCLAREN:  Fernando Alonso & Stoffel Vandoorne
Ok, first off I don't see Stoffel going anywhere just yet – he hasn't lived up to his reputation, but Mclaren know that this is because they've given him a poor car.  Eric Boullier has said almost that they owe him a good car. He's attracted interest from other teams, but the only other con against him is that he's a Ron Dennis era driver, and all Ron Dennis' traces are being wiped clean from Mclaren. I believe Stoffel will be at Mclaren in 2018.
Fernando Alonso, meanwhile – epitomises the frustrations felt by the team during this beleaguered second Honda era at Woking. So much promised, so many false dawns; and I believe that no matter what happens with the team and engines, Fernando is a goner. Possibly from F1. Quiet rumblings of a return to Enstone and the Renault team were silenced, but any team would take him on. If he stays in F1, his only likely suitors are Mercedes, surely?
SAUBER:  Marcus Ericsson & Pascal Wehrlein
Well, Ericsson's friends are the team owners,  and ex-chief Monisha Kaltenborn couldn't see why Ericsson should be prioritised over Pascal Wehrlein. This means Ericsson has a drive almost as long as he wants it.  Which is crazy. Pascal Wehrlein is a Mercedes driver shoehorned into Sauber so that he had a drive this year in F1. His racecraft has improved, as has his attitude in the garage. Sauber are taking on Honda engines next year so unless they get some Japanese money in to buy another Honda preferred driver in, I don't see the lineup changing, especially if Honda are going to be accepting help from Mercedes engineers, and perhaps a driver – to improve their engine performance.
RENAULT: Nico Hulkenberg & Jolyon Palmer
Hulk only joined the team this year, and he's there as part of their long term project to build a championship winning car by 2020. That's that sorted then. Palmer on the other hand was the fifth choice to be no.2 this year, so I doubt that even with an amazing turn of fortune that he'll be in that team at the end of the year. Someone else will be joining Hulk at the team.
HAAS: Kevin Magnussen & Romain Grosjean
A polarising year for the American team and the first year that they have had to find their own feet without too much assistance from Ferrari. Difficult to say what the team will do next year as they need to sort out their inconsistent form this year. That being said, none of that is down to the drivers, and unlike Esteban Gutierrez last year, there does appear to be some harmony with their current drivers. I don't expect Haas to push their drivers, but that's not to say that either of them would jump – but where would they go?!
TORO ROSSO: Carlos Sainz & Daniil Kvyat
Carlos Sainz has done more years at Toro Rosso than any other driver, and he's in dead man's shoes, in that he will only ever be promoted to the Red Bull main team if one of their drivers was certain to go elsewhere – and that Red Bull team has one of the strongest line ups on the grid. The only way Sainz could go to another team would be if someone with serious cash bought him out of his contract.  Kvyat on the other hand, after his 2016 demotion from the main team, isn't going to go back; but he could find himself in another team in F1. If a young driver, like Pierre Gasly for example – is ready to make the jump in to Toro Rosso, then it will be Kvyat who suffers.
WILLIAMS: Felipe Massa & Lance Stroll
Stroll is going nowhere, he's well tied in with his Dad's money and that Williams team for 2018, and possibly beyond.  Massa has said he wants to stay in F1, and I don't think he would go elsewhere, so unless Williams want him, he could find himself retired (again). But who would Williams take to replace him? Well, we'll get to that in a bit.
FORCE INDIA: Sergio Perez & Esteban Ocon
Force India, or Force One as they might be known as in 2018, have had a great last couple of years. Sergio Perez has been sought after since his resurgence at the team, and there were rumours of his move to Ferrari a couple of years ago, and then Renault, before they poached his team mate Nico Hulkenberg. Now another Mercedes youngster Esteban Ocon partners Perez,  and he appears to be a bright rising star of F1, building a career strongly, and still in his first  full year of Formula One. Perez's seat is determined by his sponsors, and Ocon's is determined by where Mercedes  want him.
RED BULL: Daniel Ricciardo & Max Verstappen
Both products of the young driver program, you could very well argue that Red Bull have the strongest lineup of all the teams . Which also means that they would be the most sought after drivers on the grid. If either driver leaves , they could promote Sainz from the junior team – but RB will do anything to make sure that they stay. Give either driver the car and they will  be able to provide race wins, and who knows maybe a championship. But again  – other teams will be aware of this and if they think they stand a chance of prising away either Dan or Max, then they will have done the deal of the winter.
FERRARI:  Sebastian Vettel & Kimi Raikkonen
Five world championships between them, and season after season Kimi manages to hang on to that Ferrari seat – is it because they can't find a better driver? Sebastian Vettel is clearly getting the lion's share of luck and performance out of that Ferrari and finds himself leading the championship early on. His idol is Michael Schumacher, who turned Ferrari's misfortune into the most dominant team in F1. What if Seb could emulate it? He's still 3 World Championships away from equalling Michael, and I can't see him wanting to leave Ferrari unless something drastic changes before the end of the year.
MERCEDES: Lewis Hamilton & Valtteri Bottas
Much like Ferrari and Vettel – Mercedes will hang on to their 3 time champ if they can – but if he were to leave, would he have a championship challenging destination? Valtteri Bottas has settled in to the team and also settled the team – he seems happy to work for the team at his own personal sacrifice. This is his only year on contract, but if it's not extended would that hurt Mercedes more or would it hurt Bottas?
There's too much uncertainty in the driver market and I think it could lead to only two teams retaining their lineup.
I'll show you my projected 2018 lineups and then explain why I think what I think.
MCLAREN:  Carlos Sainz & Stoffel Vandoorne
SAUBER:     Marcus Ericsson & Antonio Giovinazzi
RENAULT:   Nico Hulkenberg & Robert Kubica
HAAS:          Romain Grosjean & Kevin Magnussen
TORO ROSSO:  Daniil Kvyat & Pierre Gasly
WILLIAMS:  Lance Stroll & Valtteri Bottas
FORCE INDIA:  Sergio Perez & Pascal Wehrlein
RED BULL:    Daniel Ricciardo & Max Verstappen
FERRARI:      Sebastian Vettel & Fernando Alonso
MERCEDES:  Lewis Hamilton & Esteban Ocon
How did I get to this? Well, it starts with Fernando Alonso quitting Mclaren, despite a better second half of 2017. Mclaren announce they have signed Sainz to replace Alonso, and Toro Rosso almost imminently replace him with Pierre Gasly.  Not wanting to rock the boat, they continue with Kvyat.  Alonso seems to be headed for Mercedes, Kimi retires from F1.  Lewis Hamilton publicly vilifies his team for signing Alonso without consulting him, and the deal is off when Alonso retaliates through social media, mocking Hamilton. Fernando, still fuming at this, cuts a deal with Ferrari and re-joins to race alongside Vettel. There isn't the animosity first expected, Seb and Nando appear to be the Ferrari dream team.
Mercedes had already sent Bottas back to Williams to cover for the now retired (properly) Felipe Massa so they make a snap decision, do they call Bottas back? No, he would never have it, after being pushed out to make way for Alonso. So they call on Esteban Ocon to fill the seat, and pull Wehrlein out of Sauber to cover Ocon. This frees Sauber up to put Giovinazzi in for a full season, despite the fact the team have made a switch to Honda engines, Ferrari agree.
Renault sack Jolyon Palmer and replace him with Robert Kubica after impressing in all tests in 2017. This leaves Haas and Red Bull as the only teams not change at least one driver.
Agree? Disagree? Let me know in the comments!
Chris 3L4W