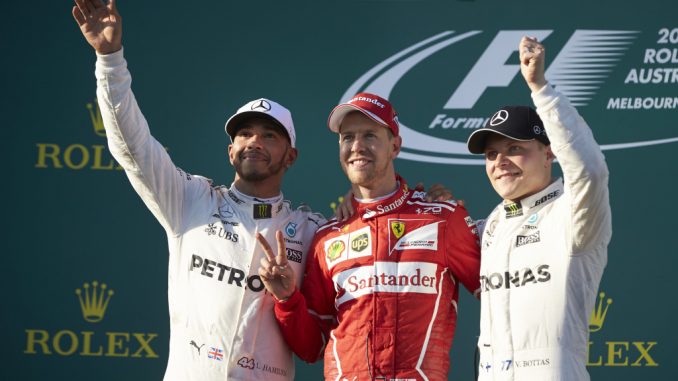 The 2018 Formula 1 season gets underway this weekend with the Australian Grand Prix in Melbourne.
The 58-lap race takes place at the Melbourne Grand Prix Circuit – a street circuit in Albert Park that's hosted the race since 1996.
Lewis Hamilton, Sebastian Vettel and Kimi Raikkonen have all won the race twice previously.
3 Legs 4 Wheels looks ahead to this weekend's race.
What happened last year?
Lewis Hamilton started the 2017 edition on pole position, but it was Sebastian Vettel who finished on the top step of the podium, pressuring the Mercedes driver into an early pit stop which brought him out in traffic, allowing the German to rejoin ahead of Hamilton several laps later.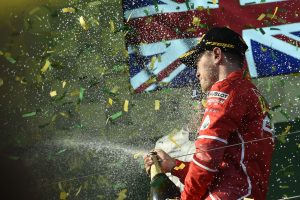 Some thought this race signalled the beginning of the end of Mercedes's dominance in the hybrid era, but of course the reigning champions finished the season strongly as Ferrari dropped back.
Last year's race also saw plenty of retirements, with only 13 cars seeing the chequered flag. Neither of the Haas cars finished the race, with Romain Grosjean suffering an early water leak before a suspension failure ended Kevin Magnussen's day. The home fans were left disappointed when Daniel Ricciardo's Red Bull broke down on the way to the grid. The Australian managed to get the car going to start from the pit lane, but only made it 25 laps in before problems hit again.
Valtteri Bottas completed the podium on his Mercedes debut, while Toro Rosso and Force India also celebrated having both cars in the points. Sauber's Pascal Wehrlein missed the race after being hampered by injuries suffered in a crash at the Race of Champions, making way for Antonio Giovinazzi to make his F1 debut, finishing a respectable 12th.
What's new for 2018?
The FIA announced that it's added a third DRS zone, the first time three zones have been used in a Grand Prix. Last year's race didn't have a lot of on-track overtaking, so it's hoped this change will make it easier for cars to pass on the circuit.
There had been talk of changes to the track to make overtaking easier last year, but that hasn't come to fruition. This year's race will start a little later due to F1's decision to start all races at 10 past the hour. It will be 4.10pm local time when the pole sitter gets the formation lap underway. Last year's race had to be shortened to meet the two-hour time limit because of safety cars, and if the race reaches the time limit again this year, it will be just over an hour before sunset when the cars finish the race, which could make visibility a concern particularly if the race is wet (more on that later).
Tyres and pitstops
In name, Pirelli have brought the same tyres as last year to Melbourne – the softs, supersofts and ultrasofts. However, F1's tyre manufacturer has made this year's compounds softer than last year, which means tyres are unlikely to last as long this year. Wear was higher than expected last year, with the majority of the front runners using the soft compound during the race to make a one-stop strategy work.
Despite the softer compounds, only three drivers will have three sets of the soft tyres available, while Mercedes, Williams and McLaren have all opted to take nine sets of the ultrasofts for the weekend.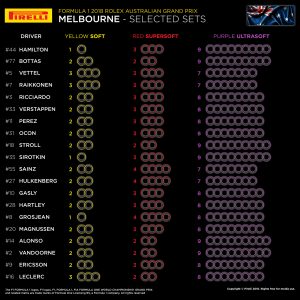 Pirelli have already said they expect to see more pitstops at this year's races, and it seems likely a two-stop strategy will be preferable in Australia this year. The softer tyres combined with potentially more overtaking should mean shorter stints on the softest compounds. With the ultrasofts estimated to be around a second per lap quicker than the softs, staying on the softer tyres should work out quicker, but safety cars and weather conditions can change things.
Weather
Melbourne's weather at this time of year can be something of a lottery, and it looks like there will be a range of conditions throughout this weekend. Friday's practices will have the hottest track conditions according to the current forecast with mainly sunny conditions, while Saturday is expected to be hit by thunderstorms. It looks like the race itself will be dry if a little overcast, which could cause light issues in the closing laps.
Rain on Saturday is a problem on a street circuit as it means the track will be green for Sunday. All the rubber that gets put down on Friday will be washed away, leaving little grip on the track surface for race day, particularly as there's no F2 this weekend.
If the rain is as heavy on Saturday as the forecast suggests, it's not out of the question that qualifying could be postponed until Sunday morning, which could suit a lot of the drivers better as they won't have to compromise set up to qualify well in wet conditions ahead of a dry race.
What to expect
Expect a safety car – the safety car has been used seven times in the last 10 races in Australia. Cars come to Melbourne with teething problems at the start of the season, meaning a higher chance of breakdowns, while the lack of overtaking opportunities can result in cars coming together trying to force a pass.
Pole position isn't vital at the Australian Grand Prix. Hamilton couldn't convert Saturday pace into race victory last year, with only two of the last eight races won from pole, including Hamilton's 2015 victory.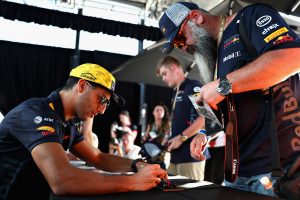 Home fans will be cheering for Ricciardo again, but Australian drivers don't do well at the track. Since F1 added the Australian Grand Prix in 1985, no Aussie has stood on the podium. Well, technically Ricciardo did stand on the podium when he finished second in 2014 prior to being disqualified for a fuel problem, but Mark Webber and Ricciardo's fourth-placed finishes in 2012 and 2016 respectively are the closest an Australian has got to a home win.
A new lap record could also be on the cards. Michael Schumacher's 1:24.125 time has stood since 2004, but the pace shown in pre-season testing at Barcelona suggests records could be broken this year. Kimi Raikkonen set the fastest lap last year, over two seconds slower than Schumacher's benchmark, but new tyre compounds and different race conditions could lead to a new record.
If you haven't already, don't forget to check out this week's podcast ahead of Sunday's race, and read the team's podium predictions. Join us during qualifying and the race for our live blogs, and let us know what you think of this weekend's action on Twitter or through our Facebook page.