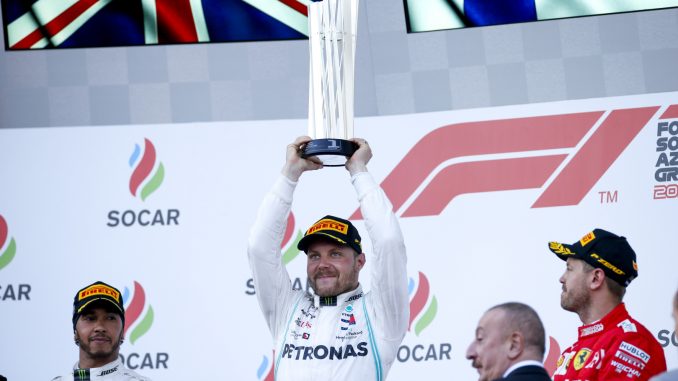 Valtteri Bottas has a one-point lead over Lewis Hamilton following victory at the Azerbaijan Grand Prix.
The Finn converted pole position into a win in Baku, with the reigning champion finishing second and Ferrari's Sebastian Vettel completing the top three.
The result leaves Mercedes with 1-2 finishes in all four races so far in 2019.
3Legs4Wheels looks at the drivers' reactions:
Valtteri Bottas – 1st (Mercedes):
"This victory feels really good. When you're starting from pole, you hope for a straightforward race – the less drama, the better it is. I didn't have the greatest start; after the wheelspin in China I was maybe just a little too cautious. Lewis had a better start so we went side-by-side into Turn 1 and 2; it was good, respectful racing between the two of us and I'm glad I could pull up in front of him. Lewis was very quick today and was able to put on some pressure at the end of the race, so I had to make sure to not make any mistakes. I've already said it on the radio after the race: 'What a team!' The level at which everyone is performing at the moment is very impressive, both here at the track and back at the factory, and I'm really proud of everyone. We need to make sure we keep delivering at this level."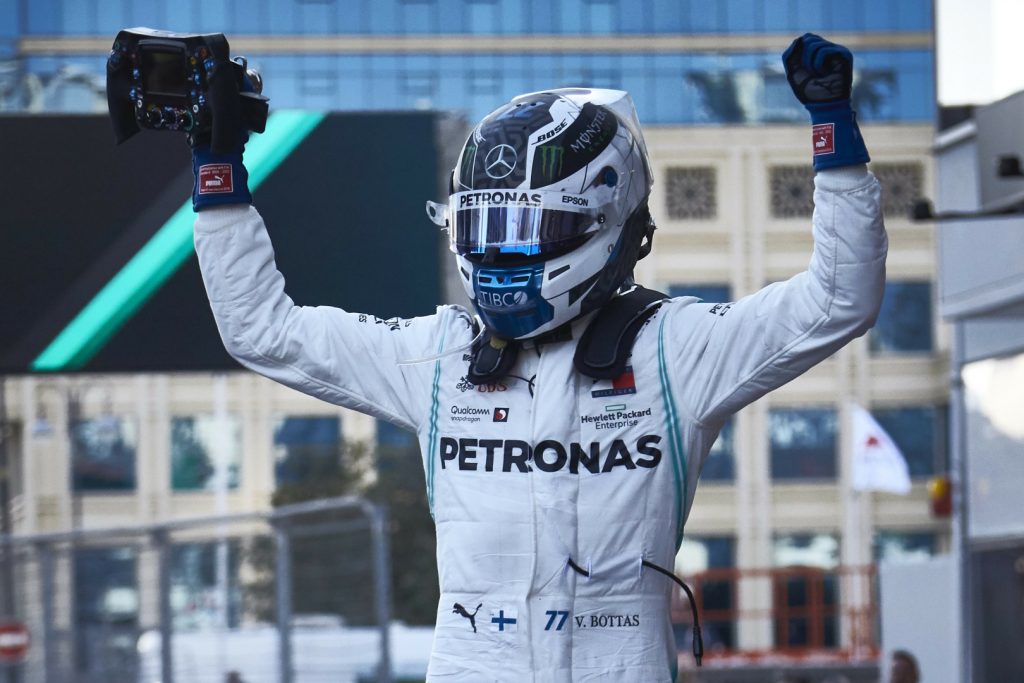 Lewis Hamilton – 2nd (Mercedes):
"This is a great result for the team. I think this team is stronger than it's ever been and it's all down to teamwork. Both Valtteri and myself are pushing the boundaries of the car and are delivering, as are the team in the pitstops, the engineers, and everyone back at the factory. I don't think we have ever performed at this level before and I'm really grateful for all the hard work from everyone. Baku is not my strongest race, it's always been difficult for me. I came close to the win today, but not close enough. I didn't get the job done in Qualifying and then I was a bit too cautious at the start. I also had an issue with the VSC and that made it tough to catch him up. But those are all ifs and buts; Valtteri drove a great race and deserved the win. It was great that the team let us race though. I'll work hard to bounce back and pick up the performance for Spain."
Toto Wolff – Team Principal (Mercedes):
"I'm really happy, this was another fantastic performance from the entire team. We didn't make any major mistakes today and that's what has won us this race; our car was quick, the strategy calls were right, the pit stops were executed flawlessly and the drivers didn't put a foot wrong. We let the two drivers race today; we told them to take it easy at the beginning of the second stint because we didn't know how long the tyre would last, but both at the start of the race and in the end they were free to fight each other. Both of them perform really well under pressure and neither of them made any mistakes today, so it was a calculated risk but it was good to see them race each other in a clean, respectful manner. I'm very pleased with the result and happy that Valtteri found some redemption after his bad luck here in Baku last year."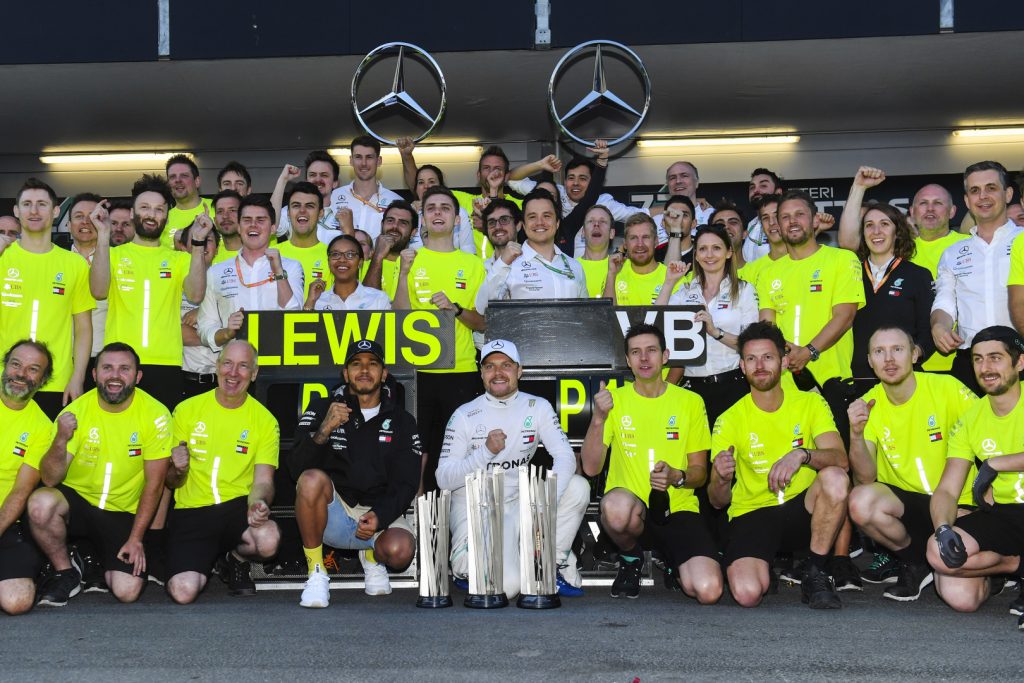 Sebastian Vettel – 3rd (Ferrari):
"That was fun driving today, although not so much in the first stint when I couldn't get the tyres to work and I didn't have as much grip as I'd expected. We were not quick and the performance was uneven because I damaged the tyres trying to get them up to temperature and then, once they were there, they didn't give the performance I'd expected because, they were damaged. After the pit stop I really got a good pace and I had fun because I felt the car was fully under control and I felt free to push, even if it wasn't enough to put our rivals under pressure. At the restart following the Virtual Safety Car, I set my fastest lap and I managed to get the gap to Verstappen to a second. I think that by then he realised he couldn't attack me and so I was able to drop the pace a bit in the closing laps. Our pace was alright today, but not good enough. The whole team is working to the maximum and so I feel confident. I believe in this team and I know we can improve. We have a good car, but we're not using it in the way to get the results we should be getting. It's like a Rubik's cube where you have to have everything in the right order. We have a lot of clever people in the team who could solve that puzzle in less than two minutes, but in this case the cube is a bit bigger."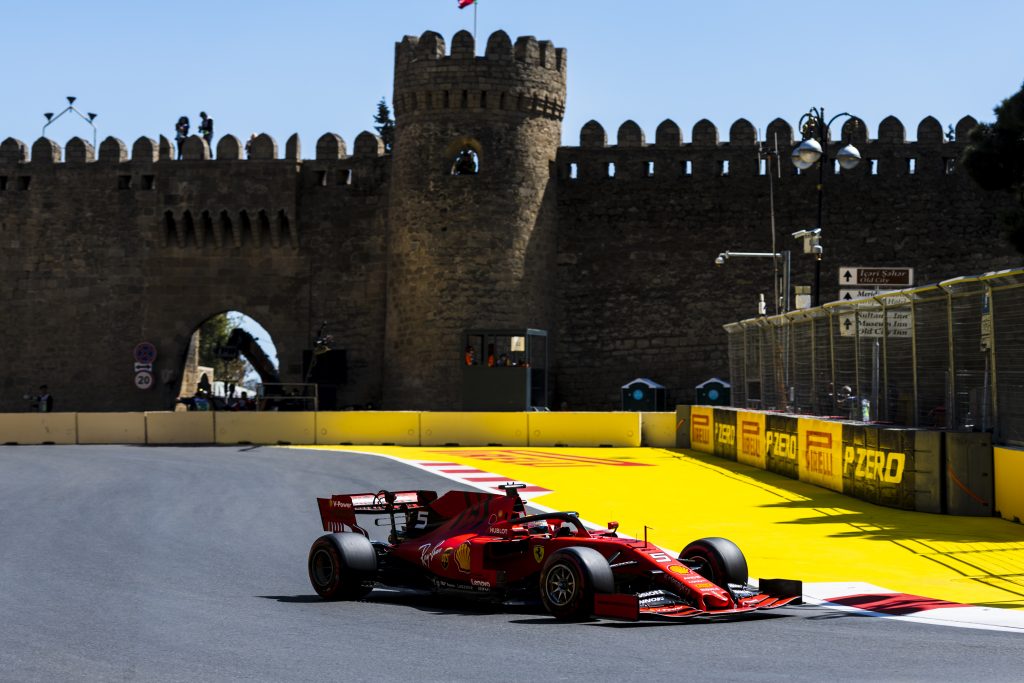 Max Verstappen – 4th (Red Bull):
"In general we had a good race. I always had the Mercedes and Ferrari in sight and I was just trying to close the gap. At the start I was blocked and couldn't really brake deep into the corner, which allowed Perez to get past me. Of course, that lost me a bit of ground but you don't want to risk everything on Lap 1. Once I got back past, we went a little bit longer than the others on the soft tyre and I had a good feeling with the car. We had good pace, especially on the medium tyre in the second stint where I closed the gap by seven or eight seconds. With the Virtual Safety Car, I think I lost too much tyre temperature and I couldn't get it back as quickly as the others. Around here, tyre temperature is key and you end up sliding a lot more with low temperatures so it wasn't worth risking the position in the final laps. The performance in Barcelona will of course depend on the upgrades that everyone is bringing but hopefully we can be even more competitive and close the gap even further."
We maximised our result today by finishing 4th. Our race pace on the medium tyres was really good, but after the VSC we couldn't get the tyres up to temperature anymore. We're getting closer #KeepPushing 🇦🇿 #AzerbaijanGP pic.twitter.com/sKzujSiMwS

— Max Verstappen (@Max33Verstappen) April 28, 2019
Mattia Binotto – Team Principal (Ferrari):
"Our performance did not live up to our expectations today. Qualifying had not gone the way we would have wanted and, on this track, grid positions make a big difference, as starting further back makes everything more difficult. In the race, there were no Safety Car periods to take advantage of, which might have played into our hands against our rivals. Sebastian produced a solid performance, always close to the two leaders and he fully deserved to finish on the podium. Charles ran a great race, moving up the order, after losing a few places at the start, because it was harder for him to get his Medium tyres up to temperature than it was for those on the Softs. Today, our pace was not good enough and our rivals were faster. We have to go home, identify the areas where we are weak and push in our way of working, to make more aggressive choices to get back to where we deserve to be."
Charles Leclerc – 5th (Ferrari):
"We extracted the most we could have done out of today's race. After the setback in qualifying, I started from P8 on medium tyres. It was a bit tricky in the beginning, because everyone around me was starting on the soft compound while I struggled a little bit to get up to speed. Once I got the tyres up to temperature, I had good grip and the situation improved. We had a strong first stint and were able to gain some positions there. After the pit-stop it became clear that we would not be able to move further up the order, so we decided to stop pushing to save the tyres, pitted for a new set and so I was able to bring home the point for the fastest lap at the end. Overall, it hasn't been the best weekend but our potential was clearly there and I hope that we will have a much better performance at the next GP in Spain again."
5th and Driver of the day.
Thank you for your support, see you in Barcelona 🛑
📸: @KymIllman pic.twitter.com/5pH1cMV19S

— Charles Leclerc (@Charles_Leclerc) April 28, 2019
Sergio Perez – 6th (Racing Point):
"It has been a fantastic day. It was looking good at the start when I passed Verstappen, but we didn't have the pace to fight against the Red Bulls over the race distance. I was actually focussed on keeping the McLarens at bay. It was not easy to keep them behind and I had to drive carefully for the whole of the race. After the VSC I was able to get good temperature in the tyres and this helped me stay in P6. I am happy we succeeded in keeping our position, now we can celebrate a good day for the team with both cars in the points. We have an upgrade coming in Barcelona and I am looking forward to our performance there."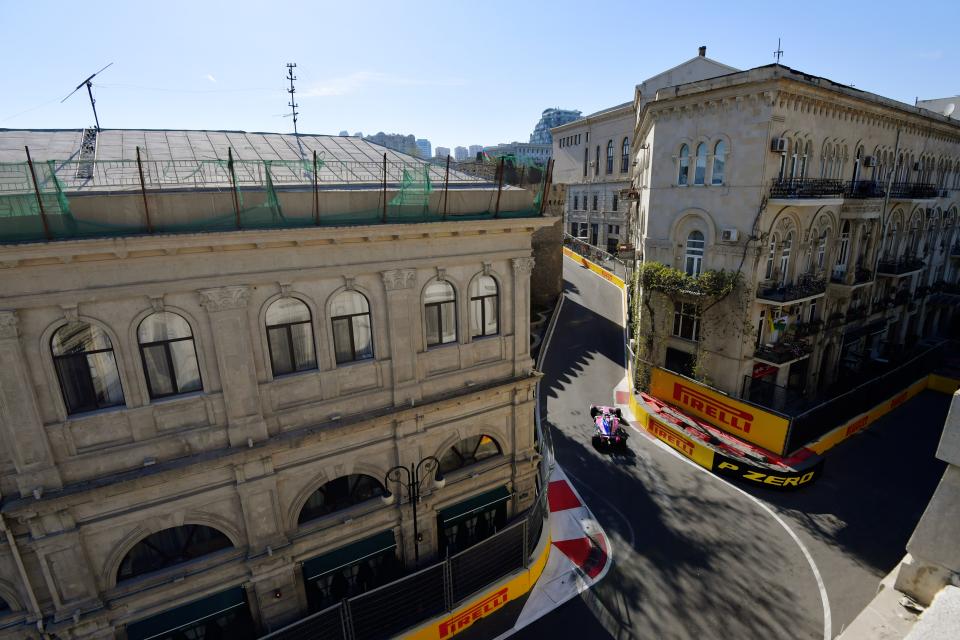 Carlos Sainz – 7th (McLaren):
"Happy to score good points today after yesterday's setback with that yellow flag. I knew it was just a matter of time and having a clean race. Today we showed solid pace throughout the whole race. Congratulations to everyone in the team for our first double-points finish of the year. Great effort from everyone. We need to keep pushing though, we have to be ambitious and aim higher! It's a nice boost ahead of my home grand prix."
Lando Norris – 8th (McLaren):
"Overall, it's a good race for us as a team. A double-points finish, the first one of the year, which is a good thing. The whole race was pretty good. My start was probably the best I've done all year and I made no mistakes. I lost the tyres a little early in the first stint so boxed onto the Mediums, had a good middle stint and we took the decision to try the Softs after the VSC. The thinking was that the other tyres, the Medium, while not worn, had done a lot and wouldn't be able to turn on as well. It looked like they did, so it was the wrong decision. It could have worked, maybe if it had been a bit colder, but it didn't and that's just something we have to look back on. It always happens in racing! A good weekend altogether."
Double points finish and a photo with @johnnyherbertf1. I'd say it's been a pretty successful weekend. pic.twitter.com/GEQZ4Rcufz

— Lando Norris (@LandoNorris) April 28, 2019
Pierre Gasly – DNF (Red Bull):
"This weekend has been a lot better than the first three races. I felt better with the car and I've been able to drive more the way I want to. In qualifying I managed to show some good performance with a good lap in Q1. In the race, starting from the pit lane, we knew it would be tricky to fight at the front but we had a car fast enough to come back and score good points. Things in the race went pretty well and we got to P6 but unfortunately we didn't make it to the end as I had a driveshaft failure. Overall, I'm adapting myself and we're going in the right direction. I think the car's a bit more predictable and I've changed my approach in the car too. I still need to work on some things but each weekend it's improving and together with the Team, we're going in the right direction."
Gil de Ferran – Sporting Director (McLaren):
"Both cars in the points equals a good day at the office. Although perhaps from the outside it may have looked like a straightforward race, it was, in reality, anything but. Our cars had good pace, nevertheless, we had to be extremely careful with our tyre management throughout. Given that we had a 'free' pit-stop, we elected to take both a conservative and aggressive strategy at the same time by pitting Lando during the Virtual Safety Car. In this manner, as a team we had every strategic eventuality covered. Congratulations to both Lando and Carlos, who drove flawless and perfectly managed races. Congratulations to our strategy team, who executed the complex race to perfection. Congratulations to our pit-crew who, once again, excelled. And finally, congratulations to everyone at McLaren who has continually put in a tremendous effort at every grand prix that we go to. We leave here with a good taste in our mouth, but still, as always, calmly determined to continue to step forward."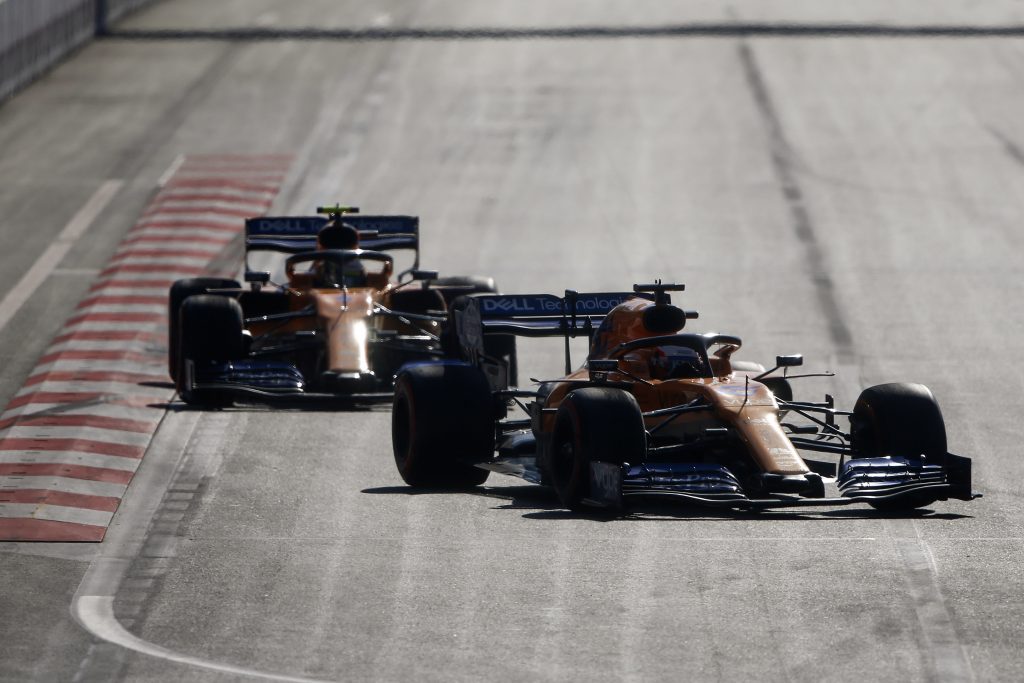 Lance Stroll – 9th (Racing Point):
"It feels good to be back in the points because it was a very challenging race from start to finish. This is a track that has no margin for error, keeping concentration was a key factor and that is what we did today. It was fun; we overtook cars on track and brought the car home in P9. We were fortunate with the contact between Kvyat and Ricciardo because we picked up a couple of places there, then we overtook a few more cars on track, but the car felt good throughout the race. I am really happy with where we are right now, fighting for points at every race but there's no doubt that it's very tight in the midfield and we are going to have to keep pushing."
Kimi Raikkonen – 10th (Alfa Romeo):
"Not an easy weekend for us. Wasn't the plan to start from the pit lane but it is what it is, so one point is kind of the maximum we could achieve today. We pitted earlier to get out of the traffic but then I struggled for the whole race with switching the tyres on. Bit disappointed as I was expecting a lot more but I have the feeling that the next race will be easier for us."
Starting P17 + Pitlane.
Finishing P10 + P12.
Scoring 1 point 🔥

That can be called "Damage Limitation" 😑#AzerbaijanGP #F1Baku #AlfaRomeoRacing #Sauber #GetCloser #Kimi7 #AG99 pic.twitter.com/ZZUiSjNdhm

— Alfa Romeo Racing (@alfaromeoracing) April 28, 2019
Otmar Szafnauer – CEO & Team Principal (Racing Point):
"We can leave Baku feeling pleased with a job well done. It's our first double points finish of the season and our strongest performance so far. Baku has traditionally been a competitive track for us and it was important we took advantage this weekend. Sergio's strong qualifying and great opening lap laid the groundwork for a clean one-stop race with few dramas. He delivered great pace, raced intelligently, and brought the car home for sixth place. Lance too drove incredibly well and was involved in some great battles in the midfield. His strong start brought him right into contention straight away – up inside the top ten – where he raced for the most of the afternoon to pick up a couple of points. I think we are beginning to see the potential of the RP19 be released, which is encouraging. This was certainly one of our more competitive tracks, but the car has been well balanced for most of the weekend and that should be a good sign for the races to come."
Alexander Albon – 11th (Toro Rosso):
"Finishing just outside of the points isn't what I wanted. I had an OK start, I got a bit boxed in and went in the wrong gaps and at the wrong time, then I touched the wall on the exit of Turn 1 so I was a bit cautious into the next couple of corners. After that, our pace was decent but I think we stayed out too long and lost some time. We fell behind the whole pack after we pitted, and the problem is that everyone is so close in the midfield that we needed a bigger pace advantage than we had to make up some ground. At the end, I was able to make a few overtakes and I had some fun out there, that's the main thing!"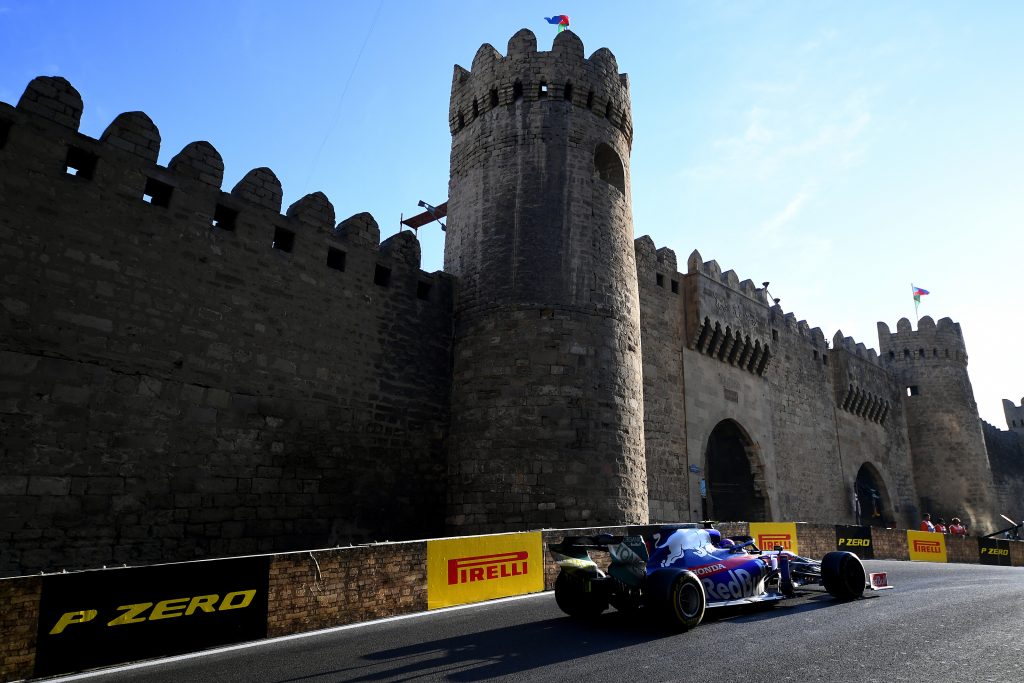 Antonio Giovinazzi – 12th (Alfa Romeo):
"It was a challenging race. We started from P17 on the grid due to my 10-place penalty. I lost too much time to stay out in the first stint and got stuck in traffic. It's a shame because I had a good pace but unfortunately there was no safety car and I couldn't challenge for a place in Top Ten. Now I have to stay focused and keep working for the next race in Barcelona."
Daniel Ricciardo – DNF (Renault):
"It was a strange incident which forced the retirement, but it was my mistake and I'm sorry to the team and to Daniil [Kvyat]. It was a bit of urgency on my behalf and I didn't think straight for a few seconds, so I have to take that one on the chin. The team certainly deserved more today. We were bringing on a nice rhythm there and had some good pace on the Medium to continue on and we probably could have scored points."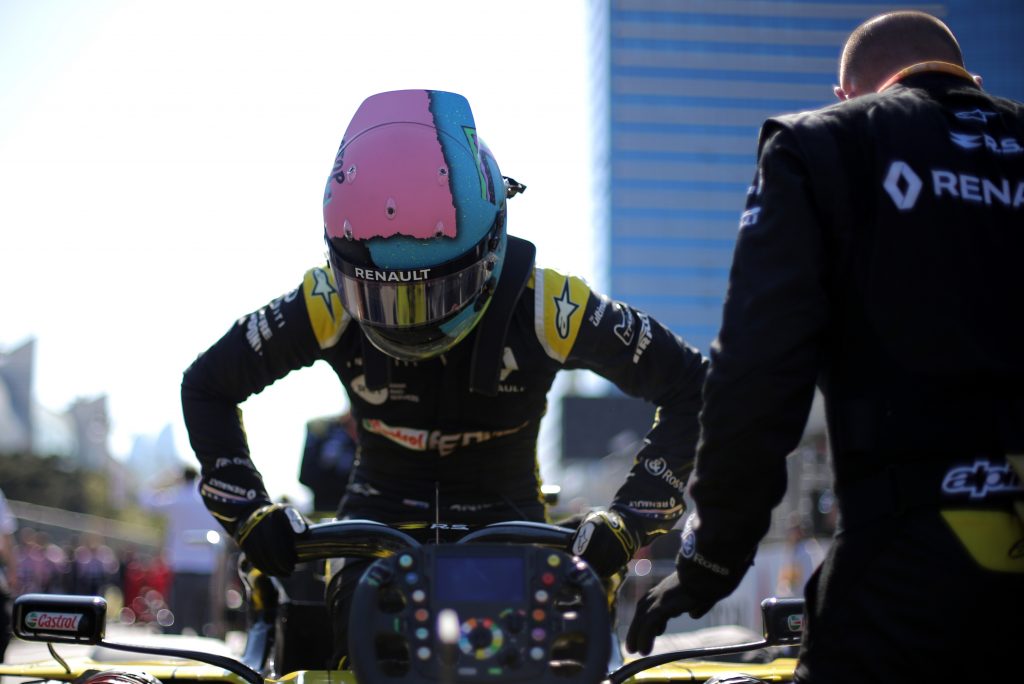 Daniil Kvyat – DNF (Toro Rosso):
"It wasn't the best of days as we had to retire the car through no fault of our own, but these things happen in racing. I have no issue with Daniel, he recognised his mistake and we now turn the page. Of course, I was a bit disappointed in the moment as I thought we could have scored a point, but there's not much you can do about it. Yesterday, our car was great in Qualifying, but we struggled with some tyre management today, so we'll investigate to understand why and just move on to the next race. We have a strong package and I'm sure our time will come."
Kevin Magnussen – 13th (Haas):
"It was a tough day today. It's obviously not the result we were hoping for. We'll work hard for Barcelona and move on, at least
we have some data from there in terms of where the car was working in testing, although temperatures will be a lot different. We
didn't expect this kind of start to the season, but all we can do is keep working to resolve our issues – keep looking for a solution."
Lots of things to analyze, and lots of things to improve. We'll continue working hard and hopefully Barcelona is going to be better! 💪🏼 #AzerbaijanGP pic.twitter.com/XfpOghcYtY

— Kevin Magnussen (@KevinMagnussen) April 28, 2019
Franz Tost – Team Principal (Toro Rosso):
"When Ricciardo tried to re-join the track, he reversed into Daniil and heavily damaged his floor, which lost around 60 points of downforce. This made it impossible for Daniil to continue and we had to retire the car. As for Alex, we pitted him too late but he was able to recover in his second stint. Nevertheless, he could only manage to finish in 11th. We have to analyse what went wrong today to come back stronger in Spain."
Nico Hulkenberg – 14th (Renault):
"It's been a tough weekend. Today I had no response or anything to offer. I was pushing really hard, I felt like I was driving as best as I could but couldn't extract the maximum from the car today. We have a lot to investigate going forward, but maybe it's one of those mysterious weekends, which happen. It's been difficult from lap one on Friday and we've consistently struggled. It's a bitter one for me and the team, but we'll move on from this and be as best prepared for the next one."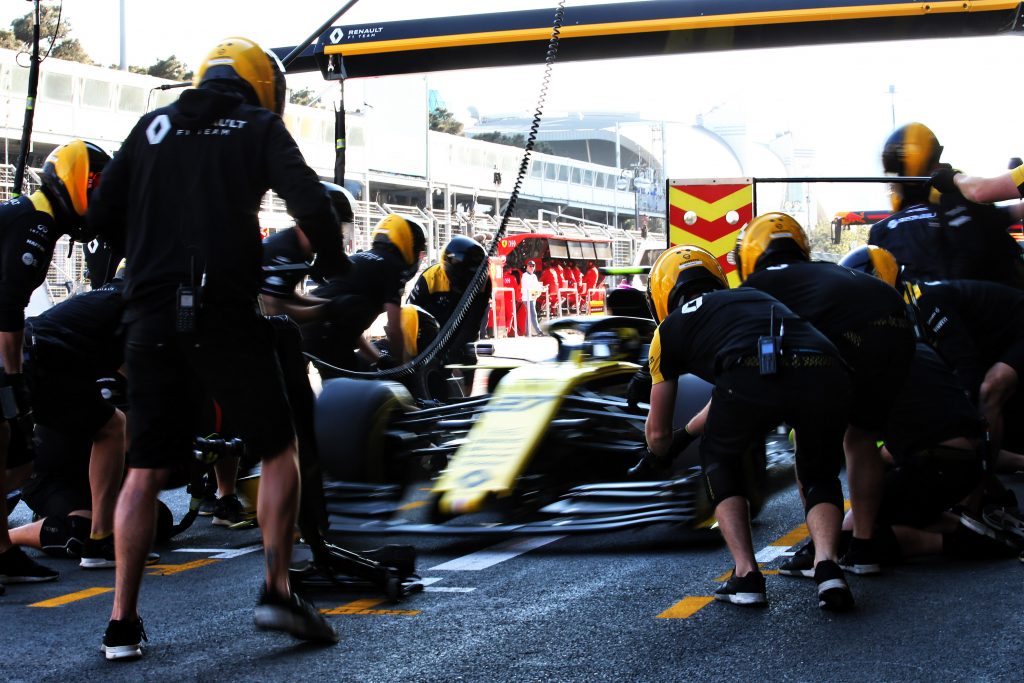 Guenther Steiner – Team Principal (Haas):
"It's a very disappointing result. We just need to get better in understanding the tires. We've been struggling with the introduction
of these new tires since the beginning of the year. We need to get a grip of it. It's quite disappointing that everything is in if you
get the tire to work or not. Everybody else seems to be figuring it out, so we need to work hard on that."
Romain Grosjean – DNF (Haas):
"My brake pedal was going to the floor, so for safety reasons we had to retire my car. Before that it was going as well as we could
have hoped for. The first few laps on the medium tire were very difficult, then the softs grained, but we came back a little in the fight. I was really pushing the car to its limits. I had a lock up in turn 15, I went straight and had to go a little bit on the escape road, which wasn't great. I then tried to hang in there, but the pace wasn't there. We need to sit down now and really analyze everything we can. We need to react to be able to fight for a good constructors' championship place. I believe we've got the car for it, it's just very annoying to have this underlying issue, which we believe is tire related. Hopefully for Barcelona we can be in a better place."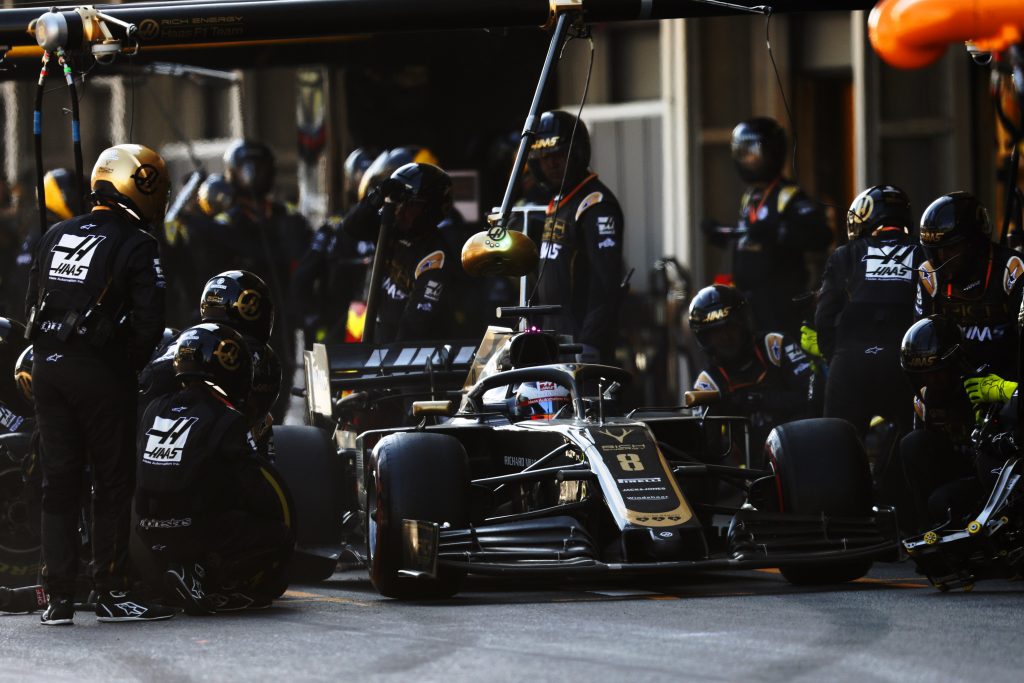 Cyril Abiteboul – Team Principal (Renault):
"Very clearly, it's been a bad weekend. From FP1 onwards we never found our pace despite big changes to the car overnight. We finally managed to recover an acceptable competitiveness level during the race for Daniel but it would never be the case for Nico. Overall, the first stint of the season has been disappointing, but if we manage to get all things in order we can have a decent competitiveness level as demonstrated on several occasions. We must absolutely see the start of the European season as an opportunity to reset."
George Russell – 15th (Williams):
"It's not been a smooth weekend for us, but once we got going after qualifying I felt fine. I am quite relieved that this weekend is over, it didn't seem like anything was going our way. Moving on to the next race, we are still pushing and hopefully Barcelona will be more positive."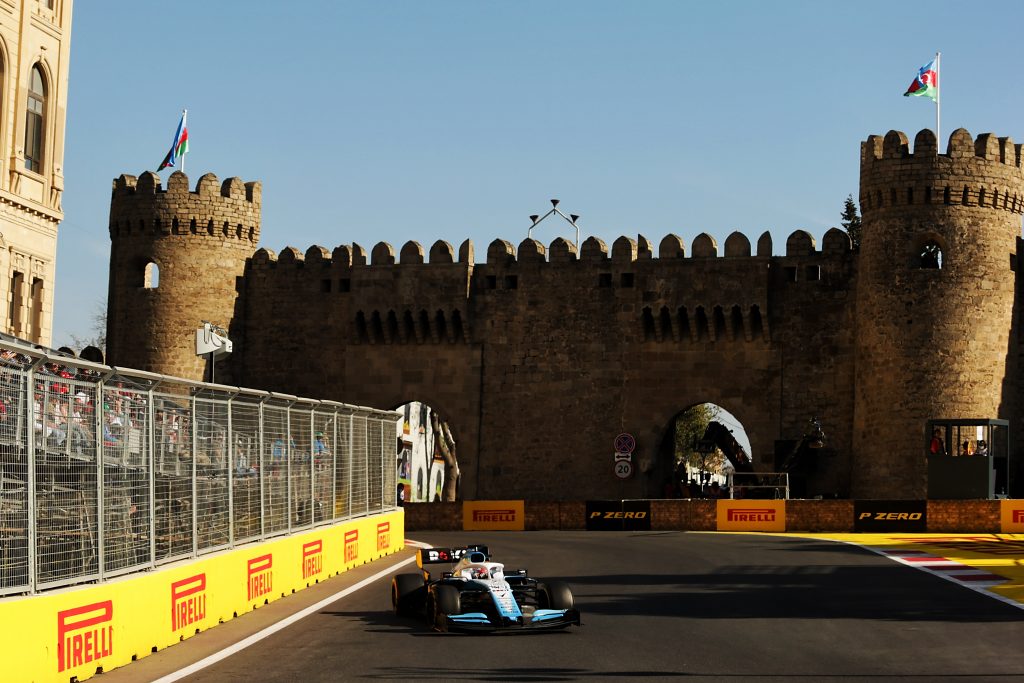 Robert Kubica – 16th (Williams):
"I have never raced here in Baku and would like to say thank you to the mechanics. They did an amazing job to get the car back into one piece due to my mistake yesterday. We decided to start from the pitlane and very soon it was clear that I had to be careful under braking. It wasn't easy, but the priority today was to bring the car home and I achieved this. Once again thank you to the mechanics as they achieved something extraordinary to get the car on track for the race."
Dave Robson – Senior Race Engineer (Williams):
"Following a difficult weekend, it was good to get both cars home again. The mechanics did an excellent job after qualifying to prepare Robert's car for the race. We opted to make some changes to the car setup, as well as necessary repairs. This meant we had to start from the pitlane, which helped Robert achieve good consistent race pace, especially when running on the option compound. For George, the start of the race was difficult having lost a lot of tyre temperature during the formation lap. However, once he fitted a second set of new option tyres, he was also able to set a reasonable pace. Apologies to Robert for the infringement that led to his penalty."
Spectacular Baku! #AzerbaijanGP pic.twitter.com/tpse86Ab5x

— ROKiT WILLIAMS RACING (@WilliamsRacing) April 28, 2019