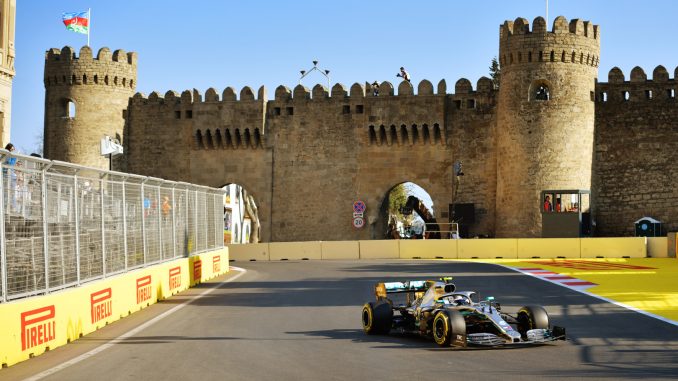 Valtteri Bottas is back at the top of the drivers' standings after winning the Azerbaijan Grand Prix in Baku this afternoon, giving him his second win of the season.
The Finn finished ahead of teammate Lewis Hamilton as Mercedes continue their monopoly on the top two places this season, while Ferrari's Sebastian Vettel completed the podium.
The Mercedes drivers were wheel to wheel through the first couple of corners, but it was Bottas who remained ahead, having started from pole position.
Charles Leclerc had strong early pace, moving through the field quickly to climb up to fourth, and the Monegasque driver inherited the lead when the three drivers ahead of him pitted.
Pierre Gasly was one of three drivers to start in the pitlane, but the Red Bull driver made swift progress to find himself in the top 10, albeit still needing to make his pitstop.
A number of drivers struggled to look after their tyres, with Daniil Kvyat, Kimi Raikkonen and Nico Hulkenberg among those stopping early in the race.
It was almost two-thirds race distance before there were any retirements, with Daniel Ricciardo the first out of the race. The Renault driver was looking to pass Daniil Kvyat when he looked up and went straight on, also forcing the Russian to take evasive action. The two drivers initially avoided contact, but Ricciardo reversed into the Toro Rosso, ending his own race, while Kvyat also had a retire a couple of laps later.
There was a virtual safety car shortly after as Gasly pulled his smoking Red Bull into a run off area, thought to be caused by a driveshaft failure, while Romain Grosjean's race also came to a premature end as Haas called him into the garage with a suspected brake failure.
Hamilton cut the gap to Bottas in the final laps and had DRS as he tried to pass the Finn late on, but Bottas maintained enough of a gap to keep himself ahead of the current champion.
Leclerc picked up the bonus point for setting the fastest lap of the race, coming in late on for new tyres to break the previous lap record.
For the third time in four races in Azerbaijan, Sergio Perez took the best of the rest honour, coming in sixth behind five drivers from the top three teams, with his Racing Point teammate Lance Stroll also in the points.
Despite starting from the pitlane and struggling with his tyres early on, Raikkonen recovered well to clinch the final spot in the top 10 for Alfa Romeo, while there was also a double points finish for McLaren.
The race perhaps lacked the fireworks of the previous two races in Baku, with no full safety car periods during the 51-lap contest.
Provisional result
1 Valtteri Bottas (Mercedes)
2. Lewis Hamilton (Mercedes)
3. Sebastian Vettel (Ferrari)
4. Max Verstappen (Red Bull)
5. Charles Leclerc (Ferrari)
6. Sergio Perez (Racing Point)
7. Carlos Sainz (McLaren)
8. Lando Norros (McLaren)
9. Lance Stroll (Racing Point)
10. Kimi Raikkonen (Alfa Romeo)
11. Alexander Albon (Toro Rosso)
12. Antonio Giovinazzi (Alfa Romeo)
13. Kevin Magnussen (Haas)
14. Nico Hulkenberg (Renault)
15. George Russell (Williams)
16. Robert Kubica (Williams)
DNF:
Romain Grosjean (Haas)
Pierre Gasly (Red Bull)
Daniil Kvyat (Toro Rosso)
Daniel Ricciardo (Renault)