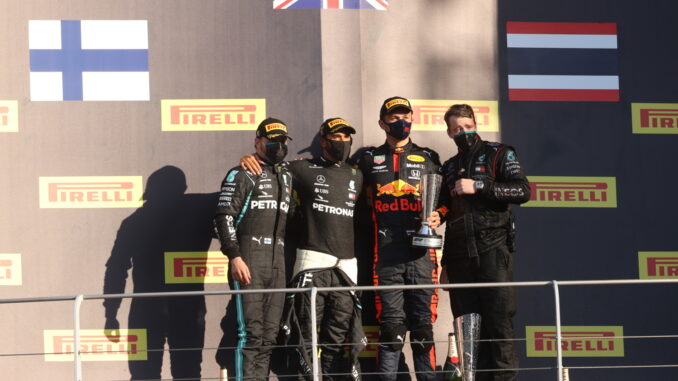 In a race that saw several big crashes, two red flags and eight retirements, it was pole sitter Lewis Hamilton who came out on top, winning on F1's first visit to Mugello.
The reigning champion initially lost the lead to teammate Valtteri Bottas, but the Finn had to settle for second.
There was also a maiden F1 podium for Red Bull's Alexander Albon.
This is what the driver said following an eventful afternoon in Tuscany:
Lewis Hamilton – 1st (Mercedes):
"Today was one of the most challenging days, physically and mentally, I've experienced. I'm pretty exhausted to be honest, but it feels fantastic to win such a crazy race. It's all a bit of a daze and felt like three races in one day. It was incredibly tough out there, this track is phenomenal and Valtteri was pushing me hard, so it wasn't easy at all. With all the restarts and the focus that was required, it was really hard. The first start wasn't great and I lost the place to Valtteri, but then the second start was better and I got the place back. I had a comfortable advantage after that point but then there was another red flag. Anything could have happened on those restarts but fortunately on the last one, I got my best start of the day and was able to maintain my position. Valtteri was always right there with me and I couldn't make a single mistake, otherwise he'd be right there to pass me on the straight. A huge thank you to the team here at the track and back at the factories for all their hard work to make this result possible, and this is a brilliant circuit, so I'd love to come back in the future."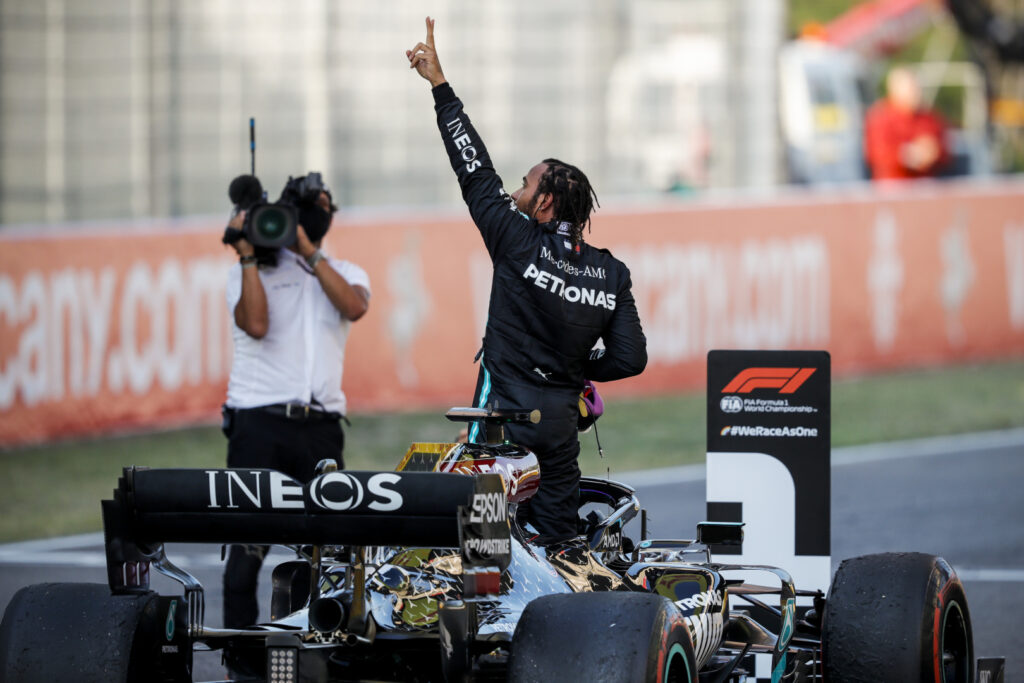 Valtteri Bottas – 2nd (Mercedes):
"It feels like we had three races today and it was really tough out there. The first part of the race went well for me, but also was pretty short. I had a dream start and maintained my position on the first Safety Car restart. Once I lost the position to Lewis on the second start, it was really tricky to get it back. I did everything I could and was pushing really hard, especially in the middle stint so I could maintain the distance. But when you are behind, you need to slide the car more and that uses up your tyres. There weren't many opportunities once I lost the place, but that's how it goes, and I just need to keep pushing and keep trying to get better. And that's what I'll do."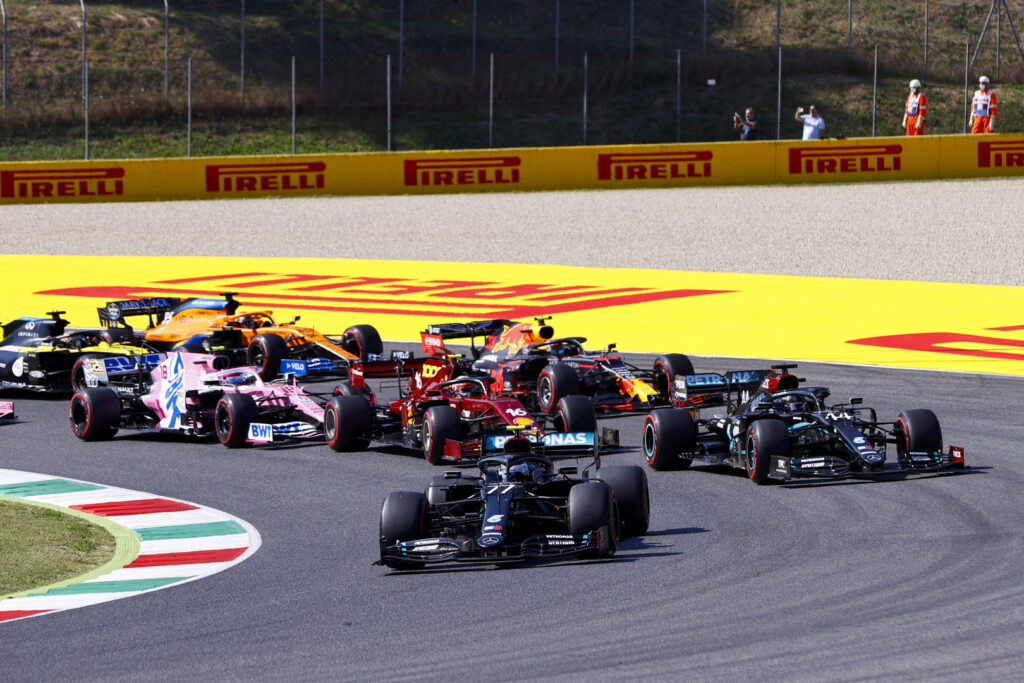 Toto Wolff – Team Principal (Mercedes):
"What an unbelievable race today with so many red flags and restarts. There was so much going on and it proved to be quite a tough day for
all the teams. First of all, I'm glad to see that everybody is safe and okay after the incidents during today's race. The crash on the main straight looked very scary, as did Lance's off. For us, it was a great race and a fantastic result for the team with a 1-2 finish at Mugello. Both of our drivers put in very strong performances and it's just what we'd hoped for. Well done to everyone in the team. To extend the lead in the Drivers' and Constructors' Championships feels good and now we have one weekend off, before we go again in Russia."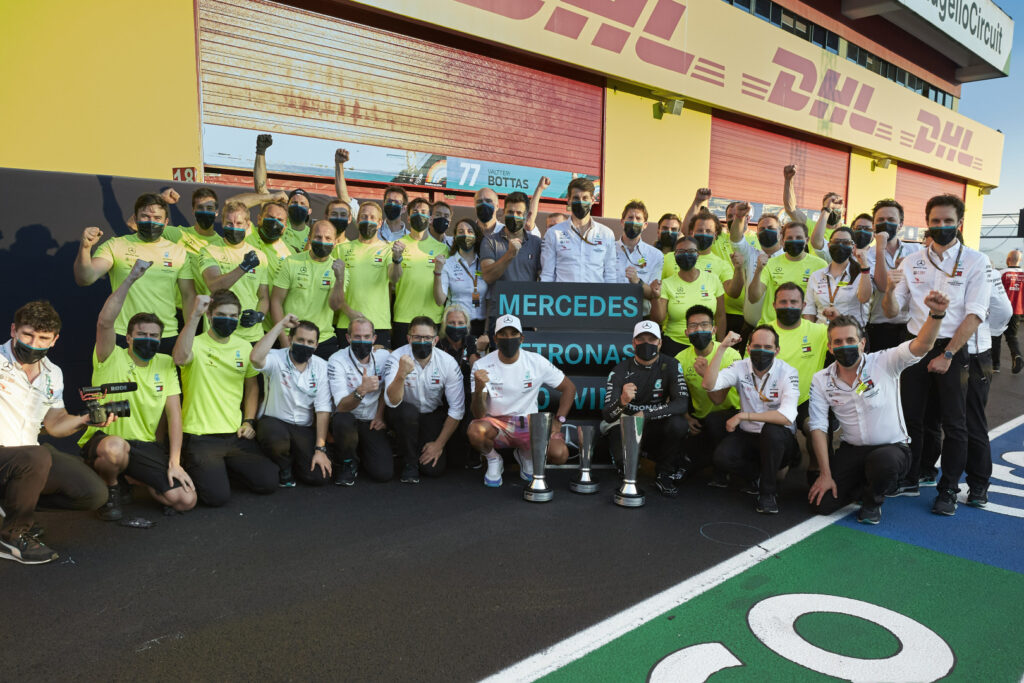 Alexander Albon – 3rd (Red Bull):
"I'm really happy and it took a while to get here! It's something I've always wanted and one way or another we haven't been able to get it so to be there today is pretty special. It's really nice to give the Team something back after they've supported me since day one and show them what I can do. It was a tough race and definitely not one of the easy ones. This track is brutal, especially the high speed corners in sector two, and with so many re-starts to manage we had our work cut out. We struggled to get off the line so I knew I had to be aggressive to get all the overtakes done but we had a really good car and we know it's good on the brakes so we used that to our advantage. When we lost two positions on the final re-start, I was fired up as I wasn't going to let the opportunity of a podium go by so I pushed hard to get third and I'm over the moon with today's result."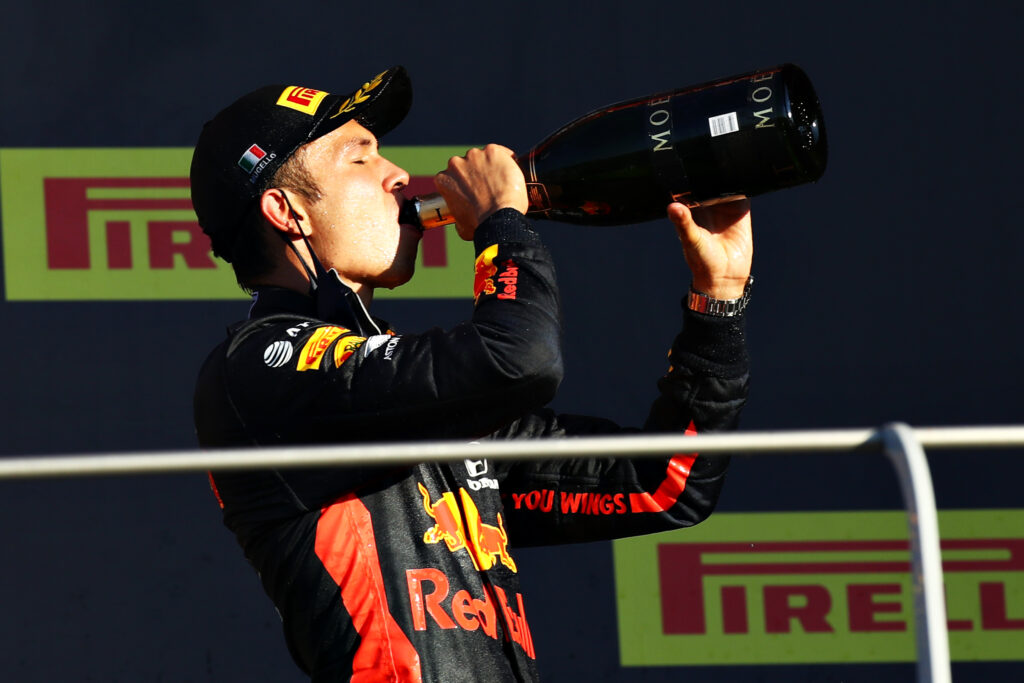 Daniel Ricciardo – 4th (Renault):
"I'm really happy with today's race and we're so close to the podium again. It was a long day, a long race with the stoppages and incidents, but the main thing is that all the drivers are okay. It looked like we were on for third towards the end of the race, so it's a shame to come so close. We can't get any closer than that and we'll keep pushing. Our starts were good, we got Valtteri [Bottas], but he and Alex [Albon] were just too quick to hold on. It hurts not to be on the podium after that, but fourth is still a big result today."
Sergio Perez – 5th (Racing Point):
"I think we did really well to maximise the situation to get to P5 considering how crazy the race was, and it's good points for the Constructors' and Drivers' Championships. I'm also relieved to hear that Lance is OK after his big crash. The key to our race was keeping our focus and staying calm in all the incidents and red flags, which we managed to do. I think the podium was a possibility for us today, but we just didn't quite have the pace or the balance to make it into the fight for the podium. It was tough to come to a new race circuit and adapt quickly, but I think we did well to fight inside the top five this weekend. We also saw today that the upgrade Lance ran was promising throughout the weekend, so I'm looking forward to trying it out for myself in the coming races."
¡10 puntos a la bolsa en esta locura de carrera son una gran cosecha para el equipo! Nos faltó ritmo para pelear por el podio, pero lo intentamos todo y nos vamos contentos con el quinto sitio #TuscanGP pic.twitter.com/umeURRO4FG

— Sergio Pérez (@SChecoPerez) September 13, 2020
Christian Horner – Team Principal (Red Bull):
"A bittersweet day but it's fantastic to see Alex take his first F1 podium. He's done a great job all weekend and he had to pass some tough competitors to fight his way back through the field after a couple of difficult starts. All credit to him because he hasn't let the negativity or external criticism get him down, he's picked himself up and put in a first class performance. I think this podium will give him a boost of confidence and self-belief and I'm sure he will only get stronger from here. Unfortunately, Max was unable to show us what he had today after such a promising qualifying and positive feeling ahead of the race. He did the hard bit with a great initial launch and was alongside Lewis, but then he experienced a loss of power which caused him to drop into the middle of the pack where he was hit from behind, ending his race in the gravel. It is enormously disappointing for him because he was really up for it today and you could see we had a good overall package. The issue is being looked into by Honda and the Team in order to ensure this does not happen again."
Lando Norris – 6th (McLaren):
"I'm happy with today. It was a long race from the start to the finish with the two red flags, but I don't think we could've asked for much more. I think we capitalised on other people's mistakes but didn't really have the pace to do a lot more. Everyone that finished ahead qualified ahead and was much quicker, so I'm happy with how we performed. The car was still very tricky to drive, so I struggled with some confidence. We've got a bit to work on for next time, but I think from my side it couldn't have been a much better race. Finally, thanks to the team for their hard work over this opening stint of races. It hasn't been easy for the team at track or the guys and girls back at the factory, but their support has been incredible."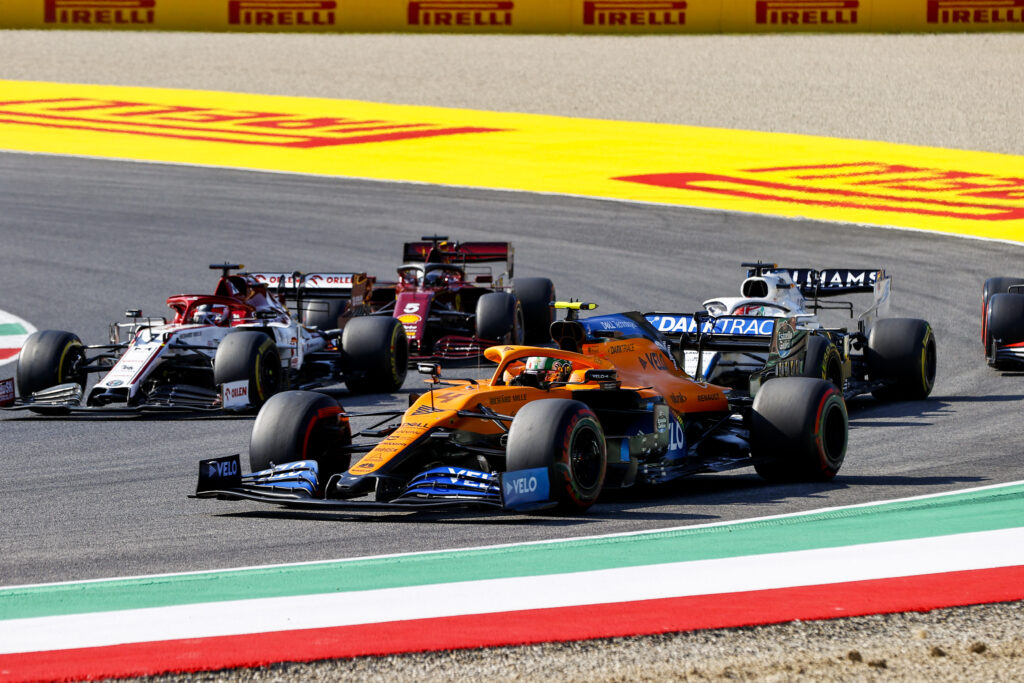 Daniil Kvyat – 7th (AlphaTauri):
"It was a very difficult race today, both physically and mentally, so I think we can quite proudly say as a team we didn't make any mistakes, which is great. It was important for us to get some good points, so I'm happy with the result and I'm pleased with my driving. The team did a great job in difficult circumstances during the two red flags, and our strategy calls today were the right choices. There was a lot of mess behind us, but in front it was quite stable, so P7 was a very good result and we took some more points to close the gap in the championship."
Charles Leclerc – 8th (Ferrari):
"I had a great start, making my way to P3. Unfortunately, we didn't have the pace we needed to keep this position and finished in 8th place. I tried to fight as much as I could, but it just wasn't enough today. Lots of things happened in the race, but one thing hasn't changed, which is that we have to work hard to improve our performance. The race itself was quite fun. I was happy every time there was a standing start because it was an opportunity for us to try and fight for positions. The car was quite difficult to drive, especially on the Hard tyres. Towards the end it became a bit better on the Softs, but overall, it's very tough at the moment, so we need to keep our heads up and stay motivated. It's very important to keep this in mind in times like these. Hopefully we will see better times coming soon."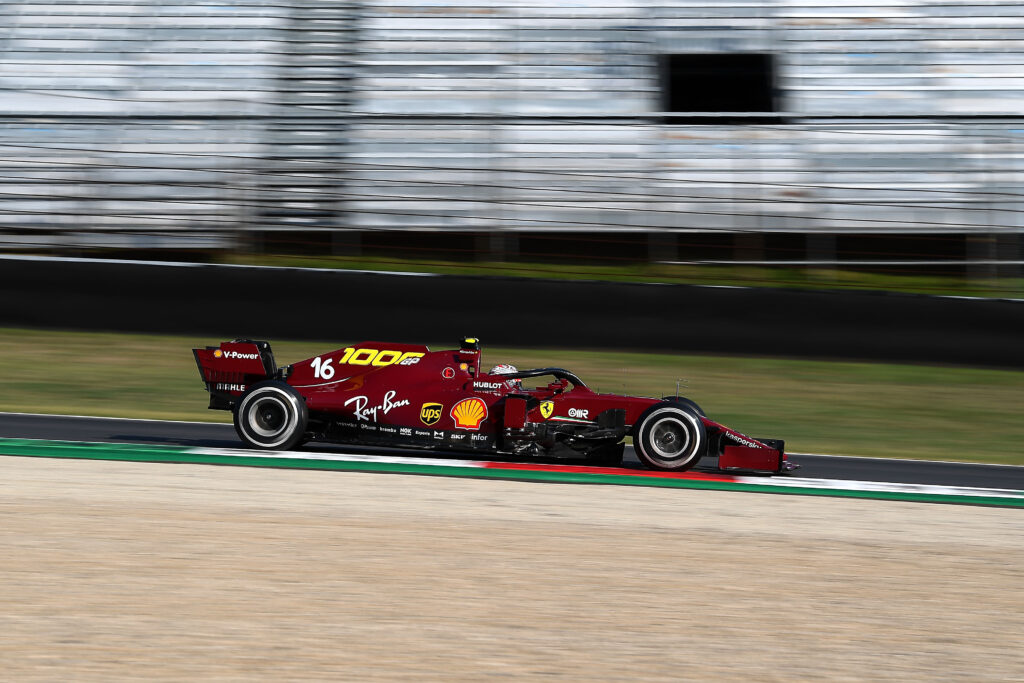 Cyril Abiteboul – Team Principal (Renault):
"After a rollercoaster of emotions since Friday, it's good to be disappointed with fourth! We have believed in that podium for a while and the team probably deserved it, but Alex Albon had better pace at the last restart with the Red Bull. It was a very eventful race, but I believe we did all the right things. Daniel drove a great race to finish where he did. The only regret is that we had only one car in this brilliant race as Esteban had to retire due to a brake overheating problem; the root cause of which will have to be investigated. The main takeaway from this weekend is that we should never take anything for granted. We came here expecting a very difficult weekend with track characteristics that usually do not suit our car, but we still managed to make it work. It's another indication that we can extract more while the factories develop future improvements. It's also been a fantastic first event at Mugello, a great track for the drivers and their machines!"
Kimi Raikkonen – 9th (Alfa Romeo):
"It was definitely not the smoothest of races but we finally managed to bring home some points, so we can be pleased about that. My race started pretty badly, I am not sure what exactly happened at turn two but I was hit and suffered a lot of damage. Probably whoever hit me didn't expect the pack to slow as much as we did, but in any case the crash took away part of my floor and my front wing. The damage made the handling of the car really bad and we struggled with the balance: we lost a lot of downforce but in the end we were still able to push at a decent pace. I had a slow pit stop but thankfully the second red flag got us back in the fight. Then I had a penalty for crossing the pit entry line, which didn't help, but after the second red flag I was still able to do some good laps and in the end only lost one place. It was far from the perfect execution of a race but, despite all the issues, we still brought home two important points. It's still a bit of a shame as we have made some good progress and I think we could have finished even higher with a cleaner afternoon, but hopefully we will carry the performance to the next few events."
What a race! 😲

We put up a strong fight today and take away two points that are worth gold 👏🏻#TuscanGP pic.twitter.com/kAXwe3seg7

— Alfa Romeo Racing ORLEN (@alfaromeoracing) September 13, 2020
Sebastian Vettel – 10th (Ferrari):
"The start was not the best, but then I had a good run into Turn 1 staying on the inside, out of trouble. Then when I came round Turn 2, I saw that the McLaren had spun, but I couldn't avoid making contact. Luckily, with the Safety Car deployed we could change the wing and rejoin the field. I would have loved to capitalise a little bit more on other people's mistakes, but at least we were quite lucky to generally stay out of trouble. The positive thing is that we were able to finish in the points, but of course we can't be happy with our position."
George Russell – 11th (Williams):
"It's such a shame as the race was under control, and I was in P9 before the last red flag. I was driving like hell, everything was stable, the tyres were good, and I was ready to bring the car home. With the last restart, we had some wheel spin and this made the final stint very diffciult. I am disappointed for myself and the team as I feel like we deserved that. Under normal circumstances with the great initial start we had, we would have been in the points."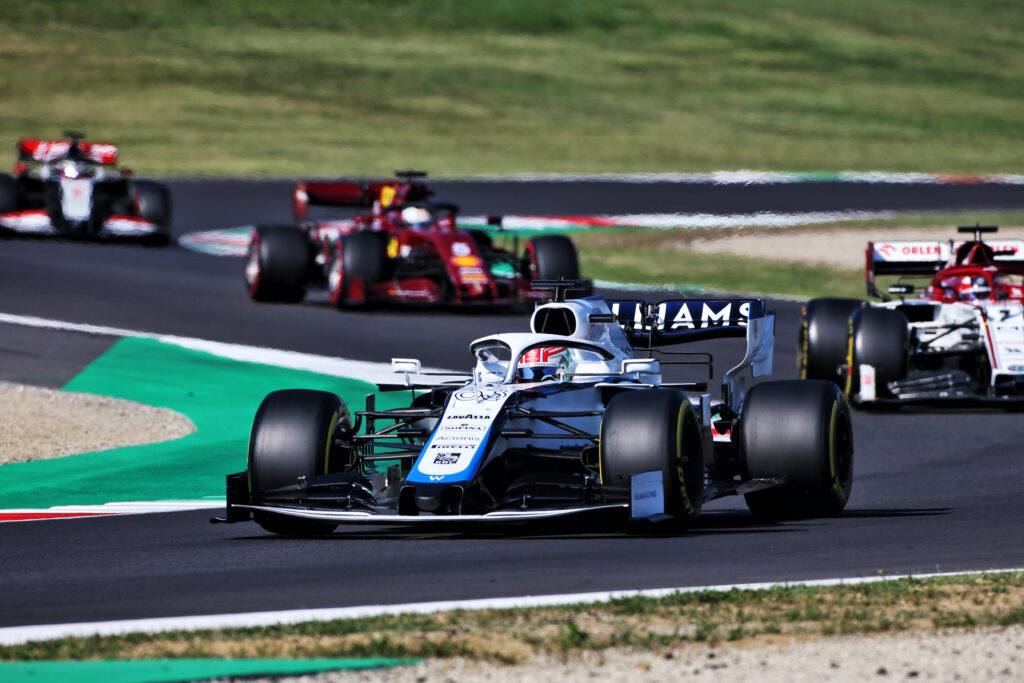 Andreas Seidl – Team Principal (McLaren):
"First, the most important thing today is that Carlos and all the guys involved in crashes are okay. After that, wow – a race of three… halves! After a great start, Carlos was unfortunate to spin in traffic and then was the victim of chaos at the Safety Car restart. A frustrating day for him. Lando had a good day: he kept cool all the way through a long and challenging afternoon. He and the team performed very well throughout."
Romain Grosjean – 12th (Haas):
"It's one of the strengths of Haas – we never give up. I had a big hit at turn two on the first lap. The car was switched off, I was ready to retire, then I saw I had two wheels on the grass so I restarted the engine to see if I could get out of the gravel. I was able to get going and the suspension was ok, so we thought – let's keep going. At the first red flag I saw the state of the car, I didn't know how we were going to keep racing, half of the left-hand side was missing. The guys said to hang in and we did our best. The last restart was fun, I managed to get up the order a bit. But when you're missing about two seconds a lap, which we had calculated in aero damage, there's not much you can do. That said, I'm very happy that we didn't give up. Nobody can take that from us."
Kevin Magnussen – DNF (Haas):
"What seemed to happen at the restart was that the leader was going slow all the way to the line, which he's entitled to do, but then somewhere in the middle – between me and the front, somebody decided to go. I guess somebody maybe tried to open a gap to get some momentum, but they went too early and tried to stop again. The guy in front of me started to go, we were flat out for a few seconds, then suddenly they all braked. I braked, I saw people coming past, then I was hit by Giovinazzi – who had nowhere to go. This is certainly something to take a look at – in terms of whether or not this thing about overtaking until the line is a good idea or not. Maybe it's a good idea to have it somewhere earlier on the straight. We can't have this happen again. I'd got up to P12 from P20 on the first lap, it had been looking good. This is definitely another missed opportunity."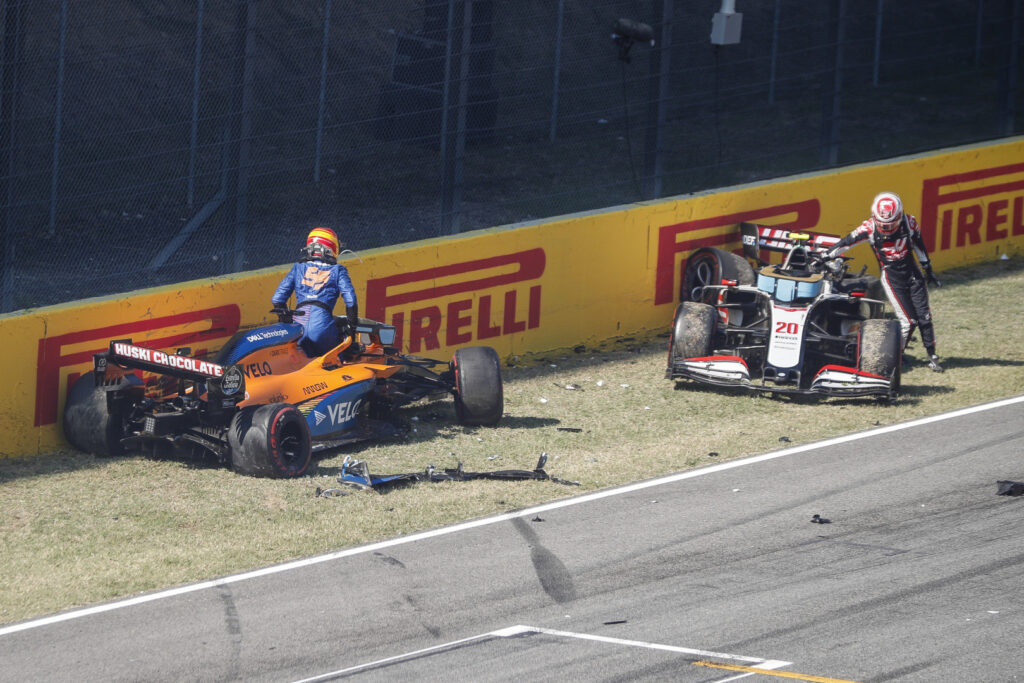 Lance Stroll – DNF (Racing Point):
"First of all, I'm OK after what was a big impact. We're still investigating the cause of the crash. It all happened so quickly, but it felt like a puncture. We need to go away and look at the data and fully confirm the reasons for it. There were some really strong points on the table and we were closing on Ricciardo for the final podium place before the accident, and it was all set up for an exciting finale. I'm pleased with how the upgraded package performed this weekend, and it gives us a good platform for the coming races. We were able to make a good start to the race and get a good launch in the restart to keep out of trouble until late on. It was an unfortunate result and sometimes that's how the cookie crumbles, but I'll take the positives!"
Carlos Sainz – DNF (McLaren):
"Well, first of all I'm glad everyone is okay after such a dangerous accident. That's the main thing. We really need to look into what happened and figure out what triggered the whole situation to make sure it never happens again. It's not the first time these restarts have got dangerous when you're at the mid-to-back of the field, and something needs to be done. On the positive side, I got a good start. It was a day to take risks and try to go forward at the start because the pace all weekend hasn't been great. Unfortunately, I had slight contact with a Racing Point, fighting for P5 into Turn Three, which sent me into a spin. We still had the whole race ahead of us and from P15 at the restart I could've fought into the points. Unfortunately, we never got to race again this afternoon. Last but not least, I want to thank the mechanics and the entire team for all their effort and hard work after doing nine races in eleven weekends. We keep going."
🇮🇹Bad day today. I'm just glad everyone is ok after such a dangerous accident. We need to review in detail what triggered the whole situation so that it never happens again in future races.

👉https://t.co/F156At5hl4#CarlosSainz @McLarenF1 @EG00 pic.twitter.com/DjfEHauO3I

— Carlos Sainz (@Carlossainz55) September 13, 2020
Antonio Giovinazzi – DNF (Alfa Romeo):
"It's really frustrating to end a race like this, without having really raced a single lap, although I am happy for the team scoring points. I had made another good start, climbing to P14: I felt at ease in the car and who knows how the race could have gone. There's not much I can say about the crash except that it was a very dangerous situation. Everyone around me was already up at full speed, but suddenly there was [Kevin] Magnussen almost stopped in the middle of the track. [Nicholas] Latifi avoided him but I just didn't have the time – I tried to, but clipped his rear left. Thankfully, nobody got injured but it was a very dangerous crash. With such a long straight, this was always going to be an issue and we have to think on how to avoid this situation happening again in the future."
Nicholas Latifi – DNF (Williams):
"For the restarts at this track, we knew that the leader was going to go as late as possible because of how far forward the line is along with the slip stream effect. When you are in the middle to the back of the pack, the concertina effect is always much more exaggerated especially as these cars are so fast. I almost hit Kevin (Magnussen) in the apex of the last corner when everyone braked again, and then again it seemed that everyone went, and you are just reacting to the cars around you. The cars ahead then braked once more and there was nothing that I could do to avoid it. It is unfortunate because we avoided the chaos at the start and picked up quite a few positions. I was excited to see how the race was going to unfold, but that is racing sometimes."
Not much you can do there. The constantiner effect is always pretty bad when you are mid pack. You can only react to the cars directly in front of you and it seemed like the pack went on two separate occasions. Glad everyone walked away from that one. 🙏🏻 pic.twitter.com/4nnEvzqbSP

— Nicholas Latifi (@NicholasLatifi) September 13, 2020
Pierre Gasly – DNF (AlphaTauri):
"It's a shame to finish the race just after the first corner. It was quite messy coming into Turn 1 with so many cars side by side. I saw some space between Kimi and Romain in Turn 2, I ended up in the middle and had nowhere to go, so we collided and that was pretty much it. I don't think there is anyone to blame, but it's a shame as I feel like we missed an opportunity for points today. We showed good pace all weekend and, even if we didn't have a great qualifying, I was confident we could recover today. Obviously, I would have liked to have been out there with the guys and fight for points, but I think we need to take the positives here because the performance so far has been good, so we need to carry this to Sochi."
Max Verstappen – DNF (Red Bull):
"I am of course very disappointed as I know this could have been a really good race for us. I had a good launch at the start of the race and went around Lewis but then the car just didn't accelerate so I lost a lot of speed and had no power. I then dropped back into the midfield and got hit from behind. When you drop into the middle of the pack in the first few corners like that it's quite easy to get involved in a crash so I'm not disappointed about that, we shouldn't have been in that position in the first place. There isn't much more to say but it is just really disappointing for the Team that we had to retire again, especially when we looked so competitive but it is of course good to see Alex maximize the result and get on the podium."
Very disappointed that our race was over before it even started today. Congrats to Alex on P3 🇮🇹 #TuscanGP pic.twitter.com/UUUsHcACse

— Max Verstappen (@Max33Verstappen) September 13, 2020
Esteban Ocon – DNF (Renault):
"We had a brake overheating issue, which is why we had to retire today. Under the Safety Car, the rear brakes were on fire, which caused damage to the rear of the car and the brake line and we couldn't put the car back together during the red flag. We were in a good position at the start, but I had to go around, Carlos [Sainz] and I lost a couple of positions there. I felt we had the pace for solid points. It looked a cool race to be in with lots going on. It's getting pretty crazy this year, which is interesting and there are more opportunities for big results."