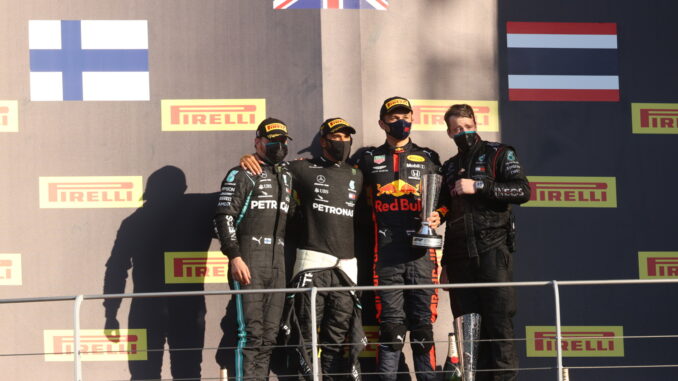 Podcast: Play in new window | Download
Subscribe: Apple Podcasts | RSS
Mugello, a circuit that F1 hasn't raced on before in its 70 year history and also somewhere that the majority of the grid haven't even experienced in their careers. Add to this the celebrations of the currently struggling Ferrari teams 1000th race in the middle of a global pandemic and what could possibly go wrong? For 8 drivers it was a shortened afternoon, but for the rest of the field it was back to some kind of noral after the topsy-turvy result of the Italian Grand Prix at the more familiar Monza circuit a week ago.
The Inaugural (and possibly only ever?) Tuscan Grand Prox was certainly incident packed on paper with 2 red flag periods and a bright red safety car, but out at the front it was still 2 Mercedes and a RedBull standing on the podium, although for the first time since 2018 it wasn't Max Verstappen up that as Alex Albon took his first ever top 3 position in F1 in his 2nd season.
This week on the podcast we look back at a race at a venue that we didn't think we'd ever see host anything on 4 wheels at that speed and all the drama that ensued on a twisty-turny, narrow circuit where cars found they couldn't go 3 wide into most of the corners. There's our usual team by team review from the back, although this was made a bit tricky by the fact that only 2 teams got both cars to the end of the race. Along with a round up of F1 news that's come out since last week with Sebastian Vettel spoiling the Ferrari party by announcing his move to Aston Martin for 2021 on the Thursday of race weekend, leaving Sergio Perez without a seat for next year at the moment (until a Tuesday, knowing our luck)
There's all the other stuff on the show as well with the return of Who's A Total Shunt and a new race in Formula Lee race of the season (China in the wet in a Racing Point) And check out our Discord server where you can sign up for our iRacing league as well as joining in with all the chat on there and you can keep in touch on Facebook & Twitter as always .
Here's to a weekend off (to watch Le Mans!)
Enjoy
As always, you can listen here or on Stitcher and iTunes and most other podcast apps too along with Spotify, Acast and TuneIn Radio on your smart speakers.