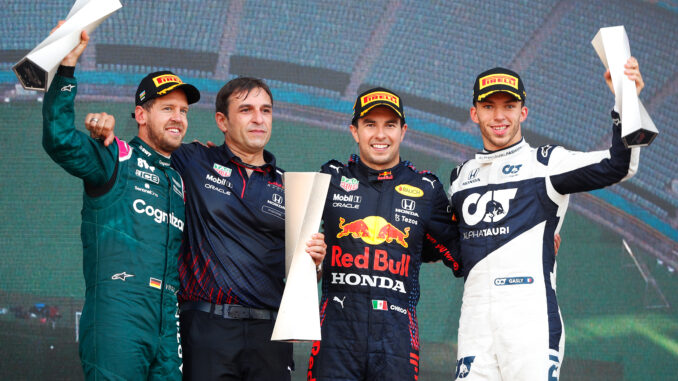 Tyre failures, safety cars and a red flag all contributed to a chaotic finish to the Azerbaijan Grand Prix, resulting in a first win as a Red Bull driver for Sergio Perez.
He was joined on the podium by Sebastian Vettel, securing Aston Martin's first top three finish, and AlphaTauri's Pierre Gasly.
There was disappointment for Max Verstappen, who led for most of the race before his tyre failed three laps from the finish, while Lewis Hamilton made an error which dropped him from second to 15th.
Here's what all the drivers thought after an action-packed afternoon in Baku:
Sergio Perez – 1st (Red Bull):
"We love Baku! It feels amazing to get my first win with Red Bull. The Team did a tremendous job and I want to thank Mr Mateschitz for this great opportunity and giving me the seat. I feel very sorry for Max because he deserved the win and a 1-2 for the Team would've been very enjoyable. It was a crazy rollercoaster of a race, we were basically flat out from the very first lap and I had Lewis behind pushing me so I couldn't breathe, it was very challenging but we kept our focus. Everything worked perfectly today apart from the restart at the end where I just had no grip. I thought I cannot lose this race two laps from the flag so I broke as late as I could into Turn 1 and then I saw Lewis locking up and go straight on into the run off. It just shows how on the limit we are, the speeds we are doing are tremendous and I am sorry for Lewis because it's very painful when these things happen but we are all vulnerable to mistakes. We have to enjoy today, our pace was great and we have a very good race car. We are working flat out and giving our best every week, it's only race six and there's more to come from me, the relationship with Max and the Team is great and there's still a long way to go in this championship."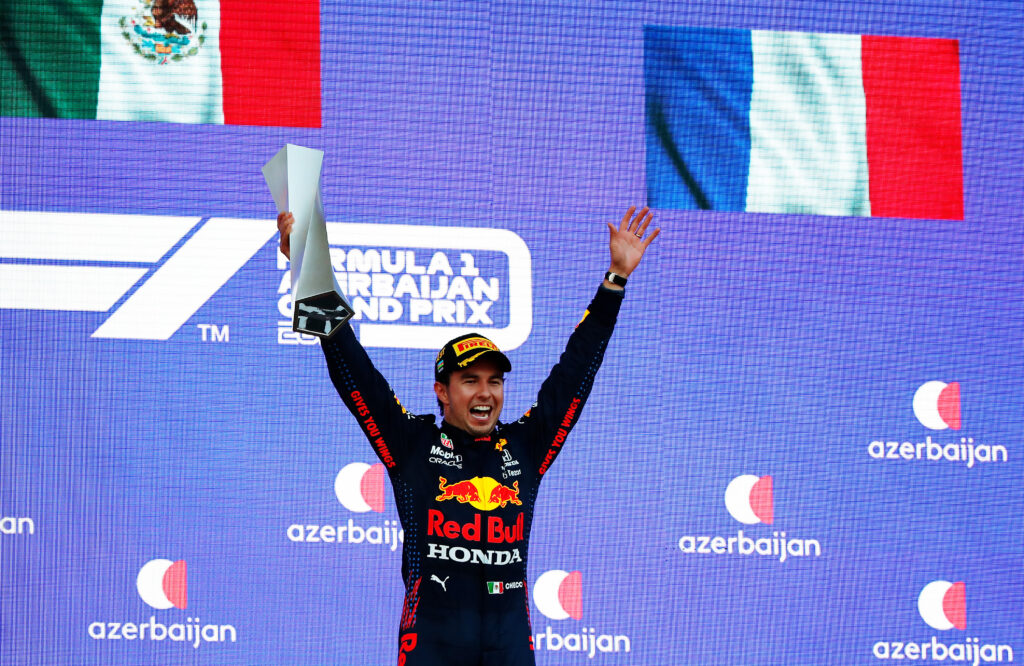 Sebastian Vettel – 2nd (Aston Martin):
"I am over the moon and P2 means a great deal to all of us. We did not expect to be on the podium, but we made great progress through the weekend, and the car had strong race pace. Yesterday was challenging [due to the red flag in qualifying], but I was relaxed and confident going into the race. The key was being able to start with a free choice of tyres in P11. It meant we could use a new set of softs to make up two places at the start and then run longer to overcut Yuki [Tsunoda]. It gave us a platform for the second half of the race and put us in a position to take advantage. I felt good in the car, and combined with on-track events and strategy, we were able to get a really special result."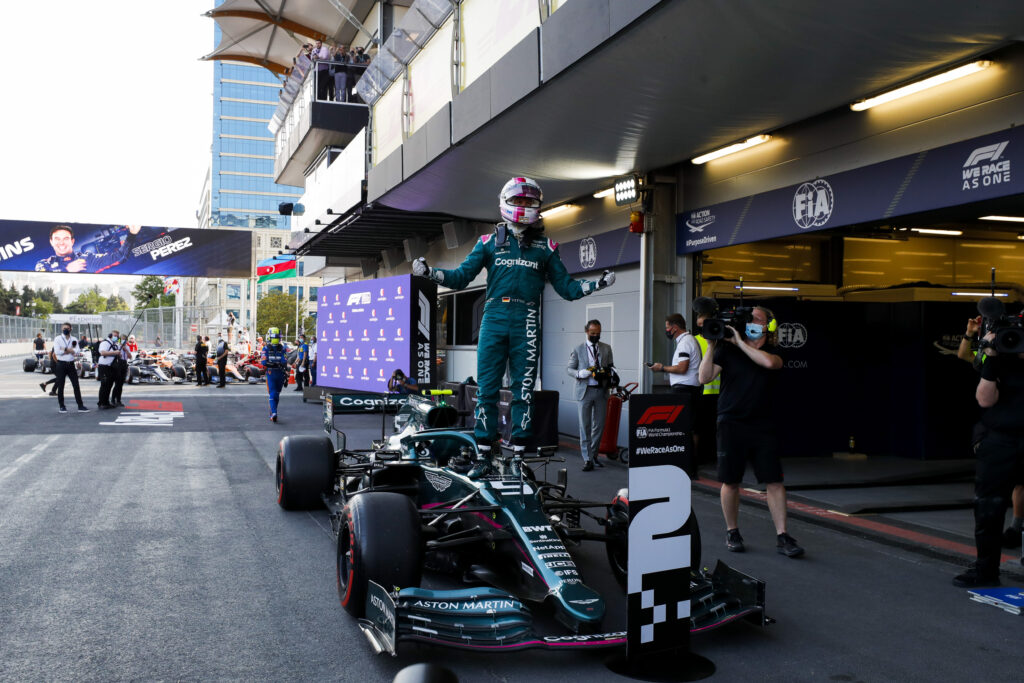 Pierre Gasly – 3rd (AlphaTauri):
"What an incredible weekend, topping FP3, then P4 in Qualifying and now a podium today – I'm so happy for the guys, it was a great result! What a way to do it as well, the last two laps were so intense with Charles and I really had to fight hard to get that podium. The entire race was really full-on, we managed to keep up with the guys ahead but from the middle of the race we had an engine issue and we started to lose some power in the straight, so I knew it was going to be hard until the end, but we managed to hold on to P4. After the restart I thought that Charles would pass me on the straight because we had lost performance, but I saw the podium ahead of me and I tried everything, I just wanted it so badly. It was hard but fair racing, just as we like it. The car was incredible all weekend, it felt really good, and it's just a fantastic result for the whole team. I'm really pleased to reward them with a podium. Moving forward to France, we need to analyse what went well this weekend and see how we can use these learnings at the next race. It's my home race so I really want to do well there but for now it's time to celebrate – I've already had a Red Bull, but I think we'll be having something else tonight too!"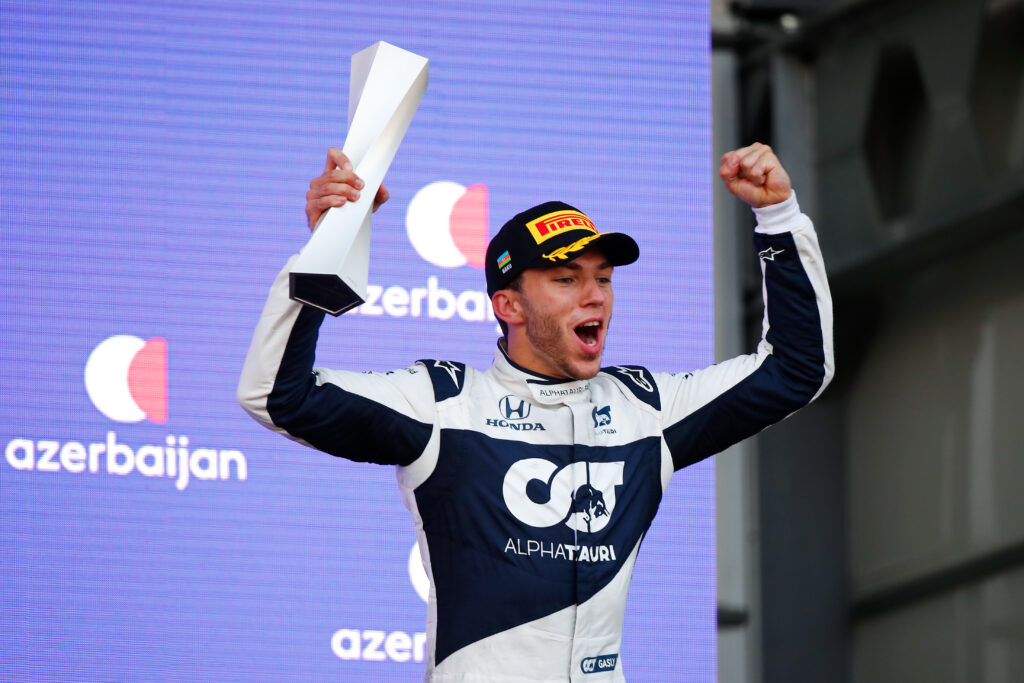 Christian Horner – Team Principal (Red Bull):
"What a rollercoaster! I think we have been through every single emotion today. To be within five laps of achieving our first 1-2 since 2016 to then lose Max from the lead of the race with a puncture that is so far unexplained was pretty heart breaking. The race was then red flagged and we had serious concerns that Sergio was losing hydraulic pressure and there were no guarantees he would make it to the finish. Thankfully Sergio got the job done and Lewis' mistake into Turn 1 at the restart means we come out of the weekend having extended our lead in the Constructors' Championship with Max maintaining his lead in the Drivers' and Checo now moving into third place. Although it was frustrating for Max, we are delighted for Checo to take his first win for the Team today. He has been extremely fast all weekend and it was a great boost for the Team to see him on the top step of the podium. It was also great to see Pierre on up there on the podium after a strong weekend but today we would like to dedicate this win to Mansour Ojjeh who was unfortunately lost from the McLaren family and our sport, he was inspirational and someone I was fortunate enough to call a friend. Congratulations and a big thank you must also go to all our partners, especially Mobil 1 who provided us with an upgraded engine oil for this weekend which just shows how hard all areas of our Team are pushing in this championship fight."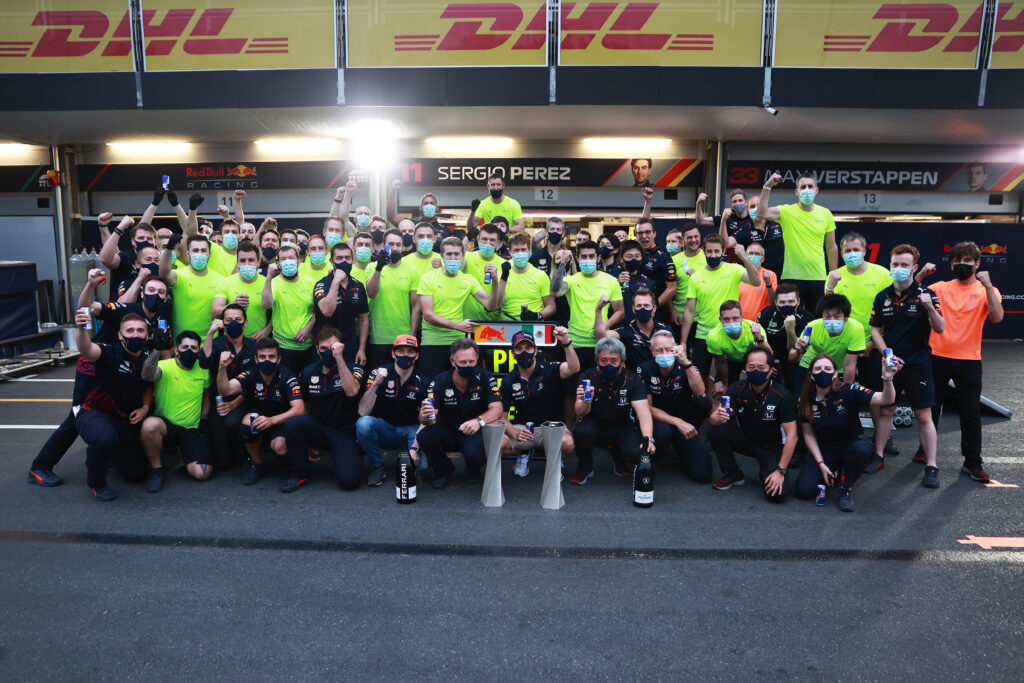 Max Verstappen – DNF (Red Bull):
"To retire from the lead of the race so close to the finish is pretty frustrating. I didn't feel anything strange with the car and then suddenly the left rear went and I was in the wall quite hard. It's not a nice place to crash and we don't know the exact cause yet, I'm sure it will be fully investigated. Up until that point it was a great day, the car felt perfect and I was comfortable in the lead so it felt like it would be an easy 1-2 but there are no guarantees in this sport. Of course I am frustrated from my side not to win but I was very happy to see Checo up there. He did everything that the Team could have wanted today. He had a great start and then we both got past Lewis in the pits. I heard he had to defend for most of the race, so if I couldn't win, I'm glad he could. He's a great guy and a great teammate so it was good to see him smiling on the podium and having his first win for Red Bull. It's a shame that we missed out on the opportunity to make the gap bigger to Lewis today in the championship as we know when we get back to the normal tracks Mercedes will be very strong again but it just goes to show anything can happen and it's still a good result for the Team!"
💔on my own race… But happy for the team and a huge congrats to @SChecoPerez on the win 💪 The car, pit stops and strategy were amazing again, thanks to @redbullracing. Not much more to say at this time other than we'll keep pushing until the end ⚔️ 🇦🇿 #AzerbaijanGP pic.twitter.com/Cwxp76LVZO

— Max Verstappen (@Max33Verstappen) June 6, 2021
Charles Leclerc – 4th (Ferrari):
"Before arriving in Baku, P4 was more or less where we could expect to finish the race. The first surprise of the weekend was our pole position. A second surprise was that some of our competitors in the midfield were extremely quick today. Despite starting at the front, we knew we could well be overtaken by the cars of the two front running teams, which is what happened. After the first stop, I tried to do the best job possible. I had a lockup after the restart following the first safety car. Continuing with two flat spots was the most difficult part of the race. I really thought I wouldn't make it to the end. Then we had the red flag, and I thought about the podium. But unfortunately, we didn't' make it. Seb did an incredible job – congratulations to him. The same goes for Pierre, it was a hard fight with him at the end!
We will keep working and pushing in the right direction."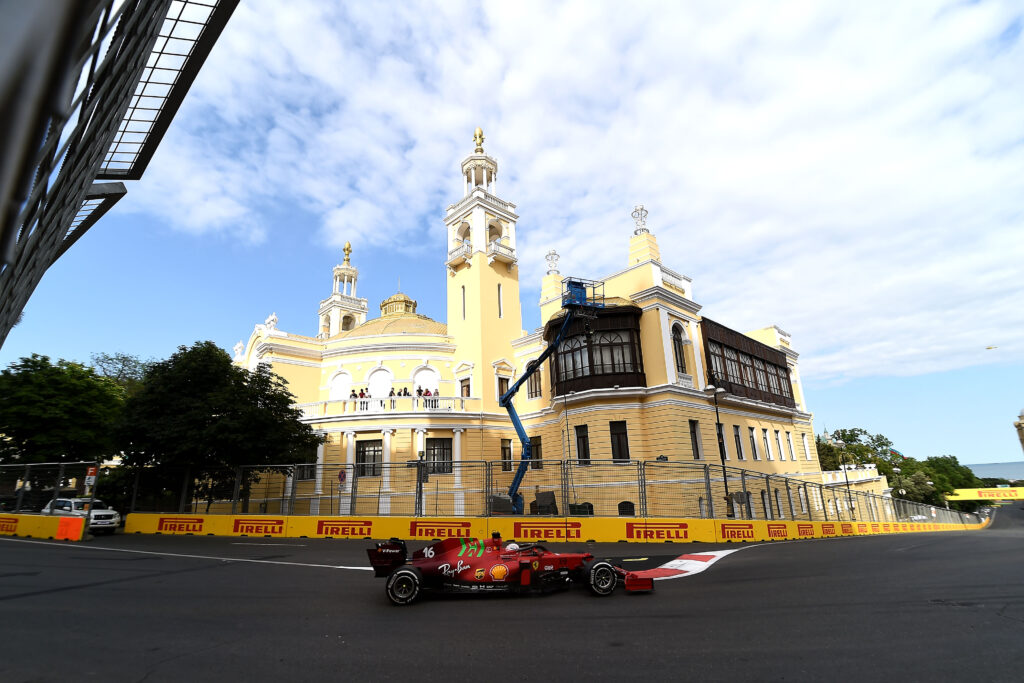 Lando Norris – 5th (McLaren):
"Happy with the end result today, fifth was the best we could do. It was a long race with it being difficult to overtake in the middle. There were a few crashes here and there that allowed us to gain a few places, and then two overtakes on the final restart was great. I think it was a good recovery from where we were at the beginning of the race after a pretty poor lap one, just because I got unlucky. A decent amount of points for us as a team. Onto the next one! Finally, I want to pass my condolences on to Mansour Ojjeh's family. This result was for him today."
Yeaaah. Happy. Not a lot more we could have done. P5 is still decent. pic.twitter.com/qcbhx8WXd3

— Lando Norris (@LandoNorris) June 6, 2021
Franz Tost – Team Principal (AlphaTauri):
"It was a sensational race from the very beginning. I want to say congratulations to Red Bull Racing, Honda and Perez today, it was a fantastic victory. Unfortunately, Max who was leading and was in my opinion the fastest man on the track, lost it at the very last minute of a great race from his side. However, the important thing is that he still leads the Championship. As for us, we started with Pierre in fourth position, which was already a great starting place, and Yuki wasn't far behind in seventh. Both drivers had a good start and Pierre defended P4 for a long period, even whilst managing a small PU issue, but unfortunately lost time behind Stroll and that allowed Vettel to catch-up and overtake Pierre after the pitstop. At the restart, we changed from the Hards to the Softs and Pierre completed a really good manoeuvre against Leclerc to put himself into third position. It's an unbelievable result and both the team and Pierre deserve it, as we were very competitive here from FP1 onwards. Yuki started from P7 and only lost one place to Alonso on the first lap but managed to regain the position later. After the red flag, Yuki started from sixth position but lost two places during those last few laps. Nonetheless, he finished in a fantastic seventh place and the team scored some great points this weekend, meaning we're now fifth in the Constructors' Championship. The guys did a really good job today on all sides, from the pitstops to the strategy, and they deserve this result. Congratulations to the whole Scuderia AlphaTauri team and I hope we can continue this performance in the upcoming races."
Fernando Alonso – 6th (Alpine):
"I am happy for the team that we took some good points from this weekend, I felt we deserved it after a challenging weekend. The final laps were a lot of fun and we tried to attack and be aggressive to recover some places. The weekend was quite solid for us but we did lack a little bit of pace during the race. So we need to review that but I am happy with the day in the end and we'll look to take this forward into France."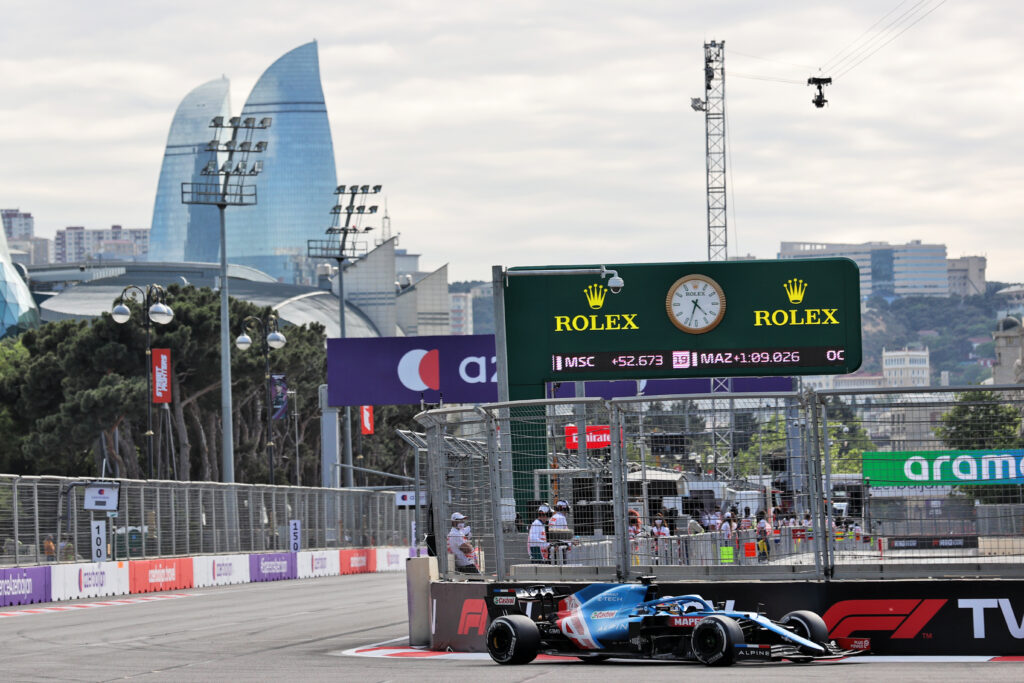 Mattia Binotto – Team Principal (Ferrari):
"It was a difficult race that didn't live up to our expectations, given how qualifying went yesterday. We know that, in order to reach our goals, we not only have to improve our car, we must also do everything perfectly in every area and that wasn't the case today. On the plus side this weekend, we took our second pole position of the season and we have moved up to third in the Constructors' classification. The gap to those behind is small and definitely smaller than it could have been. However, we have to move on from this and see it as further motivation to improve in every aspect of our work."
Yuki Tsunoda – 7th (AlphaTauri):
"I'm a bit frustrated by the final result today, as I think the pace in the car has been strong this weekend. The start of the race was ok for me and until the red flag I think my performance was really good. Unfortunately, I dropped two positions during the last laps, I'm not sure I could have done anything differently but I'll analyse everything tonight so I can understand this better moving forward. P7 still means important points for the team though. I want to say congratulations to Pierre for the podium today, the team really deserve it and it's a great result."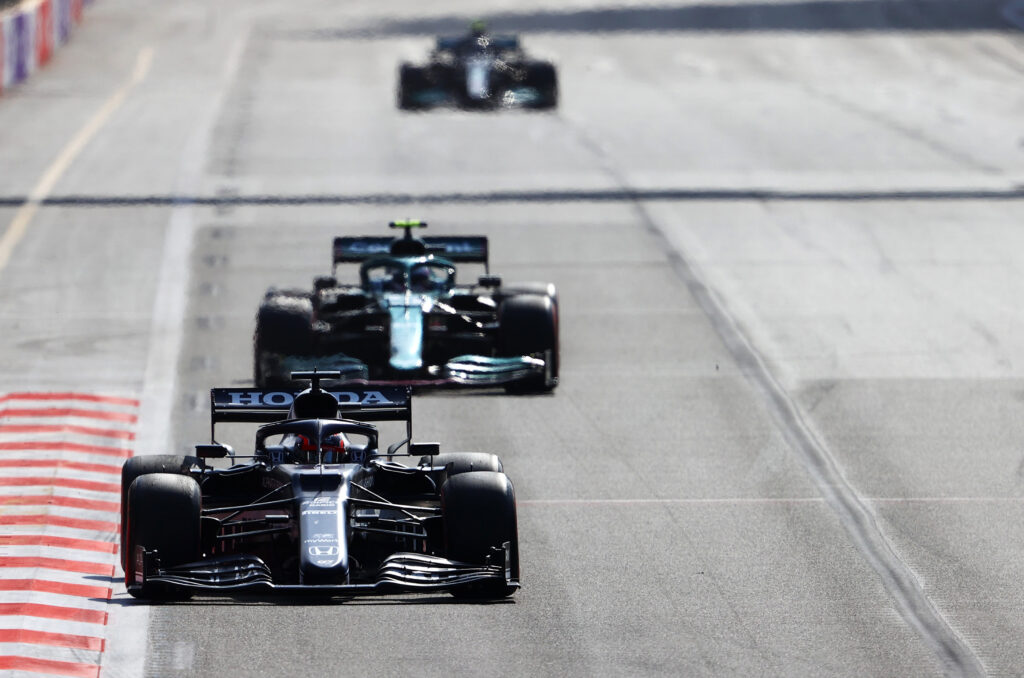 Carlos Sainz – 8th (Ferrari):
"Not the race I was hoping for today. I didn't have the same feeling with the car that I had had all weekend. Every time I was on cold tyres – at both starts, at the restart and after the pit stop – I struggled a lot with front locking and with the brakes. That led to a costly mistake which compromised my whole race. In the end, I managed to get back in the points but I'm not happy with the result. We need to understand the reasons behind those issues and try to improve for the upcoming races. We've got some time now to go to Maranello and work on it, so I'm sure we'll come back stronger in France."
🇦🇿Not the race I wanted. I struggled with cold tyres, locking the fronts at the starts and after the stop. This led to a costly mistake,so not happy with the result even though we scored points. We've got time now to work on it. Looking forward to France
👉https://t.co/rGrFJWfLL4 pic.twitter.com/FuNJ76wywK

— Carlos Sainz (@Carlossainz55) June 6, 2021
Daniel Ricciardo – 9th (McLaren):
"There were moments today in the race where I was thinking 'I hope it becomes a bit more exciting' and suddenly it did! We had some positive moments, but also a few difficult periods. I flat-spotted the Hard a bit, so that became tricky for the last few laps before the red flag, but not too bad beforehand. The last start, I felt like I got a good launch, and had a good run on the outside but there wasn't really much room with a couple of cars on the inside. It just all bottlenecked into Turn Two and I felt a hit from behind. I couldn't really do much, but we'll keep working on our plan and keep moving forward. I also just want to pay tribute to Mansour and send my condolences to Kathy and his entire family. He made a massive contribution to both McLaren and the entire sport, and he will be greatly missed."
Otmar Szafnauer – Team Principal (Aston Martin):
"Lance suffered a DNF through no fault of his own, having made very impressive progress in the early laps. He was soon running in the points, making the overcut strategy work well, and was driving superbly on hard tyres when it all came to an end for him in a spectacular way on lap 31. We are investigating the cause of the accident, together with Pirelli. Sebastian also drove extremely well, making up two places on lap one, running a long stint on soft tyres and thereby jumping [Yuki] Tsunoda during the pit stops, and holding seventh place at the halfway point. Then, when Lance was very sadly eliminated, Sebastian moved up to sixth. He then nailed the Safety Car restart, duly passing Charles [Leclerc] for fifth, following that by a great move on Pierre [Gasly] to take fourth. When Max [Verstappen] retired, that became third, then second when Lewis [Hamilton] overshot Turn One from the second standing start: a brilliant result for everyone in our team and the first-ever podium for Aston Martin in World Championship Formula One history. In summary, then, both Lance and Sebastian showed today that we have the race pace to compete at the very front of the midfield, or better, and that is what both of them will be aiming to do as the rest of the season unfolds."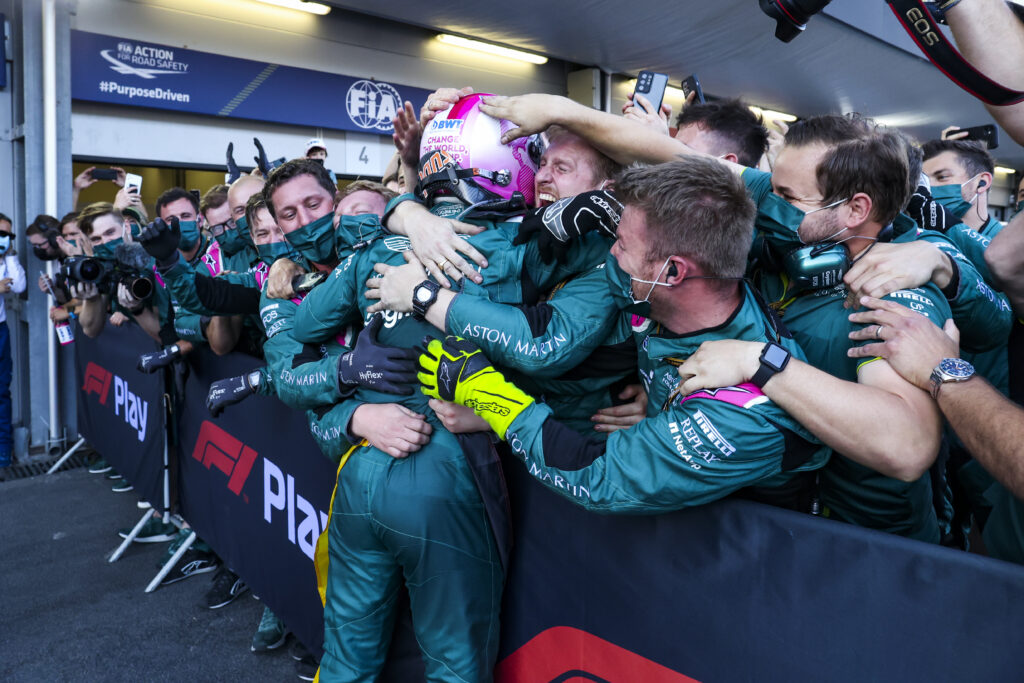 Kimi Raikkonen – 10th (Alfa Romeo):
"Not a lot happened in my race until the last two laps, so it's good to bring home a point. Overtaking proved surprisingly difficult, we were able to catch up with the cars ahead of us relatively easily but we couldn't make the move. The restart after the red flag was quite hectic, we could have been better but it could have also gone badly wrong so we'll take the point. I don't think we could have done more, in the end."
Antonio Giovinazzi – 11th (Alfa Romeo):
"I had a great start and this allowed me to be back in the battle for the points from the start. It wasn't an easy race as I had a small issue with the brakes, which is not ideal on a track like this, but my pace was quite good anyway. We made an early stop to undercut some of our rivals and after that, it was a bit quiet until the red flag. At the restart, I gained some positions on turn one but I made contact with Ricciardo at the second corner and my car went into anti-stall. I think we got all we could out of this race, especially starting from last, and we ended up so close to the points. Many things happened today, it was quite a crazy race in the end, but we need to be happy as we got to score another point with Kimi, the second race in a row for our team."
Una bella, inutile, rimonta.
Anche questa è la @f1
.
A thrilling, but pointless come back…#F1 #Formula1 #AzerbaijanGP #AG99🐝 pic.twitter.com/0XZiEYwa7r

— Antonio Giovinazzi (@Anto_Giovinazzi) June 6, 2021
Marcin Budkowski – Executive Director (Alpine):
"The race didn't start well with Esteban having to stop with a power unit problem and Fernando's race pace was not competitive, for which we need to understand the reasons. Overall it wasn't a great afternoon but we can be glad that the two drivers who had issues were fine and it did give us some exciting action after the restart. The heart-warming positive was some Fernando magic to regain four positions and finish P6, which is a great reward for everyone's hard work. He's back in a very competitive state and we now need to work together to get back on form at the next race in France."
Valtteri Bottas – 12th (Mercedes):
"Today in the race I was lacking pace, as I have been all weekend and it's difficult to understand why. One big issue is the tyre warm-up, particularly the front tyres. On the hard tyres, it took almost 10 laps to warm up and on the restart, we were on the back foot with cold tyres. I was trying everything I could but something just wasn't right with the car for me this weekend. We need to work hard to figure out why and move on quickly from this."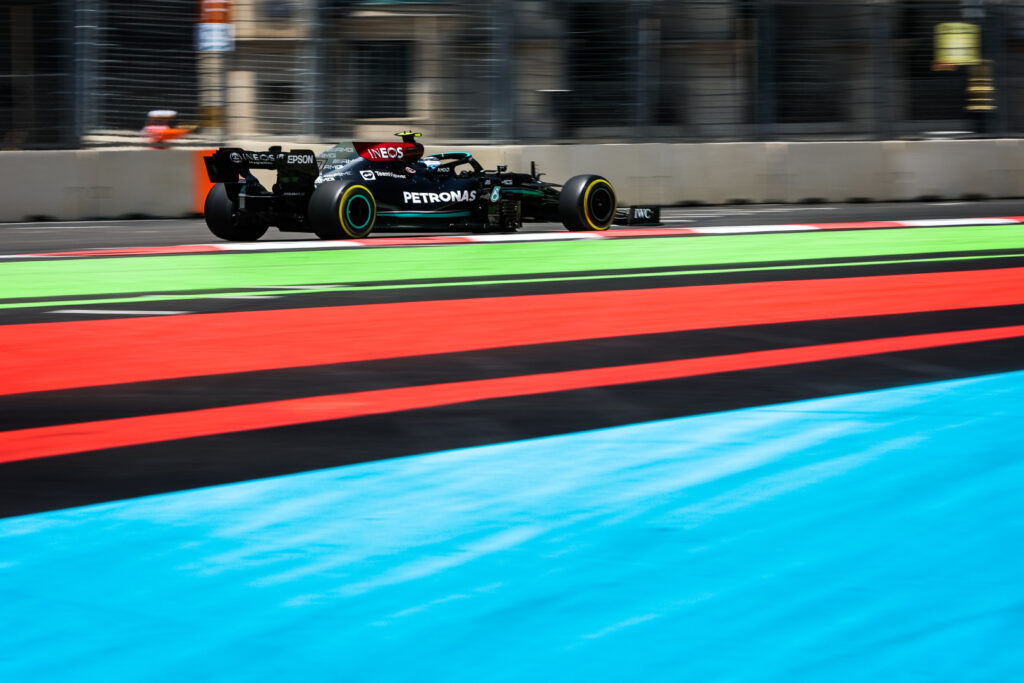 Mick Schumacher – 13th (Haas):
"I think it was difficult for everyone. Tire degradation seemed higher out there than we expected. We came in for an extra pit stop to go on the C5 and it felt good but then the session was red flagged. It was definitely not easy but we were close to the points and these are the kind of races that we have to use to our advantage and stay in the race. We managed to do that, we were fighting and you see a little light at the end of the tunnel."
Toto Wolff – Team Principal (Mercedes):
"In Monaco and here we didn't have a car that was competitive, full stop. We have underlying issues – we are not getting the car in a happy window for the tyres. We know the deficit and we know we have gaps which we simply have to overcome but I have no doubt, this a team which is so strong and so angry, and we are going to turn that anger into positive form and come back."
From to 🤩 to 😱 in seconds. It's been an emotional rollercoaster this weekend, Team. pic.twitter.com/NQAAb8rkjJ

— Mercedes-AMG PETRONAS F1 Team (@MercedesAMGF1) June 6, 2021
Nikita Mazepin – 14th (Haas):
"Well, the race itself was not bad. It was a bit annoying those as certain things made us fall backwards – but pace was there. We were experimenting with something as I had to manage the brakes from the beginning because they were overheating. I had to change my brake bias, and because of the change I was prone to locking. I almost drove into a wall which cost me a lot of time. The race was stop-start and then it came to life again. The main thing is I'm just a little bit upset about losing my position to my teammate on the main straight. It is what it is, but I think our finishing position is a nice number for the team, but obviously some unexpected situations happened with the other drivers which enabled us to get that position. Overall, it's quite positive."
Lewis Hamilton – 15th (Mercedes):
"An unfortunate day, a humbling experience and I'm so sorry for the team. We did a good job to be in the position we were in today, to be out of the top ten on Friday and come back was down to the hard work of the men and women in this team. When Checo came towards me after the restart, I turned the wheel and flicked a switch which shifts the brake balance and that caused me to lock up. It's one of the toughest moments I've had for a while – one moment we had all the points and the next we had none but for sure, we'll regroup and come back."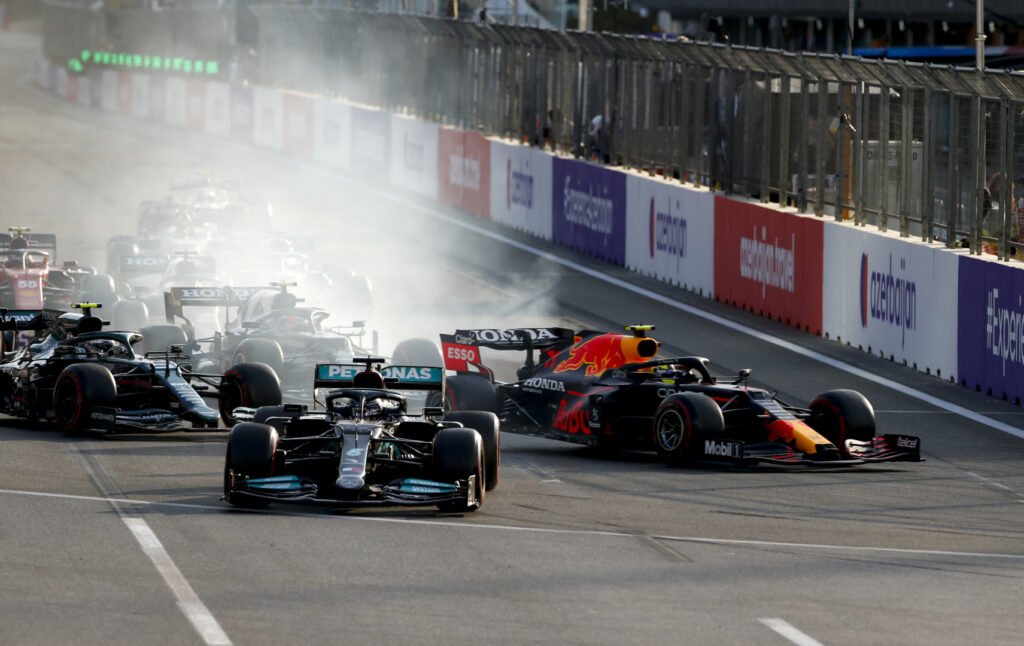 Guenther Steiner – Team Principal (Haas):
"Obviously it was an exciting race today, on one way or another, or even in all ways. In the end we had our best result of the year, which I'm very happy about for everybody. For where we are at the moment it's very difficult to get this result. Everybody worked really hard and just due to that – it happened. Obviously, there was a situation on the straight, that was all resolved, and we've cleared the air. There was some misunderstanding, but we're fine and all moving on from it."
Nicholas Latifi – 16th (Williams):
"It was a fairly lonely race for me today. Before the red flag, we were committing to the one-stop strategy and I was doing what I needed to do managing the tyres. In the end the result wasn't to be, which is a shame as I felt I was driving really well throughout this weekend. On the operational side, there were a few things where we needed to be sharper so it's unfortunate."
Not the Baku me or the team had hoped for. It felt like the performance was there, and I was getting the most out of the package all weekend, but operationally there were a few areas where we need to be sharper. We'll learn from it and bounce back! pic.twitter.com/KX1REUe4hj

— Nicholas Latifi (@NicholasLatifi) June 6, 2021
Lance Stroll – DNF (Aston Martin):
"I am frustrated not to finish the race, but I am OK. We were on course to score good points by running much longer before the pit stops and overcutting a lot of cars. That proved it was the right call to start on the hard tyres because we had good pace throughout the first stint and the race was coming to us. I am not sure what happened to cause me to spin on the straight because there was no sign of any issues, so we need to investigate. It has been a challenging weekend for me, but there are positives to take, especially our race pace, and, of course, the podium for Sebastian. Huge congratulations to the whole team."
George Russell – DNF (Williams):
"Unfortunately, we had a problem with the gearbox which forced me to retire before the race restart. I was just coming to the line and then I had no power, which is especially frustrating after so much anticipation building up before those final two laps. It wasn't meant to be, and that's racing sometimes. We'll go away and analyse what happened. I was having a good race before that, the car felt fast and I had a lot of confidence in it so there are definitely positives to take away from the weekend."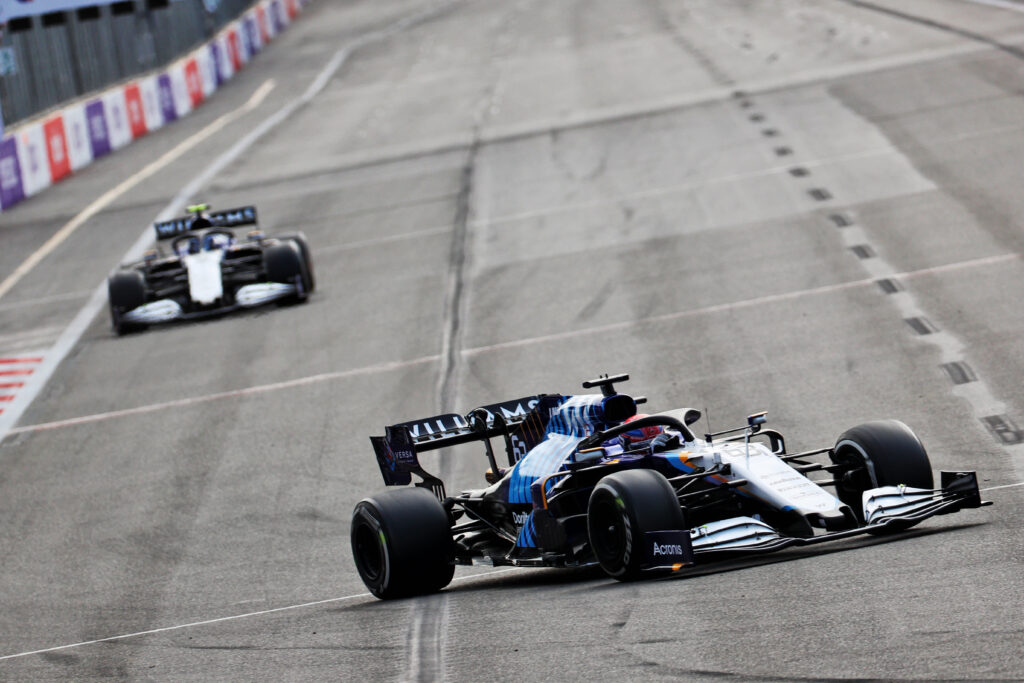 Dave Robson – Head of Vehicle Performance (Williams):
"Today was a busy race and we have a lot to go through over the coming week. Baku usually delivers a busy race and today was certainly one of those. In the end George was unable to take the race restart due to a suspected gearbox issue and an earlier communication error with Nicholas meant that he received a post-race time penalty. We tried a different strategy with George to get him some free air and an opportunity to pressure the cars ahead. Unfortunately, he couldn't find enough pace on the Prime tyre to make much progress even though the car was working reasonably well. However, having stopped for new tyres at the first Safety Car, he was in a good position as those ahead began to struggle on their older tyres. Unfortunately, the second Safety Car and subsequent race suspension gave all cars a chance to fit fresh tyres for the final two lap sprint to the chequered flag."
Esteban Ocon – DNF (Alpine):
"I didn't seem to catch a break here, it's very tricky obviously and we had a pressure loss and had to retire the car very early on. We had a good start and I was in front of both McLarens and fighting with those around us. I was doing my race and it was going well and the pace was there for the top ten, which Fernando showed in the end. It was not our weekend, that's clear, but we will turn the page and look forward to the next one, the French Grand Prix. It's going to be an awesome one for me, I can't wait to race there again."