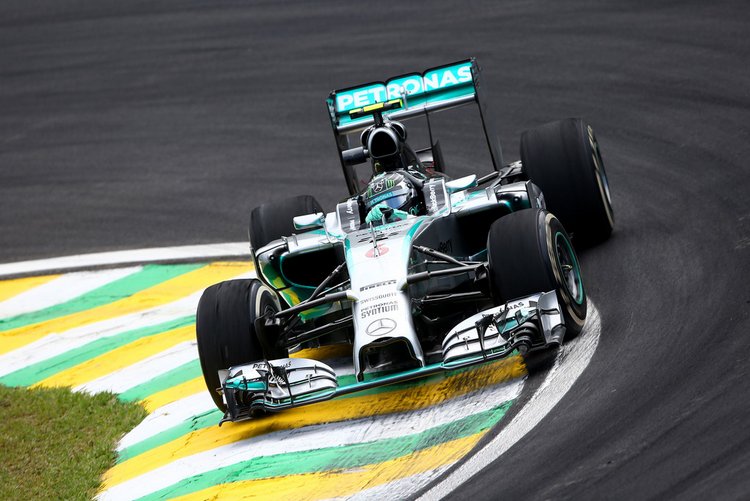 NICO ROSBERG TAKES POLE BY NARROW MARGIN AT INTERLAGOS
Mercedes' Nico Rosberg found the perfect tonic for his disappointing race in Austin last week by snatching pole from his team mate and title rival Lewis Hamilton by three hundreths of a second.  It is Nico's tenth pole position of the season, meaning that in head-to-head qualifying battles, he has an unassailable lead over Hamilton. But it is the World Championship that counts the most, and you only get points for that on Sunday.
Rosberg's 24 point deficit can only be overturned at Interlagos if Nico wins and Lewis finished tenth or lower.  Any better result for Hamilton means he will go into the season finale at Abu Dhabi leading the championship.
For once, it wasn't all about Mercedes; homegrown hero Felipe Massa was well in touch with the battling front two right through all three qualy sessions, and could have claimed pole position right at the end, but for a mistake on his final lap and ended up third. His team mate Valtteri Bottas also pumped in some fantastically fast times and starts fourth, on another Williams second row lock out.
Jenson Button, with speculation suggesting he may be heading for an F1 exit during the winter managed to put his Mclaren fifth, which gives the team a glimmer of hope of catching Ferrari in the constructors race. His lap time was still within a second of the pole lap; which is the closest the top five have been for a long time. Notably, the top five are all Mercedes powered.
Sebastian Vettel took sixth in his Renault powered Red Bull, mere thousandths ahead of the second Mclaren of Kevin Magnussen, who was in turn mere thousandths ahead of Ferrari's Fernando Alonso. Closely followed by Daniel Ricciardo in ninth and Kimi Raikkonen in tenth. Cars that qualified fifth to tenth were separated by less than two tenths, which is good news indeed – close qualifying where fractions are the difference, not necessarily a particular dominating setup, car, or driver.
Which seems an odd thing to say, when Nico Rosberg has just taken his tenth pole of the season, having also been top of all practice sessions and Q1 and Q2.  Practice sessions that were full of action as the newly laid asphalt surface gave even the most experienced drivers problems; Kimi Raikkonen namely spinning at Juncao twice, and ending up on his favourite exit road became legend when he tried to use it in 2012.
Earlier practice one had caught out the young guns, with Max Verstappen going straight on after outbraking himself into turn one, and Force India's young Spaniard Daniel Juncadella putting Perez's car into the wall in the tricky turn six-seven section. Both Perez and Vergne suffered the loss of practice as they were amongst the cars to drop out in Q1, along with both Lotuses.
Sauber's drivers made it into Q2, but didn't manage to get any further this time around, with both cars exiting at this stage with Hulkenberg's Force India and Toro Rosso's Daniil Kvyat, who will start right at the back after a penalty incurred by replacing power unit parts.
Rain has largely held off so far this weekend, but could still come into play on Sunday. With such a close grid and a very difficult turn one, contact is almost certain. But between who? Brazil, it's over to you.