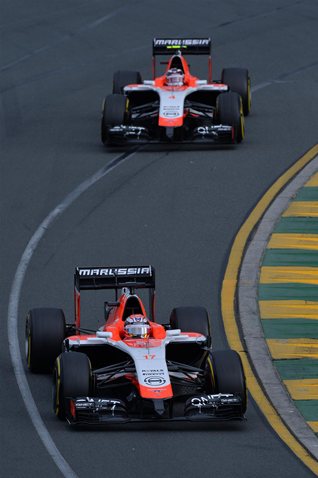 It was probably just a formality and a procedural announcement but as of this afternoon, the Marussia F1 has now officially been wound up by the administrators and all staff have been informed of redundancy. This was to be expected as some elements of the management team have already applied for a grid slot for 2015 under their original name of Manor F1, which may well have left any new owners of the team with an uncertain future from the word go.
Marussia will be remembered for being the only team from the 3 new Ford powered outfits that joined the grid in 2011 (under the promise of the budget cap that never materialised) to score a point with Jules Bianchi's 9th place in Monaco this year.
The team itself was obviously in a bad state prior to Bianchi's horrific accident in Japan and hasn't recovered from the devastating effect that this had had.
Hopefully there will be a happy ending to come out of this situation and that the 200 staff that have lost their jobs will find a place with either a new team, or the resurrected Manor F1 outfit and it goes without saying that we wish Jules Bianchi all the best in his recovery.
#ForzaJules