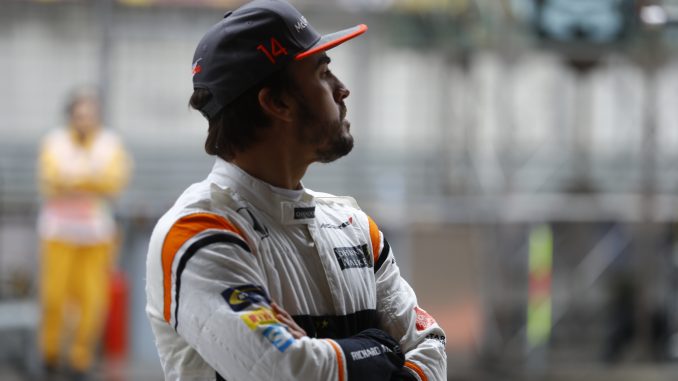 McLaren have today announced that double world champion Fernando Alonso will race for them at this year's Indianapolis 500.  This means that he will have to miss the Monaco GP which takes place on the same day.
The car he will be driving will be branded as a McLaren and will run a Honda engine, but it will be the Andretti Autosport team who are running the car.
While this comes as a complete surprise to most fans, it seems like a move which makes a lot of sense.  Not only is it a waste to watch a driver of Alonso's ability struggling to get into the points, it also has to be hurting Honda and McLaren's reputations.  Unlike F1, the Honda Indycar spec engine had powered the winning car at both races so far this year. While Monaco can produce unexpected results (Olivier Panis' win springs to mind) it's fair to say that McLaren are not expected to be at the front of the pack there.  By entering ​a world class driver in a strong car into one of motorsports' most famous events McLaren can give their sponsors extra air time and their driver a realistic chance of a race win.  Honda get to show to F1 fans that it is only in the one series where they struggle so badly. And Alonso gets a weekend where he can hopefully show off his skill.
There is still the question of which driver will replace Alonso at Monaco. So far McLaren have only said that this will be announced in due course, but the obvious choice would be their reserve driver Jenson Button (coincidentally in McLaren race overalls this morning for a photoshoot.) The Monté Carlo circuit is not for the faint hearted and Button has the experience required. He has also been contractually obliged to keep his fitness high enough to drive should he be required. He is popular with fans and sponsors so his presence would help anyone worried by their number one driver being elsewhere.  Otherwise​ they could look to their test and development driver stable where Oliver Turvey, Nobuharu Matsushita and Nyck de Vries are waiting for their chance to prove themselves.
Will McLaren and Alonso win a race this year? Find out in just over six weeks!