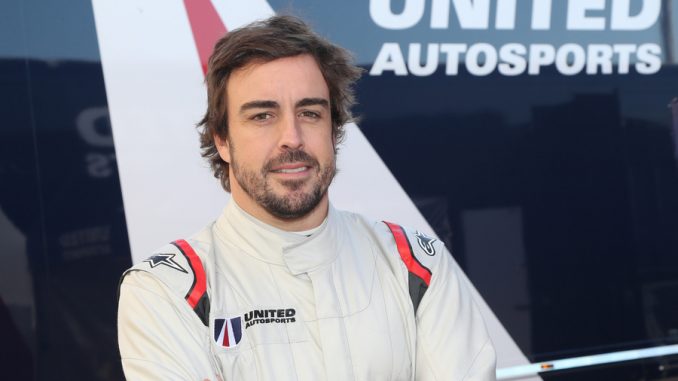 Formula 1 drivers Fernando Alonso and Lance Stroll will be starting from 13th and 6th respectively at the 24 hours of Daytona this weekend.
Alonso took part in qualifying for the United Autosports team in a car that had to be rebuilt after teammate Phil Hanson had a crash in practice earlier in the day, and was 0.925s behind pole sitter Renger van der Zande for Konica Minolta Cadillac, but the fastest of the three Ligier cars on the grid. Having driven the car in qualifying, Alonso will be at the wheel at the start of the race.
Stroll will have to wait for his first spell of the race, having watched on as his Jackie Chan DC Racing colleague Robin Frijns take charge of qualifying duties for the team, finishing 0.409s slower than the fastest car. Stroll finished fifth in class when he took part in the 2016 24 hours of Daytona, so starts in a good position to match or better that result this time.
A number of former F1 drivers will also be in the race, including Juan Pablo Montoya, Paul di Resta and Jan Magnussen, who set a new lap record on his way to securing pole position in the GT Le Mans class. Montoya, like Alonso, could be using Daytona in preparation for the 24hr of Le Mans later this year. Montoya finished third in the prototype class at Petit Le Mans last year, and only needs a Le Mans win to complete the Triple Crown of Motorsport – an achievement Alonso is also thought to be keen on completing. Montoya is the only active driver to have won two legs of the triple crown, and is part of the Penske team that starts 10th in Daytona.
3Legs4Wheels will be following the race on Saturday and Sunday – join us then for updates.