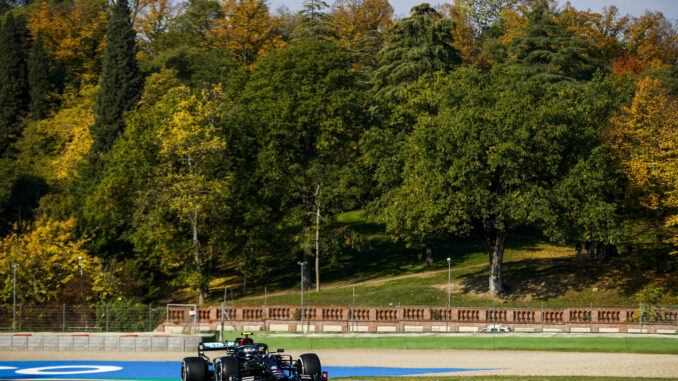 Valtteri Bottas will be on pole position for Formula 1's first race at Imola since 2006, having beaten Lewis Hamilton by less than 0.1s in qualifying for the Emilia Romagna Grand Prix.
Track limits were adjusted between practice and the start of qualifying as many drivers had struggled to get a legal time in during the only practice session for this weekend's race.
Some still struggled to set a legal lap though, with Kimi Raikkonen knocked out in Q1 after his fastest time of the session was deleted.
Kevin Magnussen missed out as well as he got out of shape on his final flying lap, firing his Haas across the gravel.
Red Bull faced a difficult Q2 as Max Verstappen reported a fault on his out lap, forcing the team to bring him back into the garage and take the engine cover off his car, before Alexander Albon spun, just keeping the car out of the wall.
After changing a spark plug, Red Bull managed to get the Dutchman's car back out to set a time, clinching a spot in the top 10 shootout, while a new set of tyres ensured Albon also made it through, but both Racing Point drivers missed out, with Lance Stroll's time deleted for exceeding track limits.
Hamilton's hopes of securing pole position were hindered after he ran wide, costing him time on his first run in Q3. He improved with his second effort, but so did Bottas, narrowly beating his Mercedes teammate to pole position.
Daniil Kvyat reached Q3 for the first time since Mexico 2019, with both AlphaTauri cars in the top 10. Pierre Gasly was sounded delighted on the team radio after he posted the fourth fastest time in the final session, putting him on the second row, alongside Verstappen.
Provisional qualifying result:
1 Valtteri Bottas (Mercedes)
2. Lewis Hamilton (Mercedes)
3. Max Verstappen (Red Bull)
4. Pierre Gasly (AlphaTauri)
5. Daniel Ricciardo (Renault)
6. Alexander Albon (Red Bull)
7. Charles Leclerc (Ferrari)
8. Daniil Kvyat (AlphaTauri)
9. Lando Norris (McLaren)
10. Carlos Sainz (McLaren)
11. Sergio Perez (Racing Point)
12. Esteban Ocon (Renault)
13. Sebastian Vettel (Ferrari)
14. George Russell (Williams)
15. Lance Stroll (Racing Point)
16. Romain Grosjean (Haas)
17. Kevin Magnussen (Haas)
18. Kimi Raikkonen (Alfa Romeo)
19. Nicholas Latifi (Williams)
20. Antonio Giovinazzi (Alfa Romeo)