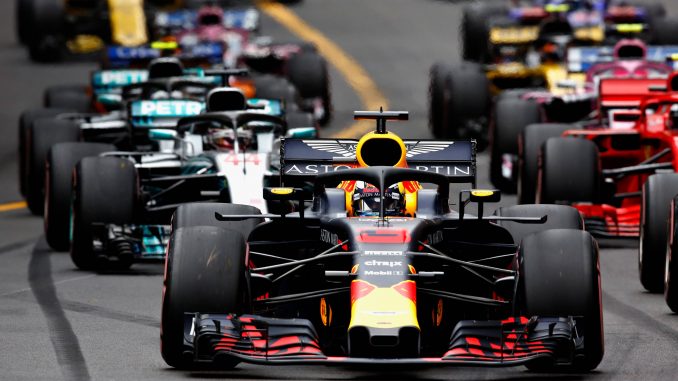 Daniel Ricciardo secured victory at the Monaco Grand Prix despite struggling with a power problem for much of the race.
It looked like it was going to be an easy win for Ricciardo when he came out of the pits a couple of seconds ahead of Sebastian Vettel, but the Australian soon reported a power problem with his car.
After being told the problem wouldn't improve before the end of the race, Ricciardo had to nurse the car to the end of the race while trying to keep Vettel behind.
The German remained close to the back of the Red Bull until an incident between Charles Leclerc and Brendon Hartley in the final few laps of the race, resulting in a virtual safety car.
Leclerc's brakes failed at his home race, resulting in his colliding with the rear wing of the Toro Rosso, ending both of their races.
Stoffel Vandoorne came into the pits during the VSC period and came back on in between Ricciardo and Vettel, giving the Red Bull driver the gap he needed to remain ahead until the end of the race.
Prior to the incident between Leclerc and Hartley, Fernando Alonso was the only retirement from the race, having had to pull off the track with a smoking McLaren.
Lewis Hamilton completed the top three, despite struggling with his tyres for much of the race, while Max Verstappen ensured both Red Bull cars finished in the points, despite the Dutch driver starting at the back of the grid due to a crash preventing him from taking part in qualifying.
Provisional race result:
1 Daniel Ricciardo (Red Bull)
2. Sebastian Vettel (Ferrari)
3. Lewis Hamilton (Mercedes)
4. Kimi Raikkonen (Ferrari)
5. Valtteri Bottas (Mercedes)
6. Esteban Ocon (Force India)
7. Pierre Gasly (Toro Rosso)
8. Nico Hulkenberg (Renault)
9. Max Verstappen (Red Bull)
10. Carlos Sainz (Renault)
11. Marcus Ericsson (Alfa Romeo Sauber)
12. Sergio Perez (Force India)
13. Kevin Magnussen (Haas)
14. Stoffel Vandoorne (McLaren)
15. Romain Grosjean (Haas)
16. Sergey Sirotkin (Williams)
17. Lance Stroll (Williams)
DNF:
Brendon Hartley (Toro Rosso)
Charles Leclerc (Alfa Romeo Sauber)
Fernando Alonso (McLaren)