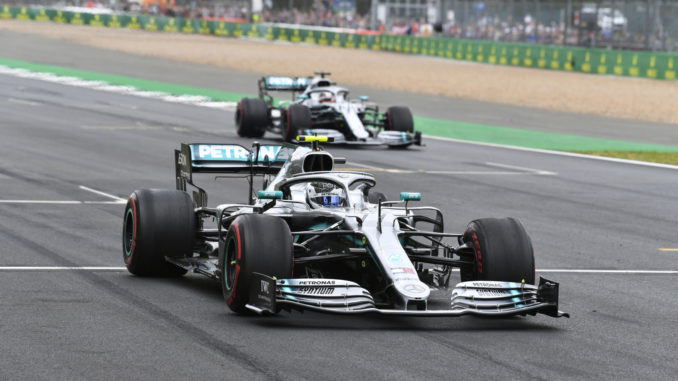 Valtteri Bottas took pole position at the British Grand Prix in a lap record time of 1:25.093 beating Lewis Hamilton by just 0.006, which is the smallest gap between the first 2 on the grid since the 2010 German Grand Prix
Charles Leclerc completed the top 3 as the Fastest of the Ferrari's, while Sebastian Vettel could only manage to put his car in 6th place.
As is becoming the usual situation on a Saturday, Lance Stroll was eliminated in Q1 for the 14th consecutive time along with perennial back row sitters George Russel & Robert Kubica in both Williams cars.
Romain Grosjean put a torrid Friday, where he crashed in the pit lane exit, behind him by making it through to Q2, but could only manage 14th as he struggled to get to grips with the car, which the Haas team have reverted to the same spec used in Melbourne at the start of the season.
Lando Norris continued his successful season by putting his McLaren on 8th on the grid after only having one set of soft tyres left for Q3 so was only able to complete one flying lap in the final session, while Carlos Sainz could only manage 13th.
Renault also had a good return today with both cars making it to Q3 with Daniel Ricciardo qualifying 7th and Nico Hulkenberg 10th
Provisional qualifying result:
Valtteri Bottas
Lewis Hamilton
Charles Leclerc
Max Verstappen
Pierre Gasly
Sebastian Vettel
Daniel Ricciardo
Lando Norris
Alexander Albon
hico Hulkenberg
Antonio Giovinazzi
Kimi Raikkonen
Carlos Sainz
Romain Grosjean
Sergio Perez
Kevin Magnussen
Daniil Kvyat
Lance Stroll
George Russell
Robert Kubica