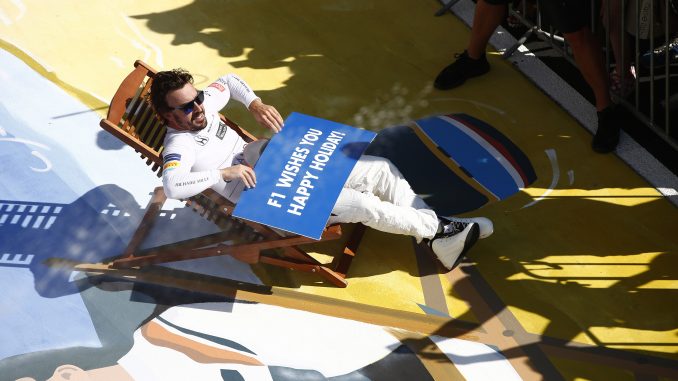 Fernando Alonso will take part in 25 races in a 36-week period this year after announcing that he'll compete in the World Endurance Championship with Toyota alongside his duties in Formula 1 with McLaren.
His involvement with the Toyota Gazoo team means he'll be making his debut at the 24hrs of Le Mans in June as he continues his quest to complete the Triple Crown of Motorsport. Alonso won't be the only current F1 driver to have taken part in the race – four other members of the 2018 grid have raced at the world's oldest active sports car race. Nico Hulkenberg and Brendon Hartley have both won the race overall with Porsche, while Sergey Sirotkin finished 16th in the LMP2 class last year and Romain Grosjean's 2010 effort resulted in a DNF in the GT1 class.
Hulkenberg is the most recent Le Mans winner to stand on top of the podium at Circuit de la Sarthe while racing full time in F1. Hulkenberg's victory led to other F1 drivers expressing an interest in Le Mans, including Alonso. Felipe Massa was one of those to reveal he'd like to drive at the event, but insisted it wouldn't be possible to win at Le Mans and be competitive in F1. Hulkenberg's win came following a difficult run of results in F1, having secured points in just one of the first six races during the 2015 season, with Massa believing his struggles with Force India allowed him to focus on his duties with Porsche.
Alonso could become the fifth Formula 1 world champion to win at Le Mans. Mike Hawthorn was the first F1 champion to win the race, doing so three years before winning the drivers' championship in 1958. The 1955 race is remembered for tragedy, with 83 spectators and driver Pierre Levegh killed after his car crashed into the crowd – the incident resulted in a number of countries banning motorsport, with Switzerland's ban still in place. Phil Hill is the only driver to win Le Mans and the F1 title in the same year, doing so in 1961, when he claimed his second of three Le Mans victories. Jochen Rindt was victorious in Le Mans five years before he posthumously won the F1 title, while Graham Hill won at Le Mans in 1972 to complete the Triple Crown – he's still the only driver to do so.
Hill needed nine years to complete the Triple Crown, winning the Monaco Grand Prix in 1963 and adding an Indianapolis 500 victory three years later before completing the achievement at Le Mans. Alonso has taken longer to turn his attention to the other elements of the Triple Crown, having won at Monte Carlo in 2006 and 2007. While Alonso's Triple Crown bid has drawn a lot of focus over the last year, Juan Pablo Montoya could be in a stronger position match Hill's success. The Colombian has two Indy wins and one win at Monaco, and has been linked with a Le Mans drive this year, having won Petit Le Mans in American last year. Montoya has admitted he'd be interested in racing at Le Mans if the right car was available, and in the run up to last weekend's 24hrs of Daytona revealed he'd like to compete with Alonso as they both try to complete the Triple Crown.
Le Mans falls at the busiest time of the year for Alonso as he races five weeks in a row. The Canadian Grand Prix takes place just a week before the 24-hour race. One week after, it's the start of the first F1 triple header, as the French Grand Prix, Austrian Grand Prix and British Grand Prix are held on consecutive weekends. After securing a seat at Toro Rosso towards the end of the 2017 season, Hartley juggled his F1 duties with his WEC drive. While the rest of the grid had a week to rest between the Mexican Grand Prix and Brazil, Hartley travelled to China for the 6hrs of Shanghai, and raced at Bahrain in between the races at Interlagos and Abu Dhabi. It's hard to judge how WEC affected Hartley's efforts in F1 as the Toro Rosso team struggled with engine problems and grid penalties. However, driving in F1 coincided with a drop in performance in WEC. The weekend it was announced he would make his F1 debut, Hartley and his Porsche teammates recorded their only non-podium finish of the year, and had to settle for second behind Toyota in the final two races of the season, having won four races in a row before Hartley was linked with F1. Zak Brown has made it clear that Alonso's priority for this year is F1, but it's hard to imagine his hectic schedule won't have an impact. While most F1 drivers get a four-week break over the summer, Alonso will return to the track a week early as the 6hrs of Silverstone takes place the week before the Belgian Grand Prix.
Alonso should be familiar with his Toyota teammates, having competed with Kazuki Nakajimi and Sebastien Buemi in F1. They'll both be desperate for victory in Le Mans too, having agonisingly broken down in the final minutes while leading in 2016 before finishing as runners up last year. Anthony Davidson raced alongside the duo for the last three years, but he drops down to a reserve and development role this year. Davidson will get at least one race though, as the 6hrs of Fuji clashes with the United States Grand Prix.
Few drivers have been able to juggle F1 and sports cars at the same time, but Alonso seems determined to test himself in as many different series as possible. We'll have to wait to see whether Alonso can be successful in F1 and the WEC in 2018, but he certainly hasn't shied away from the challenge.