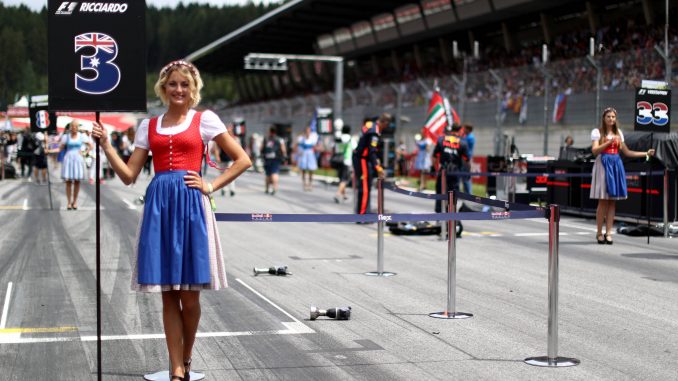 Formula 1 fans have been divided by news that the sport is scrapping grid girls for the 2018 season.
F1 revealed yesterday that it's taken the decision to end its use of walk-on grid girls in F1 and other motorsports series that take place during Grands Prix weekends, describing the practice of employing grid girls as "clearly at odds with modern day societal norms."
Many fans have welcomed the news, believing it's wrong to objectify women. However, plenty have also protested the changes, questioning whether it's right to take work away from women who are prepared to do the job, as well as breaking with tradition.
Does one role make me a feminist and one not? The world has gone PC mad Lycra does not define the girl 🙄🤷🏼‍♀️ #gridgirls pic.twitter.com/h0hy2inqfZ

— Jo Polley (@JoPolleyRacing) January 31, 2018
One recurring complaint by those who object to the change is the lack of choice. While the use of women as decoration doesn't sit well with some fans, many argue that taking away the grid girls' option to choose to do the job is unfair. Grid girls aren't forced to do their job, and many have taken to social media over the last 24 hours describing the work as some of the most enjoyable they've ever done. Rebecca Cooper has been a grid girl five times for F1 and believes many of those who are offended by F1's use of grid girls haven't done their research. She shared pictures of her outfits over the years – a mixture of knee-length dresses and skirt suits, objecting to those who describe grid girls as "scantily clad furniture". British Superbike grid girl Hannah Louise shared a similar view, writing on Twitter: "The issue at the moment is there are too many people being offended on behalf of people who are not offended at all," adding that she loves her job and chooses to do it.
"Scantily clad furniture", "sexualising women", "provocative", "Id never let my daughter wear a grid girl outfit"… just some of today's comments, yet people clearly haven't dont their research as these are my outfits from my 5 years in F1 #gridgirl #gridgirls pic.twitter.com/etbcCPnCC1

— Rebecca Cooper (@rebeccageldard) January 31, 2018
One reason grid girls receive opposition is because fans want to see more done to support women in other jobs in F1. Former F1 driver Karun Chandhok has called for the sport's bosses to use the money saved from paying grid girls to invest in getting more female drivers into the sport. Racing driver Abbie Eaton, who is also the test driver on TV show The Grand Tour, backed his suggestion, revealing that she's looking at sitting out another season due to the lack of financial backing for female drivers. Helen Crossley works in social media for McLaren, and was quick to celebrate yesterday's announcement, describing it as "a good day for women in sport".  She revealed that when she tells people she works in F1, they assume she's a grid girl. Sky F1 presenter Natalie Pinkham was another supporter of the move, calling it a "watershed" moment for F1. Those who are anti-grid girl hope the changes mean more women will consider other careers in F1, and those already working in the sport will be taken more seriously.
Could not be more pleased that @F1 were bold enough to break with tradition and make this move. A good day for women in sport. Yay for progression. 👊🏼 https://t.co/YXx4bYEkuI

— Helen Crossley (@helencrossley) January 31, 2018
A lot of grid girls are unhappy that work is being taken away from them. For most, working as a grid girl is a short career – some work as models full time with a number of clients, while others have day jobs and model part time. Charlotte Wood was a walk-on girl for the PDC before the darts body decided to end their use of walk-on girls earlier this month. She revealed her work with the PDC makes up 60% of her income, and claimed her rights are being taken away. Although most F1 grid girls are only employed for the weekend, the new season is only a few weeks away which doesn't give those who rely on the income long to find alternative work.
The drivers have been conspicuously quiet since yesterday's announcement. Sebastian Vettel previously spoke out when grid boys were used at the Monaco Grand Prix, while Daniel Ricciardo, Max Verstappen and Nico Hulkenberg all voiced their support for grid girls at the end of the 2017 season, with the latter saying it would be a pity to lose the "eye-jewellery". Now that the grid girls have been scrapped, it seems none of the drivers want to speak out against the powers that be.
It's only been 15 years since I started banging on about how #f1 displays women like prize cattle..It may seem trivial, but these high-profile sports powerfully condition all of us to view women as passive 'totty' while men perform the action. A good news day. pic.twitter.com/098ZMtelIx

— Beverley Turner (@beverleyturner) January 31, 2018
Getting rid of grid girls won't change the standard of driving, fix the lack of overtaking or end the debate of engine penalties. However, the arguments about whether scrapping grid girls makes F1 more modern or is an example of political correctness gone mad looks set to run, with the debate getting coverage beyond the usual F1 media. Has F1 made the right decision? Let us know what you think on the 3 Legs 4 Wheels Facebook page or at @3Legs4Wheels on Twitter.