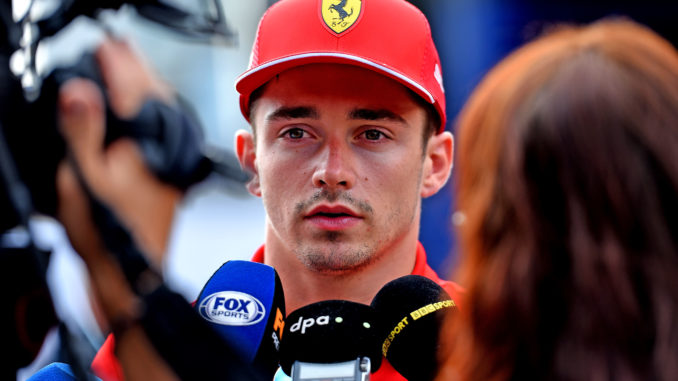 Ferrari's Charles Leclerc took pole position for tomorrow's Italian Grand Prix after 8 drivers failed to cross the line in time for the start of their final Q3 runs.
After the Friday's qualifying session in F3 was Red Flagged with over 5 minutes left due to drivers slowing down to get track position while holding cars up that were on hot laps, the stewards warned that grid penalties would be given to drivers not setting a minimum time on the track on outlaps. However after a red flag, caused by Kimi Raikkonen hitting the barriers on the outside of Parabolica with just over 6 and a half minutes remaining, 3 drivers hadn't set a time with Valtteri Bottas also being initially shown as not having crossed the line before the session was stopped. All remaining 9 drivers took to the track with a little under 2 minutes left on the clock and drove round as a pack with nobody wanting to take the lead and lose an aerodynamic advantage after the first car out of the pits, Nico Hulkenberg, missed the 1st chicane and took to the escape road and giving up his position on track.
As the pack approached the final Parabolica corner, the McLaren of Carlos Sainz took the initiative and headed to the front to start a flying lap with the other 8 cars still jockeying for position. As time expired only Sainz had broken the timing line and was allowed to set a lap on this run, although the time he set wasn't enough to improve on his 7th place from the first run.
The stewards announced, shortly after the cars had returned to the pits, that the last lap was under investigation, so the final grid may change significantly from how things finished this afternoon.
Earlier on in the session, the red flag was brought out in Q1 for Sergio Perez after his Racing Point stopped on the circuit with an apparent electrical failure, while RedBull's Max Verstappen, who will start tomorrow from the back of the grid due to engine penalties, suffered from power problems and failed to set a time in Q1, forcing him to appeal to the stewards to allow him to race tomorrow.
Final qualifying order:
Leclerc
Hamilton
Bottas
Vettel
Ricciardo
Hulkenberg
Sainz
Albon
Stroll
Raikkonen
Giovinazzi
Magnusssen
Kvyat
Norris
Gasly
Grosjean
Perez
Russell
Kubica
Verstappen
Join us for the live blog tomorrow from 90 minutes before lights out and keep in touch on social media to see if there are any penalties issued following Q3.