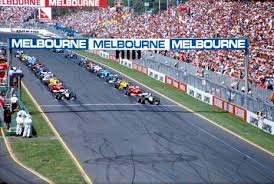 So, how exactly can you preview the first race of an F1 season without previewing the whole year? Especially without repeating ad infinitum what we said in our podcast earlier this week?  Well, for a start I was stunned to learn that this Australian GP marks 20 years of using the Albert Park circuit in Melbourne. This isn't to say that the Australian GP isn't steeped in history – it is. The Adelaide street circuit was used for eleven years prior to Albert Park and was often the season closer. Ask anyone to name a moment from Aussie GP past and they'll likely say Nigel Mansell's tyre blow out in 1986; when he could have and probably should have won the World Championship that year. That, or Michael Schumacher's last ditch effort to stop Damon Hill winning the title in 1994.
Since the move to Melbourne however, the race has often been at the opening end of the Grand Prix calendar, meaning no championships are settled in Australia anymore, but instead we get the first glimpse of the cars and their true performance; rivalries that will develop over the season – who's in for the hard slog and who's got it easy. Nothing is concrete but it is indicated to, but after a cold, dark winter spending weekends inside, away from the inclement weather and watching nameless westerns, starved of the Formula; it's why British racing fans love Australia.
There's only one Australian in the field this year; Daniel Ricciardo. Remember the roar of the crowd when he briefly took pole last year? Well expect more of the same if the smiling Perth man can do anything similar in Melbourne. Alan Jones and Jack Brabham are the only World Champions from Australia; although it looks good so early on in Ricciardo's career for him to emulate them where more recently, fan favourite Mark Webber failed.
The course is a street circuit that circles the lake at Albert Park. Turns one and two are a right-left in quick succession which normally invites first lap incidents from drivers eager to get a good start and make their mark early on. Too eager though, and the only marks you'll leave will be against the barrier. A fast run down to turn three presents an excellent overtaking opportunity on race day. Twists and turns lead the drivers round to the back of the circuit where it becomes more open and fast, with sweeping bends and straights bringing them back into a few tighter bends before the start line.
It's difficult to talk about happy hunting grounds or anything else without eluding to predictions for the whole 20 race season. It certainly appears World Champions Mercedes will take their inter-team rivalry and advantage from last year into this year, but what happens behind is anyone's guess. Mclaren are an unknown quantity with Honda – let's see how terrible/brilliant that car really is. Magnussen and Button will start the race together, as they did last year; and as I mentioned in the podcast – if you had bet on that at the end of last season the odds would have been huge.  Alonso will be absent from this race at least, but who will take to the grid at Sauber?
It seemed all done and dusted, that Ericsson and Nasr were their drivers for the year, but Giedo van der Garde has won his court case claiming that he has a contract and the Australian court has agreed and told the team – despite their appeals – that he must race this weekend. The entry list states differently though; Ericsson and Nasr are named. Contempt of court could find the team in deep, deep trouble.
We also welcome back the Marussia team, albeit under a new (old) name, Manor. Will Stevens has jumped on board from the sunken ship Caterham, and is joined by Spaniard Roberto Merhi "for the opening rounds of the season" – the team's words, not mine.  Come Europe we may see the seat being sold off to raise funds, if the rumours are indeed proven true.
But that's all anything is until we see it – rumour. All will unfold in a park in Melbourne this weekend that will give us a taste of what to expect over the course of the year. Just have to remember to set the alarm – twice – and to make sure I have a good stock of decent coffee…