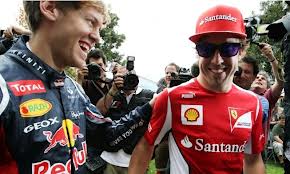 It's not news as such, but now it's been confirmed by the Maranello outfit themselves. Soon afterwards, the team confirmed Sebastian Vettel's arrival for 2015 This statement was put out this morning by Scuderia Ferrari and Fernando Alonso, and it reads as follows:
'Scuderia Ferrari and Fernando Alonso announce that, by common consent, they have ended their relationship.
Fernando Alonso leaves the team at the end of this season, after a five year period which, with one race remaining, saw him score 1186 points, 44 podiums and 11 wins.'
it goes on to say
'
Everyone at Scuderia Ferrari thanks Fernando for his great contribution on both a personal and professional level.'
Towards the end of the statement, the focus moves towards Fernando Alonso. With all this talk of 'family', 'love', 'heart' and the decision being made in Ferrari's best interests, it almost sounds like a break-up later to a loved one rather than a joint statement announcing Fernando's resignation.

"
When I had to take important decisions about my future, I did so with Ferrari in my heart, driven by my 
love for the team.
I am very proud of what we have achieved together.
Thanks to the efforts of the men and
women of Maranello, on three occasions we came second in the Formula 1 World Championship, two of them 
fighting for the title right up to and including the final race, running in a championship winning position for 
many laps. 
Without a shadow of a doubt, these five years produced some of the best moments of my career and
I also feel that, in leaving the team, it is family rather than friends I am leaving behind.
Now I look to the future.
"
This paves the way for Mclaren to announce Alonso, if they indeed will, and it raises questions over the future of Jenson Button.