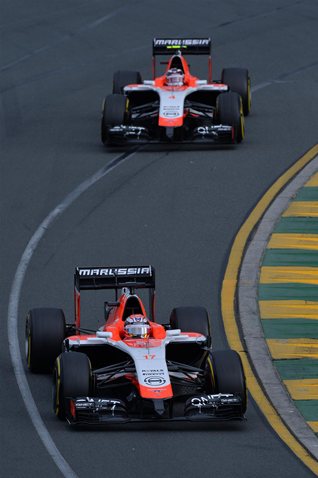 UPDATE III: Many major news sources are now reporting that Marussia missed the deadline to make it to Abu Dhabi, and the dream that seemed so alive at lunchtime is now gone. Marussia, or Manor, or whatever guise they would have taken part in, would have collected their ninth place money if they had managed to compete this weekend. Unless Sauber or Caterham scores points at the Yas Marina circuit, it appears the money (approximately $60m) will go into next year's prize pot and not be re-allocated to other teams. Some good news related to the team though, injured driver Jules Bianchi has been repatriated to France to continue his medical recovery after being brought out of his induced coma in Japan. He is breathing unaided but is still critical and is still unconscious.
UPDATE II:  Tweets from Marussia pit crew appear to tell the story of a failed bid to travel to compete in Abu Dhabi. Graeme Allport tweeted at 5.28pm "Once again it's all over, we tried and failed #gutted #JB17"  Other suggestions are that Marussia will enter the race officially, but not compete. Expect some form of official confirmation tonight that the team will/won't make it.

UPDATE: Sky Sports News are reporting that the team are awaiting the go ahead on some investment and that the team and all the freight is sat at East Midlands airport ready to go, but that time is getting tight and they'll need to get out there tonight realistically in order to build the team garage and be ready to compete in Friday morning's first practice.
It's early days yet, but it seems that this morning the team were recalled to HQ and freight was arranged to travel to Abu Dhabi. Some of their team kit has apparently turned up at the empty garages at the Yas Marina circuit, where all the other teams are already set up and ready to go. The garage was still left empty between Caterham and Williams, but this morning FOM instructed both teams to move kit that they had been storing in the units.
Ferrari have confirmed that the power units for the team are at the circuit and ready should the team be ready to go on Friday morning; but owing to the fact that Ferrari are owed a lot of money from the team this may have to be resolved first.
Stay tuned for more!