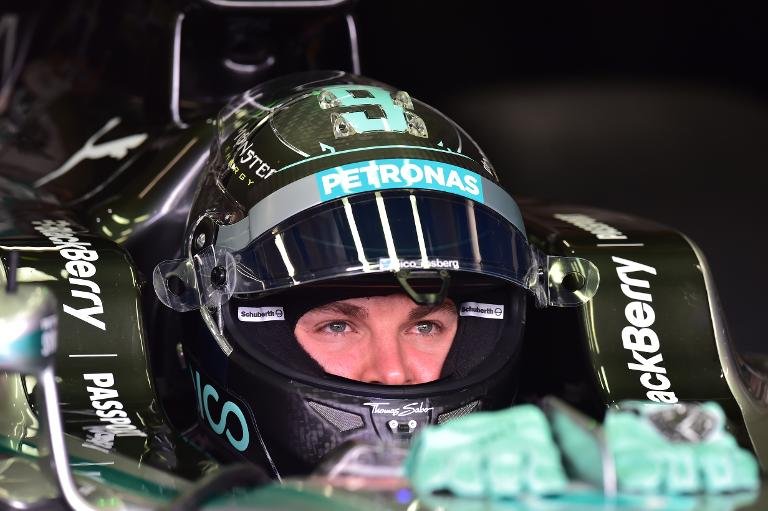 NICO ROSBERG WINS BRAZILIAN GP AT INTERLAGOS
After playing second-fiddle to Lewis Hamilton for the last five races, Nico Rosberg finally stemmed the flow of points in Hamilton's direction by holding off his team mate to win the Brazilian Grand Prix comprehensively, which also completed a clean sweep of the whole weekend for Rosberg as he topped every single session from Friday through to Sunday. The win cuts Hamilton's lead out front back to 17 points, as it was before Austin. This means that if Nico Rosberg can repeat his victory in two weeks at the Yas Marina circuit in Abu Dhabi that Lewis Hamilton will have to finish second in order to clinch the title.
Pre-race at interlagos the rumour mill was doing overtime as many sources were claiming that Red Bull and Ferrari had agreed to race three car teams for 2015. Christian Horner brushed it aside by saying that it was in their contract but hadn't yet been actioned. Reaction was still being given to Marussia folding during the week whilst Caterham had implemented a controversial crowd funding scheme to try and get them on the grid for Abu Dhabi, which Bernie Ecclestone has labelled 'a disgrace'.
Graeme Lowdon, formerly of Marussia gave a brief interview to Sky Sports F1 in which he said that getting a car ready for 2015 was more important than getting to the grid in two weeks' time. Getting the team together to transport everything to Abu Dhabi, all set up and ready is a nigh on impossible task. Caterham's crowd funding has been slow to start, but who knows? The deadline is Friday 14th November to raise 2.35 million.
Home favourite Felipe Massa had done a solid job on Saturday to put his Williams third on the grid, and optimism was high that he could muscle in amongst the Mercs if they got caught in a battle of their own. The only other drama to come out of the paddock before the grid cleared was that Adrian Sutil would start from the pit lane, due to a 'technical change'.
Tyres had brought up more questions than answers in practice sessions. Rosberg had completely ruined a set of softs after 13 laps, and Jenson Button had claimed he could do little more than 5 laps on them, which is odd for a driver who is probably the best at looking after tyres with his smoother style of driving. This meant that we were going to see pit stops very early on, and with the Interlagos circuit being such a short lap, would the front runners get caught up in the backmarkers early on?
As the grid settled after the formation lap, it became obvious that both Mercedes were pointing at turn one and would try to outrun each other into the tricky cambered left hander. There is nearly always contact of some form at this turn in F1, but amazingly everyone got around the first lap without incident. Rosberg got a narrowly better start than Hamilton, and led the Englishman around the first stint, which was less than ten laps for nearly everyone; bar Nico Hulkenberg and Kvyat, starting on the medium rubber compound.
After the first set of stops Hamilton was much closer to Rosberg, but dropped back a little when given information about a hot right rear tyre. Further back Felipe Massa was given a 5 second stop/go penalty for speeding in the pit lane and would have to serve it before his next stop, much to the dismay of the Sao Paulo crowd.  Fernando Alonso had gotten a good start and managed to find himself under pressure from both Red Bulls on his tail.
Traffic was already a problem on lap 9, and at one point Rosberg snuck past Hulkenberg and left Hamilton stuck behind the Force India until the next lap. The tyres lasted only ten laps before both drivers in the silver arrows, who had been trading fastest laps complained that their rubber was blistered and badly grained. Still, they had to wait a few more laps to pit, otherwise they'd  be in trouble in the final stint.
Rosberg in the lead took his second stop on lap 26, and showed how badly his tyres were looking afterwards. Hamilton had pushed
a little harder in the run up to the stops and got the lead down to less than a second, and went two laps further before he stopped. Pushing hard on lap 28 he braked very late into turn 4 and the tyres gave way, locking up at the rear and sending Lewis into a semi-spin, which he managed to rescue and rejoined the track, albeit having lost about 7 seconds from what he had built in the last lap and a half. He swapped rubber at the end of that lap and came out of the pits well behind Nico Rosberg and only a few seconds ahead of third placed Kimi Raikkonen in the Ferrari, who had yet to stop for a second time.
Without that spin he may have ended up ahead of Rosberg or at least within DRS range, which would have been favourable on fresher rubber. However, with only one stop left for both drivers, Lewis began chipping away at the lead and got it down to 5.8 seconds, then 4.2, then 3.1, 2.8, 2.2, until he found himself close at 1.8 again before the final stops. Rosberg again pitted first, followed the next lap by Hamilton; who came out of the pit lane just half a second behind the black-helmeted German.
A battle was going on for 3rd place behind them, with different strategies it looked as though a number of drivers could steal the final spot on the podium. Jenson Button and Felipe Massa looked favourites though, despite Vettel, Alonso and Raikkonen also trying to squeeze themselves in. Massa didn't do himself any favours at his next stop though, pulling into Mclaren's box and being told to keep going.
The gap out front remained at around 0.6 seconds, with both drivers pushing hard. Traffic played it's part but everyone rightfully got out of the way well in time to allow the leading drivers past without any issues at all. Hamilton sat back a bit before having another go at trying to catch Rosberg, but it was unfruitful this time around. Nico managed to stay ahead and in the final few laps Lewis was sliding around on his tyres a bit, suggesting they were more worn after fifteen laps in turbulent air behind Nico Rosberg.
This was exactly what Nico needed to do and could have psychologically gone a long way to planting the seeds of doubt in Lewis Hamilton's mind. Build up to the Abu Dhabi GP is going to be important, but whoever goes into the race holding the psychological advantage over the other will have one hand on the trophy.
Felipe Massa, despite his problems in the pits had managed to hold off Jenson Button and took an excellent third place, much to the delight of the Brazilians. Jenson Button's fourth was a fantastic result for a car that has been off pace since April, and for a driver whose F1 future is uncertain. Many do not want to see him go just yet.
The Ferrari duo battled over sixth place, but Kimi couldn't hold off Fernando for long. There was no call to let him through, as we had expected from the Maranello outfit in the past. Instead he was expected to battle his slower team mate and get past the hard way. He did succeed, but is this indicative of Alonso's exit from Ferrari? It would seem so.
Hulkenberg, Magnussen and Bottas rounded out the remaining points. Bottas' race was ruined by a stop when it looked as though the team had to adjust his harness, perhaps coming loose in the early part of the race. Both Toro Rosso drivers finished without points, as did Sauber. Force India's Sergio Perez finished well down in fifteenth, which was second last as the two retirements from the race were Romain Grosjean, asked to pull over by the team and stop the car; and Daniel Ricciardo, ending a fifteen race run of points finishes. It initially looked like brakes were the problem on the Red Bull, but closer inspection seemed to point to a suspension failure under heavy braking.
So, with one race of 2014 left, in Abu Dhabi; what do we have to look forward to? Apart from the headline stealing championship battle of course, which could go either way yet. Sebastian Vettel's final race as a World Champion, his final race in a Red Bull, his final race with number 1 on his car. It's likely to be Fernando Alonso's last race with Ferrari. A team he joined to win championships, and will be leaving with none. What of the future of Jean-Eric Vergne? Is it going to be Jenson Button's final ever F1 race? Drivers come and drivers go, but to lose Button and Alonso the sport will indeed be weaker. Will Caterham make it to Abu Dhabi?  Moreso – will Manor F1 (formerly Marussia) make it?! I think not.
There is still lots to be decided at Double-points Abu Dhabi, as silly as some people think it might be, it is what it is and we can't change it. It's going to be emotional, there's going to be celebrations and there's going to be sadness. There's going to be goodbyes, unbelievably for the first generation turbo V6 F1 cars. By nightfall after Abu Dhabi, they will be nothing other than future museum relics. In more ways than one, we will all witness the sunset in Abu Dhabi two weeks from today.