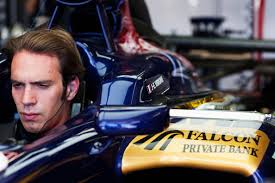 Jean-Eric Vergne, or "JEV" as he is affectionately known as in the Formula One paddock area has confirmed via his Twitter account that he will not be retained by Toro Rosso for the 2015 season.
This leaves the door open for Red Bull programme drivers Carlos Sainz Jr. – champion in the Renault 3.5 World Series and GP3 champion Alex Lynn to take the seat, although only one of them can be elevated to Formula One, as Max Verstappen has already been confirmed for next season and Daniil Kvyat has already been confirmed at Red Bull.
The 24 year old Frenchman is running out of time to secure a seat, despite driving some stunning performances in the second half of the season. Caterham and Manor, should either team make F1 next year look like the only choice for him staying in the Formula, unless he can secure a reserve drive seat and take a year out.
Questions still remain over the future of 2009 World Champion Jenson Button as Mclaren near their self-imposed December 1st deadline, although this is the earliest date we can expect to hear from the team on the driver line up. The post season test in Abu Dhabi has yielded little for Mclaren, who have run their Honda engine and only managed 5 very slow laps over two days.