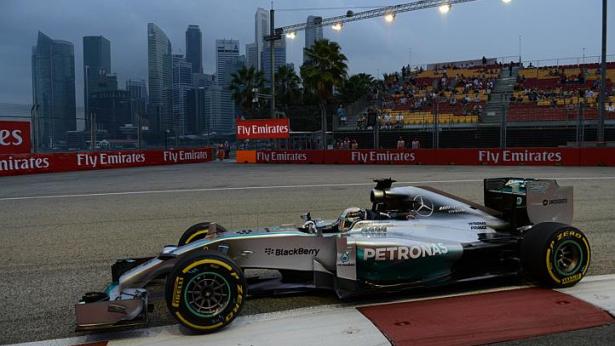 Singapore GP Qualifying Round Up
A dramatic Pole Position in the Singapore GP for Lewis Hamilton as Mercedes quashed doubts that they were not fast enough on the super soft tyres in these conditions by grabbing the front row. Despite Mercedes' Non-executive chairman Niki Lauda exclaiming to Paddy Lowe that "they're catching us" the silver arrows continued their dominance of the 2014 season so far. Here's the result from Q3, with a full qualifying and practice report below:
1.  Lewis Hamilton
2.  Nico Rosberg
3.  Daniel Ricciardo
4.  Sebastian Vettel
5.  Fernando Alonso
6.  Felipe Massa
7.  Kimi Raikkonen
8.  Valtteri Bottas
9.  Kevin Magnussen
10. Daniil Kvyat
Q1
Before Q1, there was talk amongst the paddock that Caterham's Ericsson may not take part in qualifying due to an electrical problem in the final practice. The team did manage to get the car out for Q1 but the car was very slow, even in comparison to the other Caterham. Earlier rain had washed away the rubber and made the track "green" which means there is much less grip than normal. Mercedes' poor performance in FP3 had been rubbished by Toto Wolff as trying as something new that didn't work, and their drivers were reminded over team radio that they had new brake material. A reminder that seemed to pass Nico Rosberg by, as he had a big lock up at turn 7. Not the only driver to out brake himself though, Romain Grosjean going straight on and avoiding the barriers on one of his hot laps. He did make it through to Q2 however, but Pastor Maldonado in the other Lotus didn't manage it. Ricciardo had a lapse of concentration and ran wide at turn one, although he could have been giving way to traffic, which Sebastian Vettel struggled with, and abandoned his first hot lap after passing a train of cars. Red Bull only did a single run on super soft tyres, whereas most other drivers went out on soft first, and then switched for a second run. With 3 minutes remaining, Force India's Nico Hulkenberg went quickest, only to be outdone in the end by the Ferrari duo of Kimi Raikkonen (1st) and the man who has been fast all weekend, Fernando Alonso. (2nd) Leaving us in Q1 were, from 17th to 22nd; Adrian Sutil, Pastor Maldonado, Jules Bianchi, Kamui Kobayashi, Max Chilton and Marcus Ericsson.
Q2
Q2 was slightly less dramatic due to less traffic, but it gave us the top sixteen drivers, with Rosberg being told that he was on race tyres, and then subsequently asking to be reminded when he was – which flirted with the new rules on team radio restrictions. All teams seemed to do one run and then sit patiently whilst the track fell silent for a couple of minutes. Williams blinked first, sending out Felipe Massa on to a clear track, with Valtteri Bottas not far behind. Ferrari chose not to use extra tyres on a second run, joined by the Red Bull of Ricciardo, and the Mercedes of Lewis Hamilton. It proved to be a wise decision, as all four drivers were fast enough on their first run to make it to the top ten shootout. Rosberg's second run put the championship leader top of the leaderboard going into the decisive Q3. The drivers out in this session, from 11th to 16th were: Button, Vergne, Hulkenberg, Gutierrez, Perez and Grosjean. This left us with both cars from Mercedes, Ferrari, Williams and Red Bull with the solo Mclaren of Kevin Magnussen and the single Toro Rosso of Daniil Kvyat joining the back of the party.
Q3
Onwards to the 12 minute long Q3 session, where Massa again went first, but all first runs appeared to be drivers tip-toeing around, perhaps to grow in confidence with installation laps before they gave it full steam ahead on a second run. Massa's Williams went fastest with Ricciardo second, followed by the flying Ferraris, Bottas in the other Williams and then the two Mercs unusually back in sixth and seventh positions, probably because of driver errors in the middle sector of the lap. Red Bull went first for the second run, sending Ricciardo out with 4 minutes left. Raikkonen had power unit problems which meant that Vettel, Hamilton and Alonso caught him up on their out laps, putting themselves out of sync to get a good lap in with a little bit of clear air in front. Unfortunately for the Finn, his engineer asked him to stop the car on track and his qualy was over. As the clock ran to zero, Daniel Ricciardo went fastest, to huge cheers from the crowd.(Melbourne might be the Australian's home race but Singapore is only a further 600 miles away.) Mild boos rang out as Rosberg took pole away from Ricciardo before another cheer when Lewis Hamilton went fastest by 0.007 (seven thousands) of a second. This caused Rosberg to exclaim "Damn it!" over the team radio; playfully or not – it shows how much these drivers are trying to beat each other.
PRACTICE SESSIONS:
The brightest star amongst the practice sessions was without doubt Ferrari's Fernando Alonso. Fastest by a tenth in FP1 (Free Practice 1) and fastest again in FP3. He had to settle for second in FP2, splitting the Mercedes. A vital boost given that glum faces in the famous red shirts have become all too common in recent times. The other Ferrari driven by Raikkonen had a more dramatic end to FP1, with his brakes being so hot that they actually caught fire when he pulled in to the pits. Despite their seventh one-two finish of the season in Italy, things weren't all plain sailing for Mercedes. Hamilton questioned the setup of his car in FP2, despite being fastest by the end of the session; and Rosberg had an amusing moment removing his right side mirror in FP1 when it was starting to flap around, and then discarding it at the next turn. Nico also had a hairy moment across the kerbs in FP3, where in third place he was faster than title rival Hamilton, who had his own moment at turn 5, and was nearly half a second off the pace in sixth.
Hamilton briefly forgot the new rules on the radio, as did Daniil Kvyat, both asking questions in FP1 that could not be answered; before the FIA relaxed the rules before FP2 allowing most, but not all of the messages to be heard. This will surely only cause confusion come the race.  One radio message that did cause concern at the end of FP1 was Sebastian Vettel's claim that he had an engine problem and had to stop immediately. The Red Bull mechanics had a race of their own on their hands and tried to get the car ready for FP2, which they did with less than ten minutes of the session remaining, which was enough for just five laps. They had a little more success in FP3 with Daniel Ricciardo putting in the second best lap of the session, ahead of both Mercedes.Both Red Bulls grazed the walls on the exits of corners in FP2, as did a number of drivers, but no-one came closer than the Lotus of Pastor Maldonado; the Venezuelan ran wide on the exit of turn ten and ploughed his car into the soft barriers, which brought out the red flags whilst his car was recovered.
———————————————————————————————————————————————-
Now that Saturday's sessions are over, we'll no doubt hear comments and quips from drivers, team managers and others in the build up to the race, but all that matters is what happens in the two hours that the cars are on track. Keep your eyes peeled for news on 3legs4wheels.com in the build up, during, and after the race.