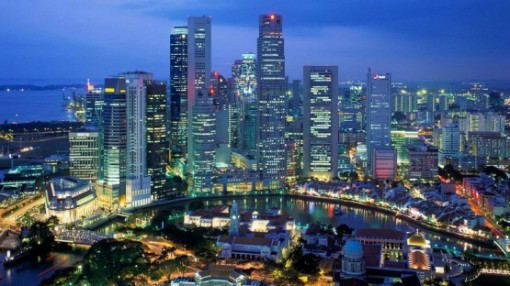 The unique excitement of Singapore as a night race has been dampened somewhat in recent times, firstly with the addition of the 'dusk' race at Abu Dhabi and who could forget the action under the bright lights at Bahrain earlier this year? But don't think this means that the Marina Bay street circuit can't still produce some special moments of its own. Long time followers of the sport will remember Nelson Piquet Jr.'s controversy-riddled deliberate crash to help his teammate Fernando Alonso take victory in 2008; and in the very same race, championship-chasing Felipe Massa being left stranded at the end of the pit lane with his fuel hose still attached. Then there were Michael Schumacher's accidents in 2011 and again in 2012, when we also saw that look from Lewis Hamilton back at his stricken McLaren, which we now suspect was the deciding factor in him signing for Mercedes a few days later.
A decision that at first, seemed to be more about the Lewis Hamilton brand and money than racing. Many people (myself included) questioned Hamilton's signing for a team that – at the time – had only one race win to it's name since returning to the sport in 2010. However, here we are two years later with both Mercedes cars having dominated 2014 so far. Going into this race Nico Rosberg holds a 22 point lead over his teammate, whilst the constructors' fight seems all but over, with the silver arrows 182 points clear of nearest rivals Red Bull, who were convincing World Champions themselves in the last four years of the V8 era.
Since the contact between the two Mercedes drivers in Belgium, the question most fans have been asking is 'Will it happen again?' Well, we were denied the battle in Monza after Nico Rosberg's errors at the Rettifilio chicane gifted Lewis Hamilton victory. The conspiracy theorists were out almost instantly, especially after the FIA's world television feed showed Mercedes boss Toto Wolff smiling straight afterwards – you wouldn't smile if one of your drivers had made the same mistake at the same corner, twice in one race, would you? Engineered or not, it has lead us to this point.
Throughout the remaining races there will almost certainly be close racing again between Hamilton and Rosberg. Mercedes' hierachy have claimed that the drivers are still free to race, despite being given a ticking off after Spa. Lewis will be desperate this weekend to chip away at Nico's lead, but could he be too desperate? Hamilton of old has shown in the past that when the pressure is on, he often makes silly mistakes. He gets emotional and downcast and it takes him a while to pick himself back up. But this isn't the Hamilton of old. This is a new kind of Lewis Hamilton, who still races with his heart, but takes negative races on the chin and gets back up ready for the next round in a matter of minutes, not weeks, as seen previously. If he finds himself this weekend on the tail of Nico Rosberg and able to pass, will he remain calm and collected, and try to force another Rosberg error or in the heat of the moment will he lunge at an almost impossible passing place? Only he knows.
Should the situation be reversed and Nico finds himself chasing Lewis, I feel that it's a case of the longer he leaves it, the more difficult it will get. Psychologically, what happened in Belgium must still play on his mind. He cannot afford to be called to blame for a second incident. The booing fans at Spa and Monza won't have helped either. He may have to wait a couple of races for it to happen, but as soon as a clean passing opportunity arises against Lewis, he must take it and make it stick, for his own sanity and to rest the nerves of the many in the Rosberg camp who would prefer the gap to continue growing.
Singapore's Marina Bay is the second street circuit of the year, after Monaco. Overtaking is certainly possible, but often difficult. The track has a high number of 90-degree bends and longer straights, lending itself to a lot of hard braking which in turn can lead to difficult tyre management. There are few run-offs and high steel barriers line the course, meaning any error is almost certainly punished. Look out towards the end of the race for the long black marks on the armcones, especially on corner exits, where tyres have been scraping over the weekend. Rain is most common in Singapore in the evenings, but we are yet to see a wet race day (if memory serves!). However, don't dismiss it; a wet session at any point during the weekend could shake things right up. Safety Cars are also commonplace during this race – in fact they have been used at every single Singapore GP since the first in 2008. The night factor is also something to take into account, with cooler track and air temperatures than at most other circuits during the season, affecting tyre wear, as well as a small possibility of affecting the turbos – and consequently fuel consumption.
Another interesting new twist that comes courtesy of the FIA for this weekend is a ban on certain radio transmissions between driver and engineer. We've heard a lot of these conversations in the Mercedes team such as 'engine mode strat 4 Lewis', 'change brake balance to setting 10' or something along the lines of 'Nico is one-tenth [of a second] faster through turn four.' The new regulation does not allow such conversations to take place, on the belief that drivers have slowly become puppets of their engineers who have all the data available to them. This means a lot of extra homework for the drivers, so that they can decide for themselves how best to manage their cars up until the chequered flag.  Coded messages are also banned.
This doesn't mean radio silence however; teams can still communicate on when to take pit stops, what any team orders are, how big the gap is between them and the car ahead/behind and their lap times but not individual sector times or where to make time up. Teams are worried that safety could become an issue if there are restrictions on what to communicate. Who will be first to break these rules or find a loophole in the rule? So-called "smart" pitboards are being talked about, but that is probably something that won't materialise until 2015 at least, if at all. Either way, it will be a difficult test for the teams in Singapore, and it shouldn't benefit anyone in particular as it is across the board. Kimi Raikkonen for one, will probably be glad of the quieter team radio.
Historically the race has been very successful for Red Bull, Sebastian Vettel has taken the last three race victories. Having been overshadowed this season by Daniel Ricciardo, how much would Sebastian love to take his first win of 2014 here? Ricciardo still remains the only non-Merc driver to have won a race this year, and is probably the only realistic hope of anyone catching Rosberg and Hamilton in the drivers championship. Aside from Red Bull, Williams have also launched a charge against Mercedes recently, especially in qualifying at the last GP at Monza.  Massa has demons to exorcise here, and if he can carry his team's momentum through, he could be on for another good finish. Talking of 'finish', or rather Finnish… (terrible I know) Valtteri Bottas has earned a reputation for slicing and dicing his way through the field in 2014, so could a Willams upset the party given the erratic conditions that Singapore often throws up?
Outside of those teams, it's hard to see anyone else really challenging at the front. Ferrari have struggled this year but with management changes they will be hoping that they get it right in time for 2015. McLaren and Force India have found themselves locked in a battle for fifth place, personified in the on-track battle between Button and Perez at the Italian Grand Prix. With only a point separating them, McLaren will be hoping that fortunes improve in these last few races. The season closer will also see the end of their long term relationship with Mercedes, before re-joining forces with Honda for 2015. Nico Hulkenberg is often impressive and Force India will need him and former McLaren driver Sergio Perez to take full advantage of the fact that Jenson and Kevin Magnussen seem to have contract issues on their mind.
Toro Rosso's Jean-Eric Vergne will be driving to sell his services from now on, his glimpses of potential have been few and far between in a business where consistency counts for everything. Young Max Verstappen has already been announced to replace him for 2015. Daniil Kvyat has shown at times that he can cut the mustard with the big boys, but still needs to learn some restraint at times. I expect Toro Rosso to be fighting for the lower end of the points in Singapore, and they could capitalise if they can stay clear of any trouble ahead of them.
Sauber, currently pointless and Lotus, with only eight points to their name have both had miserable seasons so far – especially when you consider that they both scared the big teams with strong podiums only two years ago.  Along with Caterham and Marussia they will be praying for anything that helps them get further up the field. In fact Caterham may need a monsoon or a miracle for something to happen for them, as they have been far behind everyone all season long. Earlier in the season at Spain, their GP2 team car was faster than their F1 car, and Marcus Ericsson was twenty seconds off the pace before the pit stops at Monza. Kamui Kobayashi will be hoping that the team's luck turns around before his home Grand Prix in Japan on October 5th, which is where the circus goes after all is packed up on Sunday in Singapore. What drama unfolds between now and then?