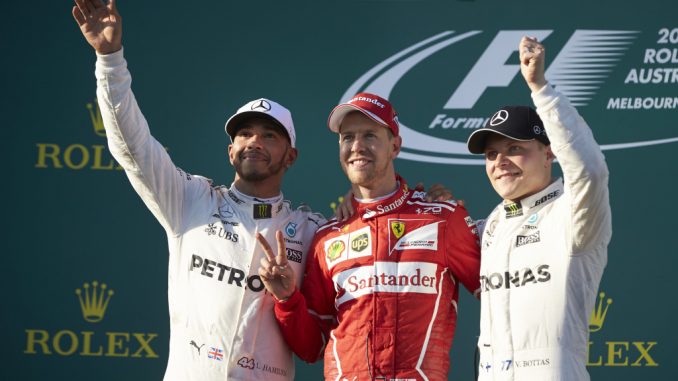 So we didn't see that coming before the start of the race, we thought at best that Sebastian Vettel might get a decent start and lead until the first pit stop where Mercedes would go for the undercut and put Lewis ahead and then watch him run off into the distance, but it didn't quite go how we thought and we got to hear the Italian National Anthem at the first race since Singapore 2015 (that's 18 months ago!)
Here's what the team had to say…
Sergio Marchionne (Chairman)
It was about time. I am delighted for the team and for our tifosi who stood by us throughout this whole period. We've been waiting for this victory for almost a year and a half. Hearing the Italian national anthem again was very moving. Sebastian  delivered a great race and I am sure Kimi  will be soon up there battling alongside his team-mate. Of course, this victory is something to share with the entire team, both at the circuit and back in Maranello, because teamwork is the only way to achieve major goals. Congratulations to Antonio for his debut in Formula One. Now, however, it is absolutely essential to remember that this is not the destination but the first step on a long road that must see us all focused on improving each and every day.
Maurizio Arrivabene – Team Principal
A good result today that could have been a great one if we'd managed to get Kimi on the podium too. When we launched the SF70H we referred to it as "Our Ferrari" and indeed today's win reflects all the effort and hard work put in over the past few months, both in Maranello and at the track. As for Sebastian, he did a great job, as did the whole team in fact. It's a shame that Kimi struggled in the early stages to get into the right rhythm. Our car went very well on track: it was well balanced and consistent performance from the tyres meant we were able to adopt an aggressive strategy. This is only the first race of the championship: there are still 19 to go and we must maintain a high level of concentration at every Grand Prix, avoiding distractions and, already as from today, we are looking ahead to the next Grand Prix in China
Mattia Binotto – Chief Technical Officer
Happy? Yes, definitely. It's on the track that you reap the rewards of your collective efforts over the winter. It was a busy period during which everyone doubled their energy and effort. We still have 19 challenges ahead of us and today's race shows how the slightest thing can make the difference between being in front or being behind. Therefore, we must continue to push as hard as possible on development. As for this Melbourne weekend, it was already clear in qualifying that there is little that separates the teams and we knew the race would be very close. The GP was all decided at the pit stops: at that moment, we probably had less tyre degradation than our rivals towards the end of the stint and that meant we were able to stay out on track for longer. From then on, it was a case of bringing home the car in terms of reliability. Seb did an excellent job, while Kimi definitely had a more complicated race, partly because he started from a bit further back on the grid. However, he managed to hold onto this position to the finish and his lap times in the final part of the race showed what he was capable of.
Sebastian Vettel – Winner
It's been a great day for us. The team has been working so hard at the track as much as back at the factory. It's a great feeling. "Grazie mille", you can't say much more. The last months have been really intense, it's been tough to get into the rhythm. It's just the beginning and there's still a lot of work going on. This is one of many steps and we have to enjoy what we do. It's great to see people smiling. Now we have to reset to go to China and try to do a good job
Kimi Raikkonen – 4th
In the first stint I struggled a bit with the Ultrasoft tires, but once I switched to the Soft compound the car was behaving really nicely. It was not the most exciting race for me, most of the time I was fuel saving, but when I was pushing the car was fast and I got a really good feeling. Fourth place is a bit disappointing, but we scored some points and Seb's win is a great result for the whole team. We learned a lot from this weekend: we start from here, with a good package and we pretty much know what we have to do to make the car better