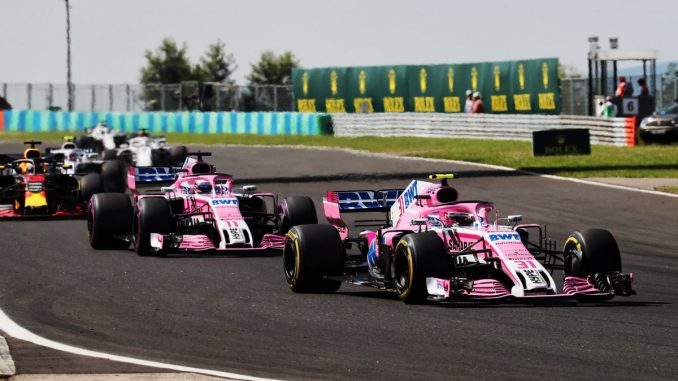 The FIA has confirmed it has accepted the mid-season entry of Racing Point Force India, giving the team the go-ahead to take part in this weekend's Belgian Grand Prix.
Racing Point Force India will be the team's official name following the recent takeover of Force India by Racing Point UK Limited – a group led by Lawrence Stroll – after the team was placed into administration last month.
The move means Sahara Force India is excluded from the 2018 Formula 1 Championship and forfeits all constructor points. Sergio Perez and Esteban Ocon had amassed 59 points for the team, which put them sixth in the standings just behind Haas and ahead of McLaren.
The FIA confirmed it's been working with Racing Point and Force India's administrators since the bid to buy the team was accepted to ensure the team's assets are transferred to the new entrant, which secures the jobs of over 400 people.
In a statement announcing the move, FIA president Jean Todt said: "I am very pleased that a strong, positive outcome has been reached and welcome the mid-season entry of Racing Point Force India. Creating an environment of financial stability in Formula One is one of the key challenges faced by the sport, however thanks to the hard work of the FIA, the Joint Administrators, Racing Point and Formula One Management we have a situation now that safeguards the future for all of the highly-talented employees, and will maintain the fair and regulated championship competition for the second half of the season."
Formula 1 Chairman Chase Carey added: "We are very pleased that the situation around Racing Point Force India has been resolved and that the team will continue to race in Formula 1. It is also very gratifying that in partnership with the stakeholders involved we have been able to safeguard the livelihoods of the many hundreds of people working at its Silverstone base. It's enormously important that we have a full grid of competitive, capable teams in Formula 1 and we are confident that Racing Point Force India will go from strength to strength in the future."
The changes have also seen Bob Fernley leave his role as team principal, with Otmar Szafnauer taking over the role. It's unclear whether the new ownership will make any changes to the driver lineup before the end of the season, with reports claiming Lance Stroll could move to his father's team from Williams.