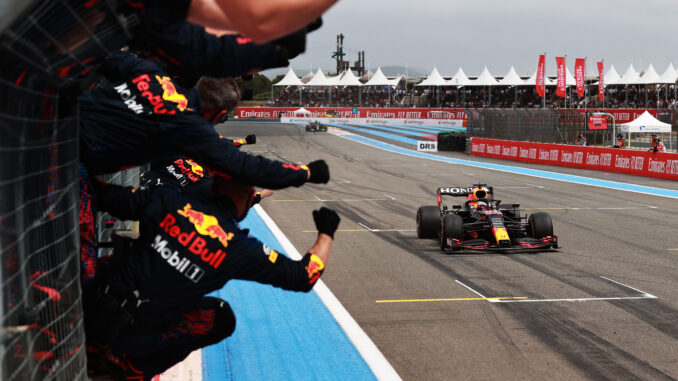 Max Verstappen recovered from a poor start, passing Lewis Hamilton late on at Le Castellet to secure victory in the French Grand Prix and extend his lead at the top of the drivers' championship.
The Dutchman turned to a two-stop strategy, while Hamilton's tyres went off late off to drop him down to second, while Sergio Perez completed the top three.
Hamilton got the better of Verstappen off the line, with the Red Bull driver making a slow start, but the reigning champion soon started to complain of tyre issues.
Fernando Alonso worked hard to try to keep the McLarens behind, but Daniel Ricciardo forced his way through, with Lando Norris following a couple of corners later.
Ricciardo continued to look racy, closing down the gap to Pierre Gasly before the team called him in early, attempting to undercut the Frenchman. Gasly stopped the following lap, but the McLaren driver was comfortably ahead.
Bottas was the first of the front runners to stop, forcing Verstappen to come in the following lap. But, stopping the Finn first meant Mercedes had to leave Hamilton out longer, leaving him vulnerable to the undercut from Verstappen. The Dutchman's outlap was quick, forcing Hamilton to rejoin behind his Red Bull.
The top three remained in close proximity on the track, but the trio all started to experience tyre issues. Red Bull rolled the dice, calling Verstappen into the pits for the second time. Hamilton suggested his tyres felt good after the championship leader stopped, but Verstappen soon started to lap two seconds a lap faster than his rival.
Verstappen was within DRS of Bottas with 10 laps to go, with Hamilton just a few seconds further down the road. Meanwhile, Verstappen and Hamilton both suffered radio issues, leaving them with limited contact with their pit walls.
It didn't take the Red Bull long to pass Bottas, as the Finn locked up while defending under DRS, allowing Verstappen to drive around the outside and up into second.
He closed down the gap to Hamilton, finding himself on the rear of the Mercedes with two laps to go, before cruising past on the penultimate lap of the race.
Meanwhile, Perez soon closed in on Bottas, who was also struggling with his tyres, with the Mexican elbowing his way through for the final spot on the podium.
The win gives Red Bull three wins in a row for the first time in the hybrid era, while Verstappen also secured the bonus point for setting the fastest lap of the race.
There was also a double points finish for Aston Martin, with Lance Stroll in 10th, despite the Canadian starting the race from the back row, but Ferrari struggled, with both drivers outside the points despite having started in the top 10.
All 20 drivers finished the race.
Provisional classification:
1 Max Verstappen (Red Bull)
2. Lewis Hamilton (Mercedes)
3. Sergio Perez (Red Bull)
4. Valtteri Bottas (Mercedes)
5. Lando Norris (McLaren)
6. Daniel Ricciardo (McLaren)
7. Pierre Gasly (AlphaTauri)
8. Fernando Alonso (Alpine)
9. Sebastian Vettel (Aston Martin)
10. Lance Stroll (Aston Martin)
11. Carlos Sainz (Ferrari)
12. George Russell (Williams)
13. Yuki Tsunoda (AlphaTauri)
14. Esteban Ocon (Alpine)
15. Antonio Giovinazzi (Alfa Romeo)
16. Charles Leclerc (Ferrari)
17. Kimi Raikkonen (Alfa Romeo)
18. Nicholas Latifi (Williams)
19. Mick Schumacher (Haas)
20. Nikita Mazepin (Haas)