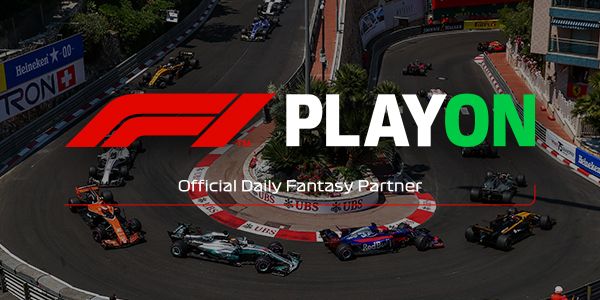 Formula 1 has announced an agreement with daily fantasy sports brand PlayON, launching the first official Fantasy Formula 1 game.
PlayON has launched a daily fantasy game and a traditional fantasy game, with both formats allowing fans to select a squad of five drivers and a constructor for each race. Those taking part will earn points based on finishing positions, positions gained and fastest lap, as well as other achievements.
The firm says the structure of both games is consistent and encourages fan interaction between the two. The games will also be tailored to local audiences and offered in a number of languages. Entering a game with PlayON will also give fans access to live races as the F1 TV service will be available through the PlayON platform. F1 has become an equity shareholder in the brand, which will enter the US market in 2018.
F1's Director of Digital and New Business Frank Arthofer said: "Formula 1 is continuously looking for ways to engage with new audiences, particularly in the digital space. Fantasy Sports is an exciting industry and offers us the opportunity to engage with a young and vibrant fan base. We believe in PlayOn, its product, leadership, and its strict approach to regulation, only operating real-money games in territories that have a clearly established regulatory framework in place; this enables F1 to enter the daily fantasy market without concern over legality. We feel PlayON's approach is the right one for long-term success in the industry."
Founder and CEO of PlayON Killian Jones added: "PlayON is pleased to be entering this partnership with Formula 1 – the global appeal of Formula 1 makes it an ideal strategic partner. A key aspect of the deal relates to the live Formula 1 races being present on the PlayON platform. The combination of live sport and PlayON's daily fantasy games will provide a fully immersive entertainment experience to our customers around the world.
"PlayON's goal is to deliver the ultimate digital sports entertainment experience to sports fans and we look forward to forward closely with the Formula 1 teams in pursuit of this goal. In light of the regulatory environment around daily fantasy sports now being clearly established in multiple US states, PlayON today announces it will enter the US market in 2018 and will establish a US office to fuel our expansion efforts in North America."
Players can already select their drivers and constructors for next weekend's Azerbaijan Grand Prix. Listen to next week's podcast and check the 3 Legs 4 Wheels website in the coming days to find out how to enter our league.