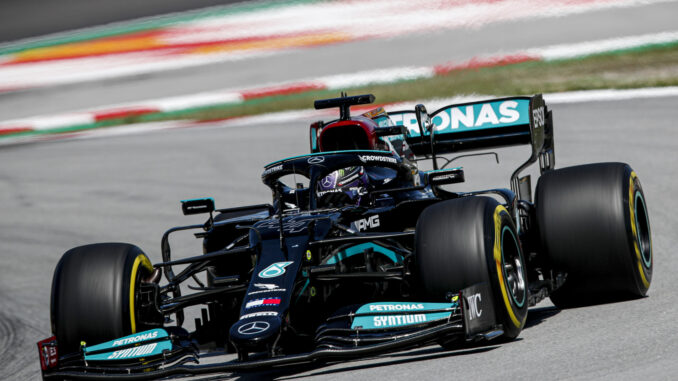 Lewis Hamilton needed a second pitstop and a late pass to secure victory at the Spanish Grand Prix.
Committing early to a two-stop strategy ensured he had the pace to overcome Max Verstappen in the closing stages of the race, while Valtteri Bottas completed the top three.
Verstappen was fastest off the line, powering past Hamilton to take an early lead, while Charles Leclerc also got the better of Bottas at the start.
The safety car was out when Yuki Tsunoda's AlphaTauri ground to a halt on the track, with the marshals having to crane the car away. Hamilton couldn't get close enough to challenge Verstappen on the restart though.
Antonio Giovinazzi's hopes were dealt a blow when one of his mechanics spotted a puncture on his new tyres during a pitstop, forcing the team to hold him in the box for more than 30 seconds while the team prepared another set of tyres.
Bottas was the first of the leaders to come into the pits, with Verstappen following a lap later, while Hamilton continued longer at the front of the field.
Hamilton got stuck in traffic while extending his first stint, ensuring Verstappen didn't come under pressure for the lead, but with newer tyres, the Mercedes driver was able to close down the Dutchman.
Despite Hamilton being the last of the leaders to stop, he came back into the pitlane for another change of tyres, dropping him back behind Bottas, but giving him fresher rubber for the final stages of the race.
The reigning champion quickly closed down the gap to Bottas, with his teammate told not to hold him up, but it took a couple of corner for Hamilton to clear the Finn.
With a 10-second gap to close down, Hamilton continued to make the most of his newer tyres, and cruised past the Red Bull driver with five laps to go, with Verstappen immediately pitting for a second time after losing the lead.
Fernando Alonso tried to hold on to the final points finish in the closing stages of the race, but his well-worn tyres saw Lance Stroll, Pierre, Gasly, Kimi Raikkonen and Sebastian Vettel all pass him in quick succession, with the Canadian coming together with the two-time champion, sending the Aston Martin driver wide.
Verstappen's late pitstop ensured he received the consolation of a bonus point for fastest lap.
Provisional classification:
1 Lewis Hamilton (Mercedes)
2. Max Verstappen (Red Bull)
3. Valtteri Bottas (Mercedes)
4. Charles Leclerc (Ferrari)
5. Sergio Perez (Red Bull)
6. Daniel Ricciardo (McLaren)
7. Carlos Sainz (Ferrari)
8. Lando Norris (McLaren)
9. Esteban Ocon (Alpine)
10. Pierre Gasly (AlphaTauri)
11. Lance Stroll (Aston Martin)
12. Kimi Raikkonen (Alfa Romeo)
13. Sebastian Vettel (Aston Martin)
14. George Russell (Williams)
15. Antonio Giovinazzi (Alfa Romeo)
16. Nicholas Latifi (Williams)
17. Fernando Alonso (Alpine)
18. Mick Schumacher (Haas)
19. Nikita Mazepin (Haas)
DNF:
Antonio Giovinazzi (Alfa Romeo)