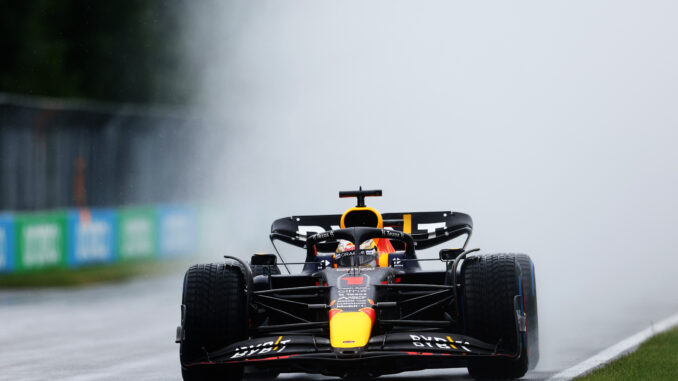 Max Verstappen will start the Canadian Grand Prix from pole position after setting the pace in a wet qualifying in Montreal.
He'll be joined in the front row by Alpine's Fernando Alonso, who looked comfortable throughout the session in the changeable conditions.
Carlos Sainz's hopes of pole position were dashed when he had a moment coming out of the final chicane, costing him time on his final lap.
Yuki Tsunoda and Charles Leclerc came into qualifying knowing they'd both be starting on the back row in tomorrow's race, having picked up engine penalties earlier in the weekend, and as a result the AlphaTauri driver only did a few laps in Q1 before returning to the garage.
Aston Martin had looked strong in the wet conditions in FP3 earlier, but Sebastian Vettel and Lance Stroll struggling to recreate that performance, and couldn't get themselves out of the first part of qualifying.
With the track drying, some drivers tried the intermediate tyres, but Alex Albon had a brush with the barrier, before Sergio Perez got his Red Bull stuck in the techpro barrier, resulting in a red flag.
When the session restarted, the track had dried further, allowing the lap times to tumble. Valtteri Bottas was among the first drivers to take the chequered flag, and with others on the track continuing to improve, he was among those to miss out, while a power unit issue cost Lando Norris the chance to set a time.
As a dry line continued to emerge, George Russell was the only driver to try the slick tyre in Q3, but his Mercedes spun and collided with the barrier.
Provisional qualifying result:
1 Max Verstappen (Red Bull)
2. Fernando Alonso (Alpine)
3. Carlos Sainz (Ferrari)
4. Lewis Hamilton (Mercedes)
5. Kevin Magnussen (Haas)
6. Mick Schumacher (Haas)
7. Esteban Ocon (Alpine)
8. George Russell (Mercedes)
9. Daniel Ricciardo (McLaren)
10. Guanyu Zhou (Alfa Romeo)
11. Valtteri Bottas (Alfa Romeo)
12. Alex Albon (Williams)
13. Sergio Perez (Red Bull)
14. Lando Norris (McLaren)
15. Charles Leclerc (Ferrari)*
16. Pierre Gasly (AlphaTauri)
17. Sebastian Vettel (Aston Martin )
18. Lance Stroll (Aston Martin)
19. Nicholas Latifi (Williams)
20. Yuki Tsunoda (AlphaTauri)*
*Leclerc and Tsunoda will both start at the back due to grid penalties.