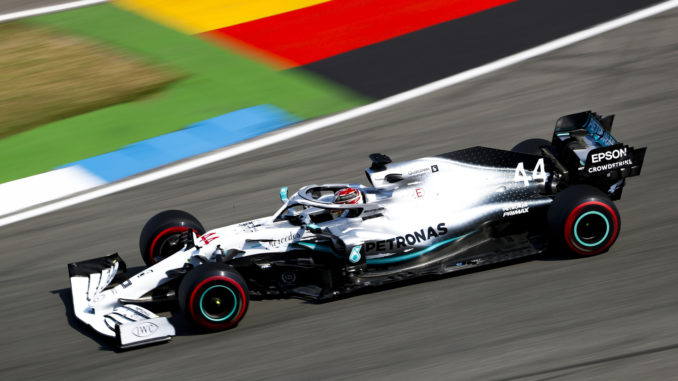 Lewis Hamilton will start tomorrow's German Grand Prix from pole position as both Ferrari cars suffered mechanical problems during qualifying at the Hockenheimring.
The Mercedes drivers' time of 1:11.767 put him just ahead of Max Verstappen, while Hamilton's teammate Valtteri Bottas completes the top three.
There was immediate disappointment for the home crowd as Sebastian Vettel's Ferrari lost power as soon as he left the pitlane. The four-time champion got the car back to the garage, but the mechanics couldn't fix the issue in time.
George Russell qualified ahead of his teammate for the 11th time this season, ensuring he wins the season head-to-head against Robert Kubica, while Sergio Perez did the same at Racing Point, despite Lance Stroll making it out of Q1 for the first time this season.
Eight of the 10 teams had a car in Q3, with Mercedes and Red Bull the only two to get both cars inside the top 10. Ahead of the start of the final session, Ferrari were carrying out work on Charles Leclerc's car in the garage, which continued as the clock started to run down, before the Monegasque driver stepped out of his car, leaving him down in 10th.
Bottas was the first to set a time in the top 10 shootout, but Hamilton was able to go almost half a second faster, while Verstappen split the two Mercedes cars. All three tried to improve on their times later in Q3, but none were able to go quicker.
Provisional qualifying result:
1 Lewis Hamilton (Mercedes)
2. Max Verstappen (Red Bull)
3. Valtteri Bottas (Mercedes)
4. Pierre Gasly (Red Bull)
5. Kimi Raikkonen (Alfa Romeo)
6. Romain Grosjean (Haas)
7. Carlos Sainz (McLaren)
8. Sergio Perez (Racing Point)
9. Nico Hulkenberg (Renault)
10. Charles Leclerc (Ferrari)
11. Antonio Giovinazzi (Alfa Romeo)
12. Kevin Magnussen (Haas)
13. Daniel Ricciardo (Renault)
14 Daniil Kvyat (Toro Rosso)
15 Lance Stroll (Racing Point)
16. Lando Norris (McLaren)
17. Alexander Albon (Toro Rosso)
18. George Russell (Williams)
19. Robert Kubica (Williams)
20. Sebastian Vettel (Ferrari)