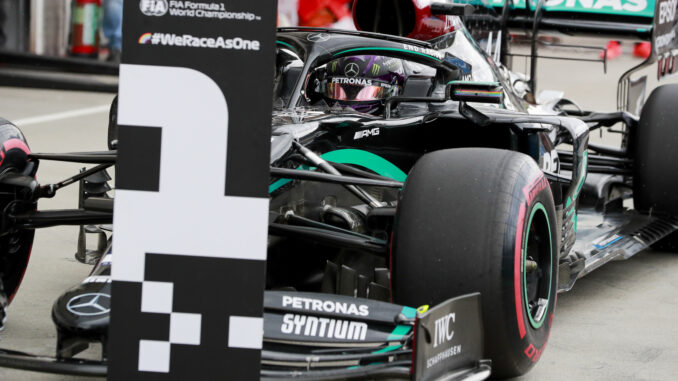 Lewis Hamilton won the Hungarian Grand Prix for a third straight year in a race that started in damp conditions at the Hungaroring.
There was drama before the race as Max Verstappen ran off the track on his way to the grid, damaging his car, but Red Bull were able to fix his car in time.
With the track drying, teams were uncertain which tyre to start the race on, with the majority lining up on intermediates. Haas called their drivers into the pitlane for the start of the race, sensing the track was drying. With the rest of the field needing to switch onto slicks within the opening couple of laps, the move promoting Kevin Magnussen and Romain Grosjean up to third and fourth.
Valtteri Bottas slipped down the order at the start after appearing to move before the lights went out and then failing to get away from the line smoothly, while the repaired Verstappen made a quick start, leapfrogging the Racing Points and Ferraris.
With most of the field coming into the pitlane in quick succession, there was a puncture for Nicholas Latifi as Williams released him into the path of Carlos Sainz, instantly wrecking the rookie's new tyres and earning him a five-second time penalty. There was also an early time penalty for Kimi Raikkonen for lining up in the wrong place on the grid.
Pierre Gasly was the first driver out of the race. Having struggled with engine issues throughout qualifying, the Frenchman came into pitlane with smoke billowing from the rear of his Alpha Tauri.
Further rain was expected midway through the race, but just a few drops reached the track, with the majority of the weather missing the Hungaroring. Most of the front runners stayed out long, just in case they needed to switch onto intermediate, but Bottas came in a couple of laps earlier, allowing him to undercut Lance Stroll and move back into the podium positions.
Alexander Albon qualified out of position after struggling with traffic on Saturday, but Red Bull switched him onto fresh tyres early, leaving him to pick his way through the lower points positions and up to sixth on new rubber than those around him, and started closing the gap to fifth-placed Sebastian Vettel, passing the four-time champion with a couple of laps to go.
Hamilton held a commanding lead late on, allowing him to come in with three laps to go for another set of new tyres, leaving him less than five seconds in front of Verstappen, but the Dutchman was coming under pressure from behind by Bottas.
Just over seven second covered the top three on the penultimate lap, with Bottas having DRS on Verstappen, but the Finn didn't have enough pace to pass the Red Bull driver, while Hamilton's new tyres meant he was able to secure the bonus point for fastest lap and set a new racing lap record.
Provisional classification:
1 Lewis Hamilton (Mercedes)
2. Max Verstappen (Red Bull)
3. Valtteri Bottas (Mercedes)
4. Lance Stroll (Racing Point)
5. Alexander Albon (Red Bull)
6. Sebastian Vettel (Ferrari)
7. Sergio Perez (Racing Point)
8. Daniel Ricciardo (Renault)
9. Kevin Magnussen (Haas)
10. Carlos Sainz (McLaren)
11. Charles Leclerc (Ferrari)
12. Daniil Kvyat (Alpha Tauri)
13. Lando Norris (McLaren)
14. Esteban Ocon (Renault)
15. Romain Grosjean (Haas)
16. Kimi Raikkonen (Alfa Romeo)
17. Antonio Giovinazzi (Alfa Romeo)
18. George Russell (Williams)
19. Nicholas Latifi (Williams)
DNF:
Pierre Gasly (Alpha Tauri)